Exploring Cannabis Funding Around the World — Europe – Part 2
HCN Investigates — Funding within the European cannabis industry. 
Generally speaking, the fledgling European cannabis industry relies on funding models similar to those used in the Canadian recreational and medical marijuana markets. While large investments from venture capital firms and investment funds occasionally occur within the United States recreational marijuana market as well, debt financing and crowdfunding campaigns are also common in the U.S. due to the prevailing lack of cohesive federal cannabis policies.
In the United States, there is an existing model for small companies to enter state-specific recreational and medical marijuana markets, and these SMB startups compete directly with multi-state marijuana enterprises that are sometimes backed with Canadian investment. European entrepreneurs usually don't have access to structures that allow small cannabis companies to thrive, so they rely on large amounts of startup capital from domestic or international investors.
In the future, small European cannabis producers may be able to compete with heavily funded behemoths as the European regulatory environment opens up and cannabis commerce becomes commonplace. Well-funded companies are currently consolidating their footholds within European cannabis markets, however, which will likely construct an onerous bar to entry for future SMB-scale cannabis entrepreneurs in Europe.
Let's examine some of the ways that European cannabis companies are gaining funding in more detail:
Investment funds
Cannabis funding in Europe is currently led by investment funds. In the €20.1 million Series A funding round for Sanity Group, a German medical cannabis startup, for instance, the European investment fund Calyx was the largest contributor. Various forms of investment funds, including hedge funds and private equity funds, are currently active in the European cannabis sector.
Venture capital
Both international and domestic venture capital firms are also highly active in cannabis funding in Europe. For example, the second-largest contributor to Sanity Group's Series A round was HV Holtzbrinck Ventures, Germany's leading venture capital fund.
American rapper Snoop Dogg's venture capital fund, Casa Verde, also contributed to Sanity Group's Series A round along with fellow American VC TQ Ventures and the German VC Cherry Ventures. According to Shaan at Cannamplify, venture capital was one of the primary vehicles of investment for the European medical cannabis industry pre-COVID, and this investment vehicle remains prominent within Europe's new cannabis landscape.
Angel investors
A handful of angel investors also partook in Sanity Group's Series A round including the founders of the German advertising company Heimat. Angel investment is reasonably uncommon in the European cannabis industry at present—perhaps due to the increased risk involved in this uncertain market.
Family Offices
As we mentioned earlier, the entirety of the Series A investment into Demecan was provided by a single family office. Family offices often choose to invest into venture capital or private equity firms instead of providing capital directly to startups, but with Private Equity concerns around illegality of cannabis, it's possible that family office funding may play a surprisingly important role in the future of European cannabis funding.
Operating revenue
Theoretically, European cannabis companies should also be receiving funding from operating revenue, but it's unclear how much revenue is currently being generated in European cannabis markets. UK cannabis firms certainly receive operating revenue by exporting their products to other nations, and German marijuana companies cater to a constituency of over 50,000 patients. We don't know at this stage, however, exactly how profitable the European cannabis industry has become, and it's entirely possible that the majority of the industry is still kept afloat with cash injections from domestic and international investors.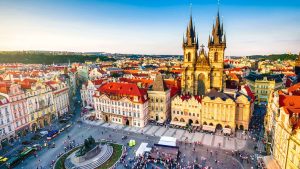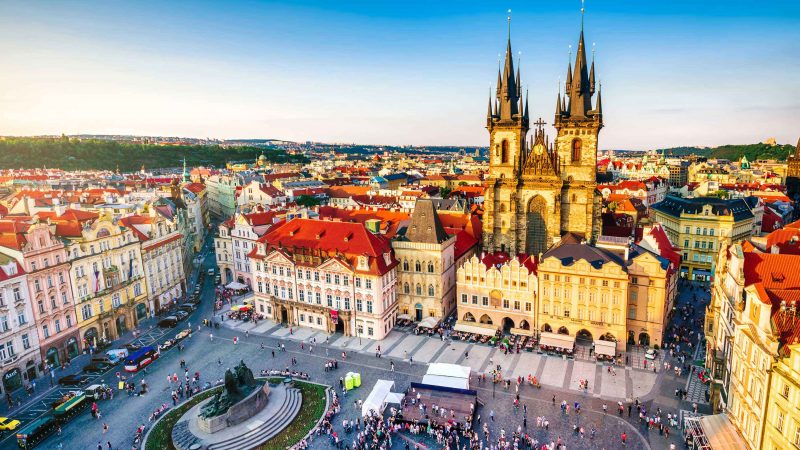 Caption: The future of the European cannabis industry is bright—once we get there, that is.
European cannabis funding—five-year projections
Investors around the world remain confident that Europe will rapidly overcome existing obstacles and usher in a golden era of European cannabis within the next few years. The global cannabis market is set to exceed $150 billion by 2027, and investors are intent on helping European cannabis carve out a big slice of this pie.
As of 2020, however, there are no compelling signs that European economies will break out into the cannabis sector during the next 12-18-month period. While international investment into the European cannabis market now exceeds €500 million, Europe simply does not have the regulatory climate in place to admit the realization of a thriving cannabis economy.
Around half of the nations in Europe do not have medical cannabis programs at all, and no European countries allow recreational marijuana. In Canada, the marijuana market was practically nonexistent until cannabis became federally legal in 2018, and the cannabis market in the United States remained highly limited in scope until individual states started adopting recreational marijuana programs. Using these examples as a guide, the cannabis market in Europe is unlikely to thrive until trend-setting nations, such as Germany and the UK, make recreational marijuana legal.
Cannabis investors would have an easier time accessing the 750-million-person European market if Europe had a more cohesive stance toward cannabis regulation. As it stands, however, the European Union is showing stress cracks that could be indicative of further internecine conflict, and European unity on the whole is in its sorriest state since the Cold War.
With all of these factors in mind, it would be reasonable to assume that major changes within the European cannabis market will not take place until 2022-23 at the earliest. Based on their unprecedented funding efforts, international cannabis investors seem to believe that capital injection is the best way to get the European cannabis economy off the ground, and it's possible that the growing popularity of CBD throughout Europe may also sway regulator sentiment toward a more pro-cannabis stance.
Europe changes slowly, and this universal truth applies to the continent's fledgling cannabis industry as well. To make the European cannabis industry change faster, vote with your dollar—or euro. With enough funding, even the most conservative regulators will not be able to contain the groundswell of public interest in cannabis that's readily apparent in every European nation.
Author – HCN Investigates: Samuel Popejoy, HCN Business Correspondent
All Rights Reserved, Not to be reprinted without express permission. Copyright: Highly Capitalized 2021 
Latest News