Cannabis Funding Around the World: A Focus on Germany
HCN Investigates – Germany is one of the wealthiest European nations. It also has some of the world's most progressive politics, making Deutschland a good fit for the global cannabis industry.
In the first two financial quarters of 2020, German cannabis sales exceeded €75 million. The existing German cannabis market comprises approximately 120,000 adults, and this market is expected to swell considerably.
While the German cannabis industry has experienced a few recent setbacks, growth projections remain strong. Learn more about cannabis in Germany, discover the biggest players in German cannabis, and find out how they're funded.

Is cannabis legal in Germany?
Since 2017, licensed German doctors have been able to prescribe cannabis flowers and extracts to their patients. These prescriptions can be cannabinoid-specific, and they are filled by state-sanctioned cannabis dispensaries.
While cannabis is very expensive in Germany, some health insurance plans pay for medical cannabis prescriptions. Cannabis possession limits vary throughout Germany, and even if you do not have a prescription, authorities are not required to prosecute possession of small quantities of cannabis.
Overview of German cannabis laws
It is illegal to purchase cannabis in Germany if you do not have a doctor's prescription. Under German law, however, it is not illegal to consume illicit drugs. As a result, testing positive for THC on a drug test is not considered proof of illegal purchase in Germany.
In October 2020, the German federal parliament rejected a bill that would have legalized recreational cannabis. Due to the complexities of the current German political environment, it is unlikely that recreational cannabis reforms will be proposed again anytime soon.
As a result, German cannabis law remains relatively murky. Let's clarify the key points:
Purchase of cannabis is illegal in Germany without a doctor's prescription

Cannabis possession limits with a doctor's prescription vary throughout Germany

Most cases of possession of small quantities of cannabis go unprosecuted

There is no legal German market for cannabis without a doctor's prescription
How does the German cannabis industry operate?
Along with legalizing medical cannabis in 2017, the German government also set up a regulatory framework for cannabis cultivation and import. Germany recently reported its first imports of medical cannabis from Israel and Australia, and imports will continue to play a major role in German cannabis as domestic producers struggle to produce their first crops.
The German cannabis industry has been supported somewhat by domestic investment. For the most part, however, German cannabis has been funded by international investors. To date, Germany has received approximately 80% of Europe's cannabis investments.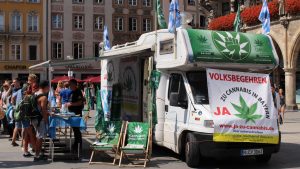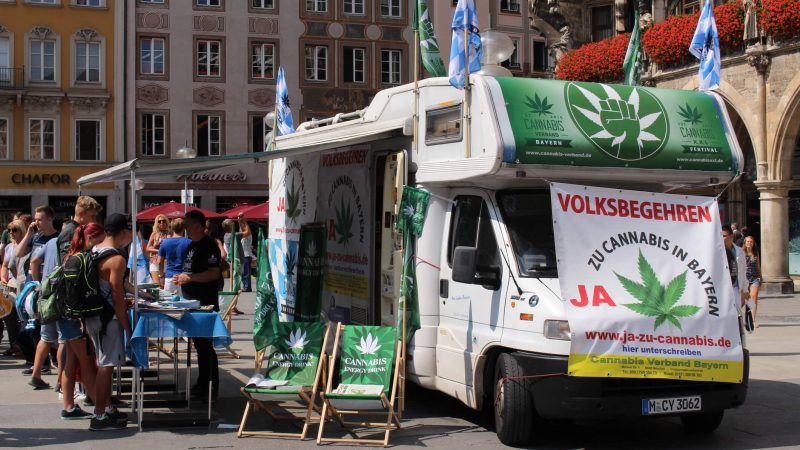 German activists from Cannabis Organisations collect signatures for legalization of cannabis for recreational uses in Germany at Marienplatz square–AFP
Top companies in German cannabis
Germany has sprouted a handful of home-grown cannabis companies, and this European nation's relatively lax stance of cannabis has made it a ripe target of international investment. Here are overviews of the top five cannabis companies currently operating in Germany:
Demecan was one of the first companies to receive a medical cannabis cultivation license in Germany. While the other two firms that received licensing at the same time, Aphria and Aurora, are Canadian, Demecan was founded and continues to be operated in Germany.
In 2019, Demecan received a €7 million investment from Germany-based btov Partners, allowing this firm to expand its presence in the German cannabis market. Demecan has three main operational objectives:
Sourcing wholesale cannabis from international producers

Cannabis cultivation

Cannabis research
Despite encountering setbacks in the Canadian cannabis market, Ontario-based Aphria continues to invest enthusiastically into Aphria Deutschland, its wholly owned German subsidiary. Instead of cultivating cannabis in Germany, Aphria Deutschland primarily imports Canadian cannabis.
In December 2020, Aphria announced a merger with Tilray, another major Canadian cannabis company. Since Tilray already sells cannabis in Germany via its Portuguese subsidiary, this newly formed corporation (called simply "Tilray") will likely redouble its expansion efforts in Germany.
Canadian cannabis giant Aurora Cannabis has endured a tumultuous two years, and projections for future development are shaky at best. For the moment, however, Aurora remains one of the most serious players in Germany via its wholly owned subsidiary Aurora Europe GmbH.
By laying off the majority of its European staff, closing offices, and taking other measures to reduce cash burn, Aurora is playing the long game in Germany. Only time will tell if a cautiously optimistic approach will pay off for this struggling international cannabis producer.
Sanity Group turned heads when this Germany-based cannabis startup received initial investments from the likes of Will.i.am, Alyssa Milano, Snoop Dogg, and other prominent American celebrities.
All sources combined, Sanity Group attracted more than $29 million in startup capital. So far, Sanity has focused on three main areas of operation:
Medical cannabis production (via import)

Development of CBD products

Research into "medical products, new innovative dosage forms, and technological products."
Regarding which component of his venture shows the most growth potential, Finn Age Hansel, founder of Sanity Group, told us that both medical cannabis and CBD are "extremely dynamic in Europe currently." According to Hansel, "interest in CBD is growing very rapidly," and he believes that the German medical cannabis sector is "also expected to grow heavily over the next [few] years."
In January 2021, German conglomerate Semdor Pharma Group was formed via the merger of "German narcotics services market leader" PS Group and Cannamedical Pharma, a medical cannabis wholesaler. Semdor has received an initial influx of €40 million in new capital, which will be used to boost existing operations.
The formation of Semdor Pharma indicates that the German cannabis industry is maturing. Existing German corporations are now competing with Canadian cannabis producers and investment firms for their share of the emerging German cannabis market.

Frankfurt is the financial capital of Germany – Shutterstock.
How is the German cannabis industry funded?
According to New Frontier Data, the European cannabis market was worth €230-€280 million in 2019. The German cannabis industry made up a €150–€175 million share of this market.
Where does German cannabis funding come from, who pulls the strings, and what are the biggest growth sectors within the German cannabis economy?  
Where does the money come from?
The majority of German cannabis funding comes from overseas. In some cases, German investment companies inject capital into the domestic cannabis market. These investment companies, however, are often backed with considerable international funding.
As is the case in other nations where medical or recreational cannabis is legal, Canada has proven to be the primary intermediary by which cannabis funding makes its way into Germany. Canada, in turn, serves as a nexus for cannabis investment from stakeholders in various nations including the United States, China, or even Germany itself.
Since major Canadian cannabis companies are listed on the Toronto Stock Exchange (TSX) or even the New York Stock Exchange (NYSE), practically anyone can invest in Canadian cannabis. These investment dollars are then distributed throughout a Canadian cannabis company's domestic and international ventures.
Who controls capital flow in German cannabis?
The German cannabis industry is dominated by Canadian companies. Many major German cannabis importers and producers are Canadian-owned, and Germany-based companies usually serve as vendors or occupy otherwise parenthetical roles.
According to Sanity Group's Finn Age Hansel, there is both competition and cooperation as Canadian and German groups determine who controls Germany's fledgling medical cannabis industry. Hansel is seeing "more and more German companies being very ambitious and who consider themselves more as competition to the Canadian companies."
At the same time, he sees "a lot of German companies teaming up with Canadian cultivators to distribute Canadian medical cannabis in Germany, and this is often a clear success factor." In managing Sanity Group, Hansel has taken a stance of "cooptition" with Canadian cannabis companies that seek to shape the German cannabis market.
The German cannabis industry is an ideal example of a globalized cannabis market. Instead of receiving its momentum from grass-roots political action, German medical cannabis is primarily a manifestation of international investment pressures. Seeing the need for global market expansion, international investors simply picked Germany as a logical target.
What is German cannabis capital spent on?
At this point, capital injected into the German cannabis industry is primarily expended on research and imports. Germany's first domestic cannabis harvests, originally expected in late 2020, have been delayed.
Considerable capital has already been invested into domestic cannabis cultivation in Germany. Continuing cultivation investments will, however, likely be minimized until practical returns are realized.
Projected growth of the German cannabis industry
The German cannabis industry is in a conflicted situation. Despite support from far-left political leaders and an inpouring of international investment, the majority of Germans still oppose recreational cannabis.
Taking progressive stances on most subjects, Germany nonetheless remains ruled by a center-right Christian coalition that staunchly opposes rapid expansion of the domestic cannabis market. Over the next few years, leftist political pressure and international capital will go toe-to-toe with popular sentiment to determine the future of German cannabis.
In the meantime, German cannabis industry growth will continue at a moderate pace. Explosive growth, however, cannot be expected prior to adult-use legalization.
Author – HCN Investigates: Samuel Popejoy, HCN Business Correspondent. Copyright © Highly Capitalized 2021 Not to be reproduced without express permission from Highly Capitalized.
Latest News