HCN Investigates: 7 Reasons Why Cannabis Is Flourishing in Israel
TEL AVIV – HCN investigates the rise of c
annabis in Israel. Israel has been a center of research and development for cannabis since the 1960's. Although, like every other country including the USA, Israel banned the recreational use of cannabis. But, unlike other countries, they continued permitting research into the plant by their university researchers.
Quick Facts: Cannabis In Israel
There are around 100 Israeli cannabis business start-ups with more starting up all the time
There are already 26 cannabis companies listed on Tel Aviv stock market in cannabis

Cannabis consumption in Israel remains limited to strict medical usage

Israel intends to decriminalize recreational cannabis before 2022

70,000 medical card-holding Israeli citizens as of 2020

Israel is an epicenter of cannabis research
Maintaining its commitment to decriminalize recreational cannabis before the end of 2021, Israel remains an epicenter of cannabis research and culture largely due to the influence of one of their scientists: Dr. Raphael Mechoulam.
Recently celebrating his 90th birthday, Bulgarian-born Mechoulam immigrated to Israel in 1949 is credited with isolating THC for the first time in 1964. Modern understanding of cannabis's medicinal properties began, in large part, with Mechoulam, who in 1964 was a young professor curious about the unknown chemical compositions of cannabis.
Since then, Dr. Mechoulam and researchers in his team, have steadily gained academic traction both in Israel and abroad. Non-medical Israelis may have to wait a while more to enjoy cannabis openly, but they can take solace in the important role their nation has played in the proliferation of cannabis culture worldwide.

(Professor Mechoulam photo: from earlier in his career)
1. Israel was the epicenter of 20th-century cannabis research
As the rest of the world routinely refused to recognize the potential medical benefits of cannabinoids, the efforts of Dr. Mechoulam and his team remained some of the lone examples of free cannabis research still conducted in academic settings.
One of the most important 20th-century contributions to international cannabis science Dr. Mechoulam provided was the identification of the bell-shaped dose-response THC curve that eventually led to the discovery of the entourage effect and the benefits of full-spectrum cannabis extract.
Throughout its exploration of cannabis, Israel has benefited from its belief in research and learning.  Israel has always valued the education of its people since its inception. The government and private groups have invested heavily in the university system for their people. 
The regulations for clinical trials in Israel are more relaxed, which also speeds up the development of cannabis-based drugs.
Medical cannabis was legalized for use with a prescription in 1973, and in 2019, the government voted to permit exportation of the drug, opening up a global market for Israeli producers.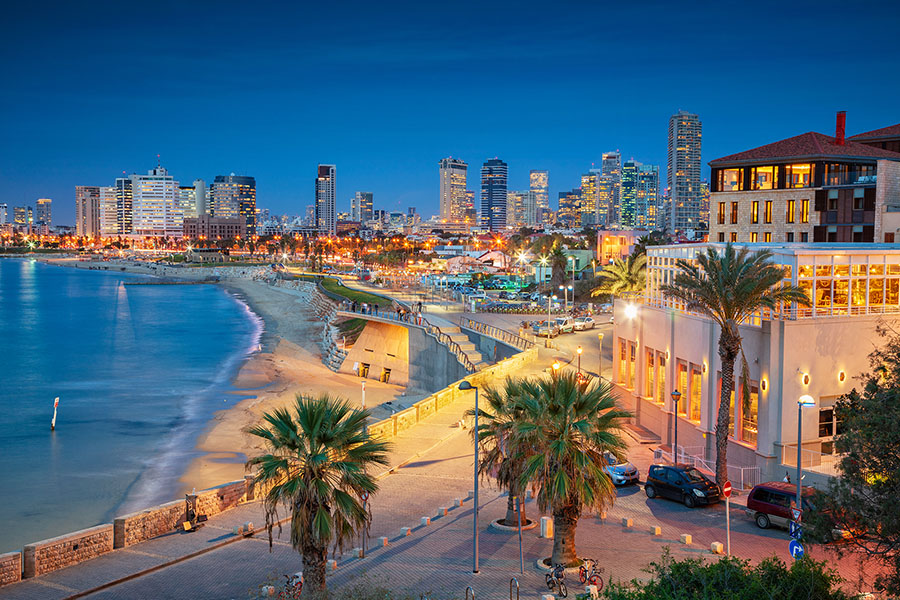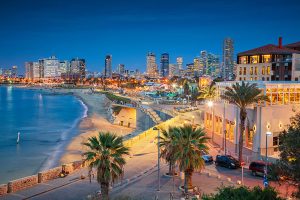 (Tel Aviv at night)
By accident, rather than by design, Israel, the lone democracy in the Middle East (and America's greatest ally in the area), became a globally renowned haven for advanced research on the mighty cannabis plant.
2. It's becoming the cannabis start-up capital of the world
Israel might not be the best location worldwide to publicly smoke a bowl or take a dab, but it's certainly one of the best places to invest in cannabis startups. Almost everyone there seems to be doing something unique or unusual with cannabis.
Israelis have dedicated thousands of acres and millions of dollars to cultivating the plant under controlled conditions. Potential investors from as far away as China are visiting Israel to explore opportunities, which so far include nearly 100 start-ups producing cannabis-based medicines and other products.
Israel even has the nick name "start-up nation" due to its robust entrepreneurial environment and profusion of start-ups in all industry sectors.
Medical cannabis is one of the fastest growing sectors on the Tel Aviv Stock Exchange; 26 listed companies have a combined value equivalent to $952 million, although many start-ups have yet to show profits.
The main technology breakthroughs all got started in Israel. They have a dual focus on biotech cannabis and tech cannabis. Investors we spoke to for this article are looking for the connector companies between Big Tech, which Israel is famous for, and cannabis.
3. Israel is a major exporter of cannabis
While you might not be able to pick up a dime bag on the streets of Tel Aviv easily, plenty of governments, academic institutions, and private corporations rely on Israeli growers for research-grade cannabis of all shapes and sizes. 
As one of the only nations worldwide that allowed cannabis cultivation for research purposes throughout the entirety of prohibition, Israeli academic institutions are somewhat oddly known as the best source of high-grade, scientific dank by sheiks, emperors, ambassadors, and everyone in-between.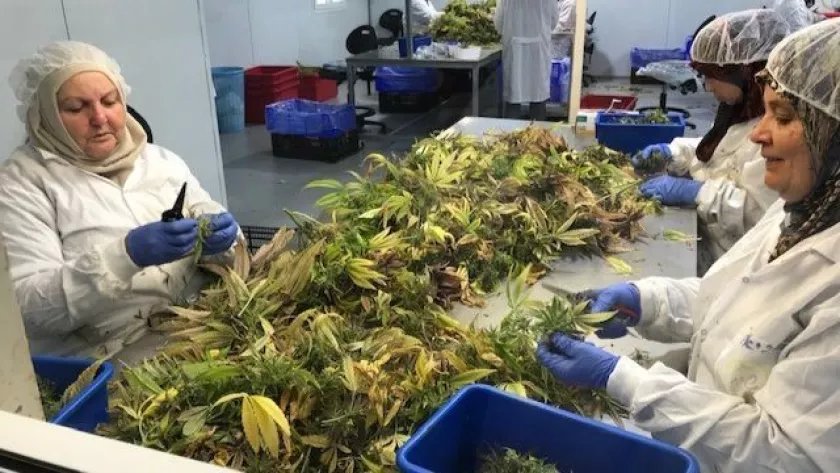 (Workers trim cannabis plants in Israel / Credit:Tracy Wilkinson )
4. Its government is backing cannabis
As a small state, Israel has weight to throw behind audacious civil projects like its Negev desert tech center. The Israeli government's tech innovation bureau announced funding in 2020 for CanNegev, a new six-operator startup center built out of nothing in the middle of the forbidding Negev Desert.
Instead of standing in the way of its innovators as they try to supply the world with cannabis tech, Israel instead stands fully behind this fledgling domestic economic sector. As long as no Israelis consume cannabis recreationally, there doesn't appear to be a problem for the Knesset (the Israeli house of representatives, or parliament).
5. International cannabis investment into Israel continues apace
As of September 2020, the Israeli medical cannabis patient count stood at over 70,000 with new applications being approved every day. Staying true to its commitment to decriminalizing all cannabis possession (in appearances, at least), international cannabis investor sentiment toward Israel is better than ever before.
Despite draconian laws continuing to prevent Israelis from smoking weed, Israel retains the greatest rate of cannabis use within its population. A 2017 study indicates that a full 27% of Israeli adults use cannabis, making Israel even more weed-friendly than the United States or Canada.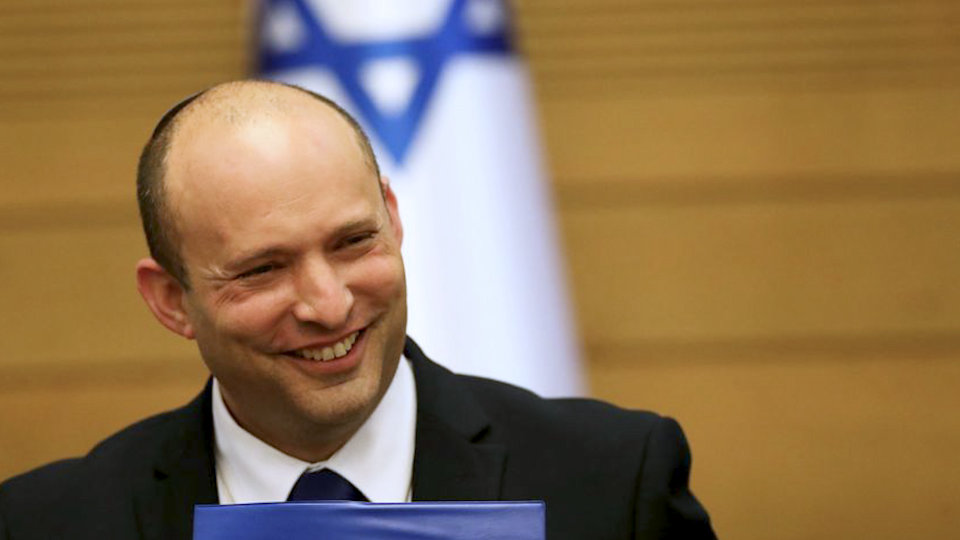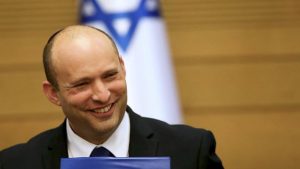 (Israel's Prime Minister: Naftali Bennett)
6. Israeli operators are optimistic
Israel naturally has one of the best cultivation climates for cannabis found anywhere in the world. With it's Mediterranean climate, with lots of sunshine and sophisticated research-and-development sectors, Israel created a tradition of educated farmers through the kibbutz system who can easily implement the "precision agriculture" necessary for high production standards needed for cultivation of cannabis.
Its population is mainly concentrated in major cities, eliminating supply chain issues inherent to larger geographies. For a Westernized country, Israel also operates surprisingly efficiently, with regulations imposed by the Knesset having practically universal authority that is almost universally respected.
Existing Israeli cannabis operators continue to receive help in the form of Israeli government investments and international investment. It's truly the golden era of cannabis in Israel, and the following four Israeli cannabis operators stand out amidst the crowd:
IM Cannabis
In July 2021, international operator IM Cannabis became one of the biggest stakeholders in the Israeli cannabis industry with a $700,000 investment spree. CEO Oren Shuster sees Israel as an important cannabis R&D hub that is currently "punching above its weight." Citing the close geographical proximity of Israeli cannabis operators, Shuster sees a bright future of mutually beneficial cooperation within the growing market.
BOL Pharma
BOL Pharma is Curaleaf's buy-in to the Israeli cannabis industry. In July 2021, Curaleaf exported over one ton of cannabis to Israel as part of a new agreement with BOL Pharma, one of the nation's largest medical cannabis providers.
InterCure
The cannabis brand Cookies is a big deal stateside, and Cookies has a newfound ally in Israeli InterCure. In April 2021, Berner-owned Cookies signed a deal with InterCure that will allow the sale of Cookies products in Israeli medical cannabis dispensaries.
Eybna
Eybna is a major world supplier of cannabis-derived terpenes. CEO Nadav Eyal credits Israel's unique regulatory stance toward cannabis as the primary reason for the profusion of cannabis R&D startups in Israel.
7. Israel is a cannabis-supporting major US ally
Since the days of the Cold War, Israel has been caught up in a proxy war between the forces of democracy and the forces of totalitarianism.  But because of the close trade and cultural ties between the USA and Israel, there are already well-established channels of trade across all sectors, especially technology, and cannabis will be no different.
Amidst this geopolitical climate made even more tense by the pandemic, we must remember two things: Israeli cannabis consumers, like all cannabis consumers, are the natural brethren of American cannabis enthusiasts, irrespective of politics or nationality. Secondly, the global cannabis legalization movement has the potential to be a uniting force for the world, opening new avenues of peace, trade & commerce globally.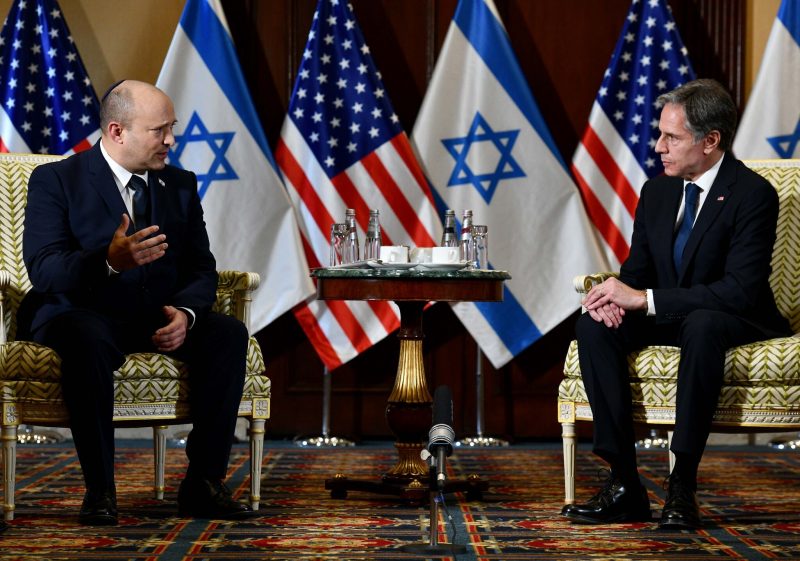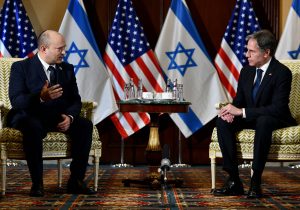 (Prime Minister Naftali Bennett meets with US Secretary of State Antony Blinken)
We, and other countries, can also learn a lot from Israel's steadfast commitment to supporting the research and development of cannabis. A strong commitment, even if they proved slow to adopt adult-use legislation. Legislation that will ultimately allow the Israeli people the freedom to enjoy cannabis.
Highly Capitalized 2021 © Copyright. Not to be produced without permission from Highly Capitalized. All rights reserved.
Latest News