The Dinner Invite We All Want: On Meeting Jordan R Wagman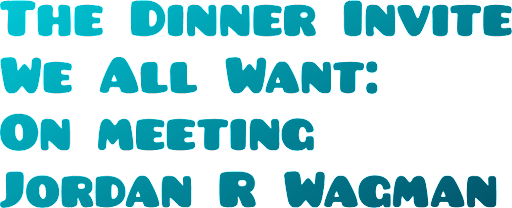 By Nicole Stover – One of my favorite things about being a journalist in cannabis is the chance to meet some real motherfuckers who are serious about making change in the world. One such person is Jordan R Wagman, the renowned chef. 
Jordan started our interview sporting his red-rimmed sunglasses and taking fatty rips off of his glass pipe. I knew right away he was going to be one of my most favorite people.  
A Short Intro To Jordan
Becoming one of the very few Canadians to ever receive the honor, Chef Jordan Wagman has been recognized as the Rising Star of North America by the James Beard Foundation. 
He is a best-selling author of 4 cookbooks filled with healthy recipes ranging from baby food to appetizers and a 5th book very soon to be released. Portions of the proceeds will go to Last Prison Project, PACT, NORML and Jewish Family and Child Services. 
Jordan is the host of a successful podcast called In The Weeds, available on Apple and Audible. His legendary guest list consists of cannabis industry leader Andrew DeAngelo and the dynamic-duo of the Weed+Grub Podcast, Mary Jane Gibson and Mike Glazer. 
Razor focused on educating and inspiring, Jordan explained to me where he felt the opportunity lies in reaching others:
"The opportunity is not, as I see it, with the people that currently consume cannabis it is with those that don't. All of these people that don't, they are so curious about cannabis and they have no idea what to do."
Coping with Cannabis
Jordan grew up one of four siblings, raised in the bustling, beautiful city of Toronto. At age 12, he was diagnosed with the autoimmune disease, psoriasis. A condition in which skin cells build up and form itchy, dry patches, Psoriasis triggers include infections, stress and cold.
Having been hospitalized several times and experiencing the negative side effects of medications, Jordan began consuming cannabis daily as a way to cope. He didn't yet understand the wellness benefits of cannabis, but he knew it helped him in a way that nothing else could. 
"I have smoked joints everyday since I was 12. I was a stoner, pothead". 
A Glimpse Of Hope
Jordan found himself in his second year at York University working towards a Bachelors of Arts degree. Feeling defeated, as he had tried every remedy available with no relief for his condition, Jordan made a radical decision. 
He hopped on a plane to Israel in hopes that the Dead Sea would be his saving grace. The salty body of water is rich in zinc and bromide, which are both anti-inflammatory agents. Partnering these treatments with sunshine and a regular routine of working out, Jordan was experiencing an entire new way of healthy living.
With his psoriasis now manageable, Jordan returned to Toronto. But life quickly resumed as normal. The flare-ups came back. Doing his best to grapple with them, Jordan continued to medicate with cannabis. 
I'm Out! 
One afternoon while daydreaming in Anthropology class, Jordan made another decision, one that would alter his course in a way he never imagined. Two credits shy of graduation, he headed to Florida, dreaming of a career in the culinary arts. 
Taking occupancy in his Grandma's home in Pompano Beach, Jordan seized the opportunity to enjoy life with friends, and finish culinary school at The Art Institutes. He spent the next twenty years perfecting his craft and learning new, unique techniques in the kitchen. 
"I didn't want to go with the grain, I never wanted to go with the flow."
While studying under Oliver Saucy, renowned for his refreshing, balanced cuisine, Jordan honed his skills at The East City Grill in Fort Lauderdale. Upon his return to Canada, he took on the role of Sous-Chef for Mark McEwen and Brad Long at Air Canada Center, home of the Toronto Maple Leafs. 
With years of experience under his belt and passion in his heart, Jordan went on to excel as Chef de Cuisine at Pascal Restaurant, a high-end location in sunny Newport Beach, California and Executive Chef for Cliff House. Nestled at the base of Pikes Peak in the Manitou Springs Historic District, Cliff House is a luxurious four-diamond hotel known worldwide as one of Colorado's premier dining destinations. 
Purification 
By age 43, Jordan had found great success in his culinary ventures, but was still fighting his excruciating battle with psoriasis. Realizing he was finally ready for a life-long commitment to change, he sought out a Naturopath that could educate him in alternative means of healing. 
Within 60 days, his flare-ups were clearing and he had lost 30 pounds. Jordan removed gluten, dairy and refined sugars from his diet and continued to consume cannabis with health and wellness benefits in mind. 
Jordan also began purifying his recipes, substituting refined sugars for things like honey, agave and maple sugar as well as infusing cannabis into his food. 
In doing so, he constructed a unique, full flower experience that his clients rave about!
"When you remove refined sugar from the equation, all of that cannabis becomes way more bio-available. That is the hypothesis, that's the premise in which I build all of my experiences on."
The Dinner Invite We All Want
Our conversation continued as Jordan made his way indoors. We spoke as he stood in a large, open area that looked out onto a lush backyard. Admiring the space, I couldn't help but tell him how dope it was!
Jordan revealed that he uses the room not only as his office and gym, but his dining room. He welcomes clients into his own home and cooks and serves, along with a fully trained staff, healthy delicious food from the heart, with intent. 
Having served thousands of people, Chef Jordan has mastered an impeccable technique of infusing his food with cannabis. I asked him to share what his overall approach to cooking is: 
"My approach is this – I buy the best ingredients that I can, I do very little to them and I serve them, but now I do it without gluten, dairy and refined sugar and especially when it comes to cannabis, it makes a huge, huge, huge difference."
The Chef's experience consists of you and seven guests sitting down to a stunning table in a relaxing environment, where you will enjoy a 10 to 15-course meal finely curated by Chef Jordan with you in mind.
Collecting your dietary restrictions and preferences prior to the engagement, Jordan creates a culinary masterpiece that includes 20mgs THC, 50mgs CBD, 25mgs CBG, raw cannabis and terpenes. The Full Flower Experience. Literally the dinner invite we all want. 
"I am Building the narrative worldwide for what cannabis can be in food and beverage. That's what I do."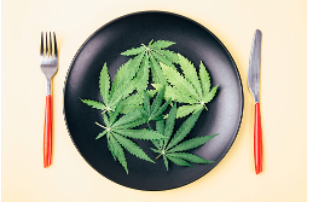 Educating The Canna-curious
As our conversation started to wind down, I asked Jordan how he planned to continue advocating for the normalcy of cannabis use. His response was nothing short of amazing.
"Let's create food and beverages that are conducive to people that are canna-curious – who really want to consume cannabis and don't know what, don't know how and don't know where."
Jordan touched on how important education of the plant is, not only for those that consume cannabis, but those that do not.
"People are not going to come here through combustion, they are going to come here through eating and drinking. And why? Because its what we know. We celebrate over food. We mourn over food. We do business over food. Everything is about food and beverage thats in our life."
In Closing, Just Fucking Be A Good Human
Jordan's ultimate goal is to reach at least one person every day. Whether it be through cooking delicious food, writing books or volunteering his time at the hospital that once treated him as a child, his efforts are put toward making a positive, long-lasting impact on everyone he comes across. 
"If you just fucking be a good human, be kind to everybody, just be a good person and it's the easiest thing to be and it changes people's lives. A simple hello. A simple coffee. A simple Happy Birthday. These little bits of dopamine you inject into someone's life, it's life changing for people."
Latest News