Behind The Scenes: Bespoke Financial: Funding the Future of Cannabis
LOS ANGELES–In a relatively short period of time, Bespoke Financial has established itself as the nation's first cannabis-focused fintech lending platform. 
They've been in the news lately because they recently secured a new $125 million credit facility for their clients.  A facility to lend money to cannabis companies of all shapes and sizes. Funding for working capital expenses such as purchasing inventory.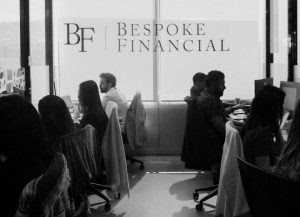 Deploying Capital in Cannabis
With such a humongous amount of money to deploy to license holders in cannabis, Bespoke Financial is leaving an indelible mark on the modern cannabis industry. 
So Highly Capitalized reached out to Bespoke Financial to find out more. Here, in this exclusive interview, Samuel Popejoy sat down with Bespoke Financial's Head of Revenue, Judson Hill, to find out about Bespoke Financial, and asks: what makes them successful?
Institutional Capital for Cannabis
This infusion of capital from institutional investment funds was a strong show of confidence in cannabis debt financing, as well as in Bespoke Financial themselves. 
Due to the limiting federal regulations, banking is still very hard to access for cannabis companies–even in states that have legalized cannabis.
The company has effectively mainstreamed cannabis lending by providing a comprehensive technology platform and data-driven application process enabling licensed cannabis operators to access financing quickly and seamlessly, as evidenced by the company's automated pre-qualification for dispensary financing.
"This added lending capacity demonstrates that more institutional investment firms are recognizing the cannabis industry's potential. Institutional investors are chasing high yields and seeking to minimize volatility, especially through investments that are not subject to future COVID-related market disruptions,'' said their CEO & founder, George Mancheril, when they closed their raise last year. 
"Bespoke Financial is serving as a conduit for larger pools of capital to enter the space in a structured and scalable manner ahead of federal regulatory change, if and when that comes."
So where did Bespoke Financial come from, and where are they going?
Bespoke Financial was the brainchild of George Mancheril, a Goldman Sachs alum with extensive mainstream financial connections, and one the largest, cannabis-focused Venture Capital firms based out of California.
Shortly after the company was founded in 2018, George recruited Judson Hill, initially as their VP of Business Development. 
Judson was a critically important hire since he provided a bridge to cannabis operators in California. That's because Judson worked (and still works) as an entrepreneur in cannabis, and remains a partner in Higgs, a multi-state pre-roll cannabis brand.
Through Judson's insights, and his network in the cannabis industry, Bespoke was quickly accepted by the industry. Bespoke Financial grew from strength-to-strength ever since. Many of the market-leading brands in cannabis are now clients of Bespoke Financial. 
Indeed, Bespoke's clients are a ''who's who'' of the modern cannabis industry.
The company works nationally in 12 regulated markets from California to Maine, financing lines of credit in amounts as large as $15 million.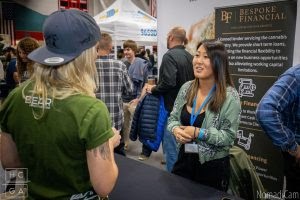 (The team attends a conference in Humboldt county).
What's Bespoke's Mission as a Company?
The company's mission is to fund the future of cannabis. They aim to be a force for good in the cannabis industry by bringing traditional debt financing tools to financially empower the nascent industry without diluting owners' equity. 
Until recent years, the industry mostly relied on equity investments as the sole capital source, but Bespoke's vision of complementing that equity, with debt financing, has rapidly become an industry reality. 
From the very beginning, Bespoke Financial's mission was also to simplify lending in cannabis. 
They offer an online lending platform that allows cannabis operators to quickly apply for financing, view their line of credit utilization, and use the funds they need for things like purchasing inventory. 
Making the Lending Model Work
As Judson shared with me, it's challenging to qualify cannabis companies for financing when there are no credit scores to reference.
To make Bespoke work, the team had to develop a proprietary method of screening lending applicants tailored to the idiosyncratic quirks of the cannabis industry. 
In addition to blazing the path forward for Bespoke Financial, the team has used their hard-won experience in cannabis as inputs to create Bespoke's new automated screening process.
Silicon Valley-level fintech platform
Bespoke developed their in-house cannabis fintech platform that both acts as a client facing portal and screens the viability of applicants. They do this through using data acquired during the company's several years of client-lending history.
Indeed, Bespoke has been building their ''techstack'' since their Series A funding. A big chunk of that Series A's capital went into the development of their custom-built fintech platform. A system that has potential to be as revolutionary as debt itself has been to the industry.
Judson describes this new fintech platform as "best in class." Indeed, the team assembled to work on the tech are actually best in class themselves. The leaders of Bespoke's fintech project actually worked on mainstream tech ''unicorns' like AirBnB. 
Having a great team with highly experienced engineers means Bespoke's vision of being the leading fintech-automated platform–is quickly becoming a reality.
Brand-new $125 million credit facility
Controlling $125 million is a big responsibility.
According to Judson, Bespoke's services are not solely tied to the money. The team aims to provide added-value to their clients in terms of banking and accounting references along with business insights to empower their clients 
For Bespoke, it's really all about helping cannabis companies succeed.
At Bespoke Financial, it's all about the people.
Over the last 30 months, Bespoke Financial has transformed from a two-man party into a large team of more than 30 diverse employees. Their goals is to make flexible financing more accessible to cannabis businesses than ever before.
Bespoke believes that assembling a team with diverse experiences and backgrounds allows different  perspectives and ideas, can lead to breakthrough thinking and results.
They clearly believe in lifting people up as a team. There's plenty of evidence that this isn't just hyperbole. Many of the original employees are being developed and promoted internally. 
Existing employees are given the space to develop their own capabilities, and careers within the company. Indeed, Bespoke just completed a round of promotions internally of their managers, further motivating an already driven team.

(Image: Los Angeles is Bespoke Financial's HQ) 
The Democratization of Lending
Bespoke Financial is scaling. Proven by their client's needs, they had to seek out this new credit facility which provided access to a larger capital pool for both new and existing clients.
Over time, Bespoke has noticed cannabis companies becoming more open, and more and more comfortable with the power of debt financing to stimulate growth. 
With their new algorithmic application process, Bespoke Financial hopes to reach more independent dispensaries and smaller cannabis producers who might not normally think financing is right for them.
With just a few years in operation, Judson Hill is convinced Bespoke Financial is only getting started. 
You can say they are democratizing the lending process in cannabis.
They are empowering more and more cannabis companies than ever before, to properly plan their business finances, and thereby enabling cannabis companies to finally start tasting the benefits of true financial security in their business.
Clearly, with the addition of $125 million in lending capacity, it's true: Bespoke Financial is just getting started. 
Highly Capitalized 2022, All Rights Reserved. The Editorial team thanks Judson Hill for his time and insights into this article.  Retailers interested in pursuing dispensary financing can pre-qualify for a Bespoke Financial revolving line of credit by completing this simple
online application.
Bespoke Financial are clients of Highly Capitalized. Pictured above, from right to left, George Mancheril, CEO, Judson Hill, Head of Revenue, Lina Cheng, Strategy & Business Operations and Brandon Scott, Enterprise Account Executive. 
Latest News