A LIFE IN A DAY: Sebastian Casalenuovo: Vicente Sederberg
SEBASTIAN CASALENUOVO works at Vicente Sederberg, LLP (VS). His professional journey within the legal field before joining VS in 2019 spanned over eleven years and included work as an executive assistant at California cannabis business specialty law firm Frontera Law Group, as a Field Support Specialist with the records retrieval team of premier nationwide litigation support company U.S. Legal Support, as an office clerk with the prestigious family law firm of Trope and Trope LLP, as the personal chauffeur to one of the preeminent family law attorneys in the United States, and as the office manager of a reputable West Los Angeles court reporting agency.
Sebastian attended UCLA Extension's ABA-approved Paralegal Training Program, where he was awarded my Certificate with Distinction. He's also a member of the National Association of Legal Assistants (NALA), the Los Angeles Paralegal Association (LAPA), and the Italian American Lawyers Association (IALA).
Rachelle Gordon from Highly Capitalized invited Sebastian to submit his life in a day. Having spent many a summer day as a young kid swimming at Tommy Chong's house, Sebastian feels right at home with the cannabis-space-leading VS team trailblazing through this inspiring, historic time for the legal cannabis industry, especially amongst our Entheogens & Emerging Therapies Practice Group, as he is a vehement believer in the sanctity of the individual's fundamental right to sovereignty of consciousness and freedom of thought. 
He finds sanctuary from this topsy-turvy world in ruminations on Stoic philosophy, re-reading classic martial arts literature and adventure journalism, and grooving to the liberating and soothing sounds of progressive and deep house (he says: "Google "Anjunadeep" and then set your Spotify to shuffle for a real treat"). 
On his perfect days, you can find him—or can't, rather, and that's okay, too—out in nature either walking the Earth or pedaling intensely up and down Southern California's hills on his mountain bike, eagerly anticipating a delectable craft IPA or two…or three—on the other side of the oh-so-gratifyingly arduous trek. 
What's your morning routine, and what do you think about in the mornings?
Central to my morning routine is stretching.  I have fifteen-plus years of taekwondo training under my belt ("canvas, from JCPenney – $3.98").  I can't overstate the importance of stretching, and proper breathing during stretching.  While stretching, I thank God for the opportunity to enjoy being alive and in good health another day.  Of course, there are certainly some mornings I wake up extremely crabby (yes, that's an allusion to my crustaceous namesake in The Little Mermaid), but habitually I do strive to intently approach each day with thankfulness and humility.  
It trips me out hardcore how not-uncommonly at this point in my life—I'm 34—I receive word via my high school alumni newsletter that dudes—I attended Loyola High School of Los Angeles, an all-boys college preparatory institution that pre-dates USC by 15 years—from my class have already passed on to the next life.  So, I increasingly cherish the recurring thought that each morning is truly a blessing not to be taken for granted.  (My one tattoo, hidden under the timepiece I wear on my wrist, reads, "memento mori.")  Cultivating this mindset, combined with the physical stretching, compels daily mindfulness that is essential for me to achieve my peak productivity and maximum fulfillment each day. 
What part of the world do you wake up in the morning, and what is it like where you live?
I've lived everywhere in Los Angeles, from Westchester to West Hollywood; to the Palisades to Brentwood; from Reseda to Sylmar.  But currently, and for the past several months, I've been fighting quarantine cabin fever while holed-up working from home right on the border of Midcity and Miracle Mile areas of Los Angeles and waiting for the metaphorical dust to settle in a post-COVID world before I make my next move.  So, I'm an LA dude through and through, but I intend on not dying in this concrete jungle.  There's too much additional greatness out there in the wide world!  
I hope Vicente Sederberg will institute a permanent work-from-home situation or at least a WFH-dominant hybrid (cannabis strains pun intended) scenario.  I'd love to move up to Big Bear or out to San Luis Obispo.  I'm exhausted from the hustle-bustle of the Metropolitan LA area—I actually lived Downtown for most of 2020, and that was super gnarly.  Where I live now is right by a police station, so I have to close my windows for every phone call I have with Clients, co-workers, or whomever, because the helicopter is always flying by, 24/7/365.  "Exciting" would be the perfect one-word euphemi—I mean, descriptor for my neighborhood!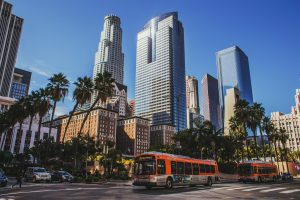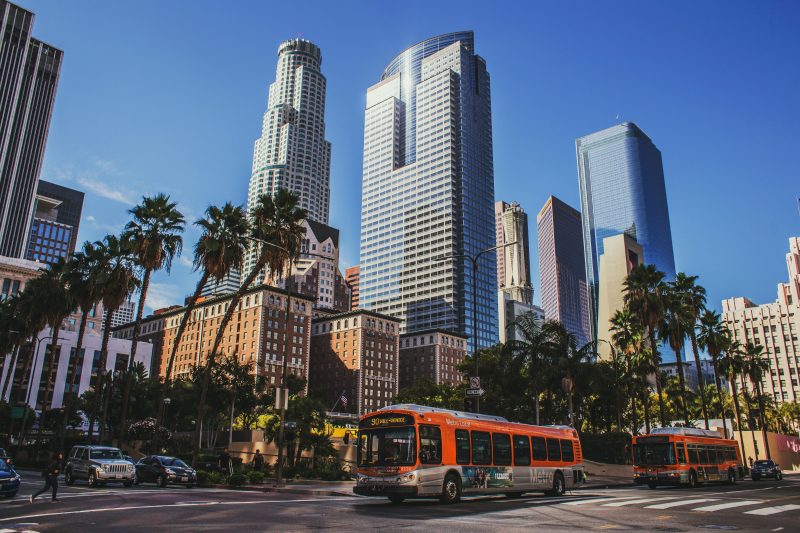 (Downtown Los Angeles credit: Olenka Kotyk)
What's the first thing you do each day, and what do you eat and drink in the morning? 
I make my bed.  I highly recommend everyone search YouTube for that once-viral Commencement Address at the University of Texas at Austin by Navy four-star admiral William McRaven, and watch it.  I don't know anything about the guy other than that speech, but as far as starting the day ought to go, as far as I'm concerned he hits the nail on the head.  After that, I brew my tea.  I used to be a coffee drinker, but coffee is so harsh on the insides.  As my brother, a master mixologist, so poetically told me once, "Coffee and tea are both great for that morning jolt.  But while coffee is like a gnarly punch to the face that will certainly give you that morning kick, tea is more like an invigorating massage that soothes as much as it energizes.  So, would you rather start your day with a fist to the face or a nice shoulder rub?"  
So, some time ago I did an about-face on the daily espresso veneration of my Italian people, and chose for my go-to morning fix a smoke-dried, Chinese black tea called lapsang souchong.  It has an intense nose reminiscent of top-notch peated scotch whiskies.  It might not be for the faint of nose, but it's phenomenal.  For solid morning fuel, I usually make myself an omelet with green and red bell peppers and asparagus, with sourdough toast or blueberry pancakes.  My sweet tooth is perpetually insatiable. 
What publications do you recommend to read in cannabis?
In the cannabis space, one must at an absolute bare minimum subscribe to the Marijuana Moment newsletter and the Highly Capitalized Network.  In the other plant medicine spaces, the Multidisciplinary Association of Psychedelic Studies (MAPS) Newsletter is essential, and the DoubleBlind magazine and media network also really impress and fascinate me.  The newsletter published by the John Hopkins Center for Psychedelic & Consciousness Research is another goodie.  I'm a regular, appreciative reader of these and so many more wonderful channels of information managed by so many committed individuals in the cannabis and plant medicine spaces, but those are the first ones that come to my mind. 


How do you work and plan your day, what's your job?
As a paralegal, I provide support to VS's Corporate and Business Department, to the firm's Intellectual Property and Litigation & Arbitration teams, and the Entheogens & Emerging Therapies practice group.  I also assist the intake team in building new client relationships and streamlining the onboarding process.  I keep an ongoing checklist I refer to every morning before I report for duty to my senior paralegal, who's a great mentor.  I'm truly blessed to work "alongside" (virtually, in this Brave New World) such a solid team of individuals in similar roles in VS's other offices.  I'm the only paralegal at our firm who's physically located in California, and I take extra pride in that.  
To me, the trust and reliance the attorneys whom I support place in me to work under their licenses to practice law is sacrosanct.  So, I vigorously dedicate myself 100% to my role.  My job is to assist attorneys–not to advise folks on any point of law, no matter how straightforward some may be in my mind.  (It actually amazes me how many people not in the legal field hold this common misconception that paralegals are qualified by education and licensure to provide legal opinions—we CANNOT and SHOULD NOT, and I for one certainly DO NOT!) 


Do you exercise or meditate, and what do you think about when exercising, meditating?
I spend every minute I possibly can hiking, trail running, or riding my mountain bike.  Living where I live these days, those times are usually relegated to Saturdays and Sundays only, unfortunately.  I'm a member of a dope new mountain biking club based in the San Fernando Valley.  So, when I'm riding with those dudes, I have more conscious thoughts than when I ride solo, which mostly entails thoughts of not wanting to be the last guy up the hill and of wanting to be the first one down.  When I ride solo, I remain competitive, but with myself, such as challenging myself to go more distance than last time.  Also, my thoughts when riding solo include, "I will be louder and scarier than the mountain lion I am bound to encounter one of these days."  
I find a lot of the riding I do, especially long uphill segments of trails, lends itself to meditation in motion.  I'd go so far as to say that meditation is vital to cardio work, and my recipe is to RELAX as many of my muscles as I don't need to engage as I can, CONTROL my BREATHING, find my RHYTHM, SYNC all that up, and then just REPEAT and MAINTAIN for prolonged periods.  Despite my somewhat extensive martial arts background—seven years of which entailed training six days per week minimum, and for a couple of hours on each of those days—I've never been a master of or expert in Zen or any school of meditation, but my recipe for meditating while mountain biking is adapted from how I was taught by world-renowned martial arts masters and grandmasters to meditate to recalibrate my mind after intense taekwondo training sessions.  Essentially, it really is as simple (but not easy, per se) as "relax, breathe, repeat."  Think of the never-ending ebb and flow of the tide.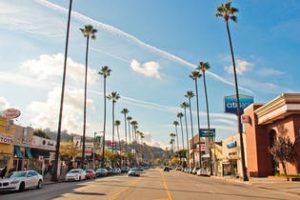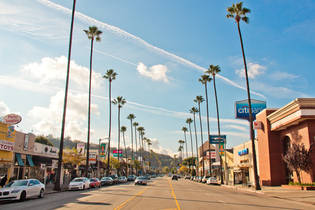 (San Fernando, Los Angeles, credit: Olenka Kotyk)
What do you wear these days?
Haha!  Working from home has been a glorious experience in terms of the daily attire question.  These days, I suit up in shorts, T-shirts, and moccasins.  I switch out my Minnetonkas to my Birkenstocks when I head out to my patio for eating lunch in the sun.  My favorite T-shirts these days include the ones I have bearing marks of Decriminalize California, the Marijuana Policy Project, and a Corvain Cooper Justice is Served t-shirt by the 40 Tons cannabis brand.  
However, my #1 favorite tee lately is one with a caricature of Joe Biden that says "Traitor Joe" in the supermarket Trader Joe's stylized font.  (I love puns.)  I was livid (but not at all surprised) when in March that news story broke about the Biden White House's deplorable act of firing staffers "due to past marijuana use", especially in light of all the campaign promises posturing Candidate Biden as a serious supporter of cannabis reform than President Biden has proven to be so far (as of this writing).  So, I'll be rocking that shirt as much as possible for the next 3.5 (or 7.5) years, much to the dismay of, it seems so far, the overwhelming majority of my fellow Angelenos I encounter out in public.  
(Nota bene: I'm disenfranchised by the two-party system's stranglehold on America.  I have many political satire shirts, some you'd find at the Onion Store and some you might find at the Babylon Bee store.  And throw me out of the corner conference room's window for this suggestion, but perhaps the cannabis industry should galvanize around another, third party for the remaining progress to be made that continues to prove too slow, in my opinion.  Repeating the same thing over and over and expecting different results, i.e. voting for the same two parties into power for generations, is insanity.)
What's for lunch and describe the rest of your day like up to dinner time?
Usually, I eat something pre-packed from Sprouts Farmers Market for lunch, like a turkey sandwich or some sushi rolls, or I'll heat up some chicken skewers and basmati rice or quinoa.  When I'm super busy and work through lunch, I love to eat lupini beans.  I grew up next door to my Italian immigrant nonni, so I've been eating lupini beans out of the jar long before the Brami brand in re-sealable packaging now available in the Costco snack aisle became cool.  I also love the buffalo jerky from Trader Joe's for powering through tougher workdays, as well as through daylong hikes/ bike rides.  Grapes, apricots, and avocados are more of my faves when I'm trying to power through the day without pausing to focus on eating something more substantial.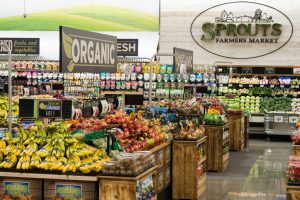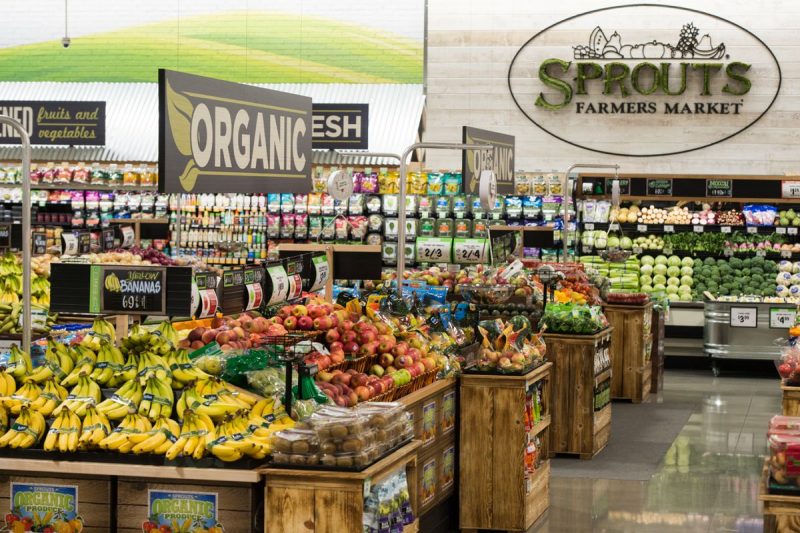 (Sprouts: Farmer's Market)
What are some thoughts you might have about your cannabis job–compared to previous jobs?
I really enjoy how the corporate paralegal work I do in the cannabis space is mostly collaborative whereas most traditionally thought-of areas of the law are inherently adversarial in nature.  I worked in family law for five years and, although I was grateful for that opportunity and appreciated those with whom I worked at the time, that practice area versus cannabis law is day-and-night. 
The only place you probably see more of the worst in people than you do in family law is criminal law.  As noble and fascinating as family law may be, navigating the intensely combative nature of that practice area on a daily basis became so exhausting to me that it really brought me down in spirit after a few years.  The end result of a family law case might be positive for one or both parties involved, but the daily road there, from what I for one witnessed in my experience, almost always was intensely unpleasant.  But the education I received there was invaluable.  
So, now I bring that legal support knowledge, skills, and experience to assisting attorneys advising cannabis companies how to comply with state law and, hopefully, thrive!  Federal cannabis prohibition is absolutely asinine and downright despicable.  So, ultimately, I find gratification and purpose knowing that what I am doing here at my cannabis industry job—and as being a small cog of the wheel that is the pro-cannabis movement at large—necessarily entails dismantling systemic injustice, improving quality of life, and just simply allowing responsible adults to celebrate and enjoy life with a shared, quality joint. 
There are many noble professions worthy of such dedication to working for change and making the world a better place, but an end to the draconian federal prohibition of cannabis is palpable and the time of national and international cannabis policy reform is now. 
What's your evening routine like after work?  What's your commute like?
I work standing up at a VARIDESK all day every day, except for an occasional break for about a half-hour of sitting around 4:00 or 4:30.  So, when the workday ends, I take immense pleasure in the simple joy of having a good sit for about at least 15 minutes.  Then I'll play with my dog, Kenzi the Basenji for a bit.  If there's a Dodger game on, you can bet I'll have that on, too.  I also knock out doing dishes that built up from the morning and lunch times, which is great for obvious practical considerations of cleanliness but also because I find that cleaning is a great way to unwind and clear my mind after a busy day.  Then about now, it's about time to dirty some more for dinner prep. For most of 2020 and all of 2021 thus far, my commute has been gloriously nonexistent, thankfully!  Not one iota of me misses LA traffic!  
When do you consume–during the day or at night?
This might be a bombshell for this interview… are you ready???  I actually do not consume any cannabis on a regular basis.  I support responsible adult-use and all possible medical uses, but personally I don't enjoy cannabis.  I smoked frequently for two or three years starting when I was 17, but for a long time I haven't enjoyed consuming cannabis in any form, except occasionally as a non-psychoactive topical for sore joints and muscles.  
I'm not disparaging cannabis consumption AT ALL amongst responsible adults for recreation or within medical settings, but it's just not my thing.  But I did take a couple puffs of my sisters' joint last Independence Day at a barbeque at my mom's house.  Maybe I should make that a tradition—to toke a little bit every Fourth of July.  For, not many things better represent individual liberty and personal freedom as does the ability to choose what one puts in his or her own body, especially when it's something that has an impact on your consciousness and thoughts.  
I'm actually much more of a fan of the experiences I've had with psilocybin in the past than I am of THC or CBD.  Those trips were over 12 years ago, but they were overwhelmingly positive and left indelible impressions on me.  The future of integrating psychedelics and entheogens into mental health and psychiatry really excites me.  I can't recall who said it—maybe it was Michael Pollan, or Rick Doblin—but it's fascinating to consider that psychedelic compounds are poised to impact 21st-century mainstream psychiatry and mental health as profoundly as the microscope played a role in the natural sciences for the last nearly-400 years. 
What's your bedtime routine, and what are your thoughts as you drift off to sleep?
Since I was a freshman in high school returning home from after school track and field practices, I've been a night showerer.  It remains such a relief for me to shed the day by starting the bedtime routine with getting totally clean.  Obviously it feels great physically, but it also is also relaxing mentally and emotionally.  Then, once I'm in that relaxed head space, my mind is more receptive to new and intriguing ideas, which is perfect for the leisurely reading I like to incorporate into my evening routine in order to complete the day as much as possible.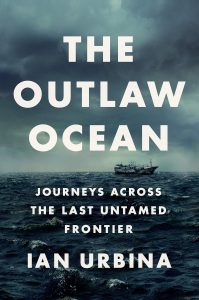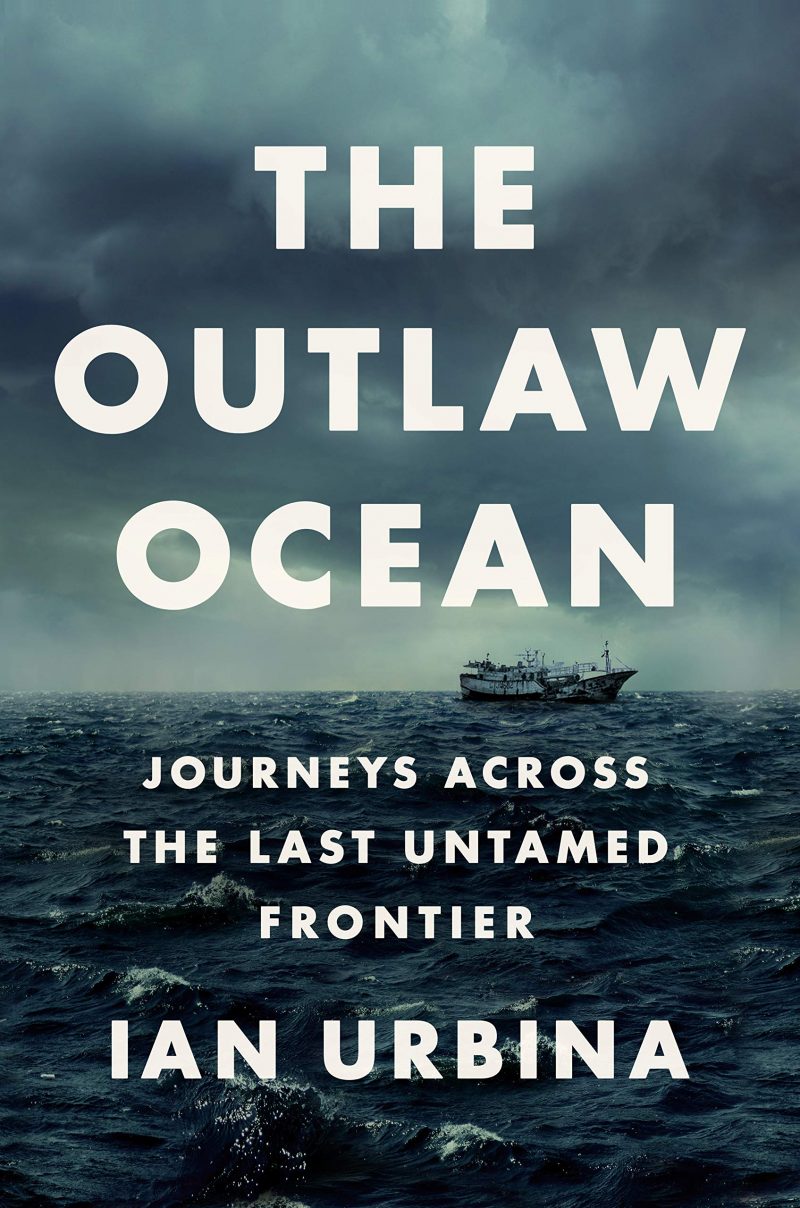 Currently, I'm reading The Outlaw Ocean by Ian Urbina, The Joyous Cosmology by Alan Watts, and The Immortality Key by Brian Muraresku.  Speaking of high school and Muraresku, this isn't a nightly thought, but I can recall being laughed at by the whole class and my teacher, after having painstakingly summoned up the courage as a then-very shy and introverted kid, in my freshman or sophomore theology class in 2001/02—at least 15 years before I had ever heard of the McKennas' Stoned Ape Theory and almost 20 years before Muraresku's book about archeological evidence of ritualistic use of naturally occurring psychedelics in ancient Greece was published—after asking my teacher if there was any likelihood that Moses' immediate vision of God in the Burning Bush might have been caused by, or at least intensified by or made more immediately accessible by, his inadvertently having eaten some spoiled food out in the ancient desert.  
So ironically that I couldn't even make this up, the last name of that teacher who laughed at my question (I never stopped loving the guy; no hard feelings) is the Italian word for "wheat", and a certain special ancient Greek wheat, I'm now reading in Muraresku's absolutely thought-provoking work, may have played the central role at the Temple of Eleusis, the spiritual capital of the ancient western, pre-Christian world, in the same manner that we have now known wheat for its chemical ability to give rise to the psychoactive ergot fungus, from which in turn LSD is derived.  So, while that high school memory itself isn't regularly recurring, the thoughts ultimately ensuing from it in my present day-to-day mind—i.e., how I might possibly reconcile this factual, archeological possibility in the birthplace of modern western civilization, with my Catholic faith—have been some of my end-of-the-day thoughts recently on a bit of a regular basis. 
Most regularly when drifting off to sleep, my final thoughts usually center around my mom, dad, four brothers, and three sisters, hoping they're each ending the day safely and soundly.  I also think about trying not to go on so many tangents the following day, as I drift off to sleep.
Latest News