A LIFE IN A DAY: Luc Van Poelje: Psychedelic Industry Personalities
LUC VAN POELJE is the founder of Psychedelic Insights. Luc is their lead psychedelic guide, working with patients who come to him to find solutions. Solutions to often intractable mental health issues. Based in the Netherlands, in Amsterdam, Psychedelic Insights provides "legal, safe, psychologically guided psychedelic experiences, to individuals, groups, and professionals," according to their website, with magic psilocybin truffles for personal development.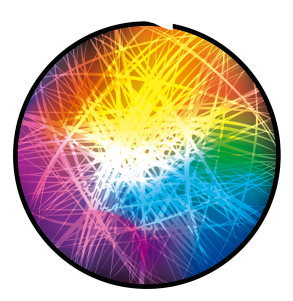 (Psychedelic Insights's Logo)
Luc is a Royal Netherlands Marine Corps veteran, with arctic, jungle, and mountain warfare and survival training. Luc successfully completed the French Foreign Legion commando training program. He served in Iraq in 1991 amongst other postings. He's also a passionate plant medicine advocate, an entrepreneur, ocean sailor, mountaineer, and rain forest explorer. Above all, he is a dad to his daughter Sam (14). His life changed after life-transforming psilocybin and Ayahuasca experiences in 2013. 
Luc ran a mental health education service for four years, including therapy and lifestyle coaching, and was a public speaker on mental well-being, especially in youth prisons where he gave 40+ talks on emotional health. His psychedelic background began when Luc was working as a trip guide in 2017 which ultimately grew into what Psychedelic Insights is today. He founded Psychedelic Insights in 2019 to officially serve clients in an optimized set and setting. 
The aim: professional and experienced staff, providing psychological guidance of psychedelic experiences. With hundreds of clients among whom are quite a few fellow veterans, Luc has first-hand experience of how natural psilocybin truffles work and how clients respond to it. Psychedelic Insights' mission is to provide safe, guided and responsible access to mind-expanding compounds for personal transformation.
His personal experience ranges from psilocybin mushrooms and truffles, MDMA, LSD, Ayahuasca, Bufo Alvarius (5meo-DMT) which serves as a basis for his work, connecting to clients' experiences and altered states of consciousness, keeping them calm and understood. On top of all this, Luc's business background shows he knows how to run and scale his business. Luc spent well over 15 years managing cutting-edge internet technology businesses from publishing technology companies like Sanoma and Elsevier Science, to developing cutting-edge gaming platforms; all before truffles.
–A LIFE IN A DAY  by Luc Van Poelje–
What's your morning routine, and what do you think about in the mornings?
When I wake up, I actually take care of my daughter's morning routine. She often sets her alarm clock early and jumps into my bed with Pluto, our happy family pet. I usually have a light breakfast with some hot tea. Then either Sam or I take Pluto out for his morning walk. Sometimes both of us. 
After our walk, I start the day by checking my emails and psychedelic news from around the world. I like LinkedIn for its variety of information. I post or share information and news I feel is engaging, interesting or just fun. I check my calendar planning and see which calls are scheduled. 
I live in Amsterdam, The Netherlands which is in the European Union. Psychedelics and cannabis have a unique legal circumstance in The Netherlands where legal access is possible to these medicines. While mushrooms themselves are prohibited, due to a one-off but well publicised accident, truffles which are also part of the mushroom, are still allowed.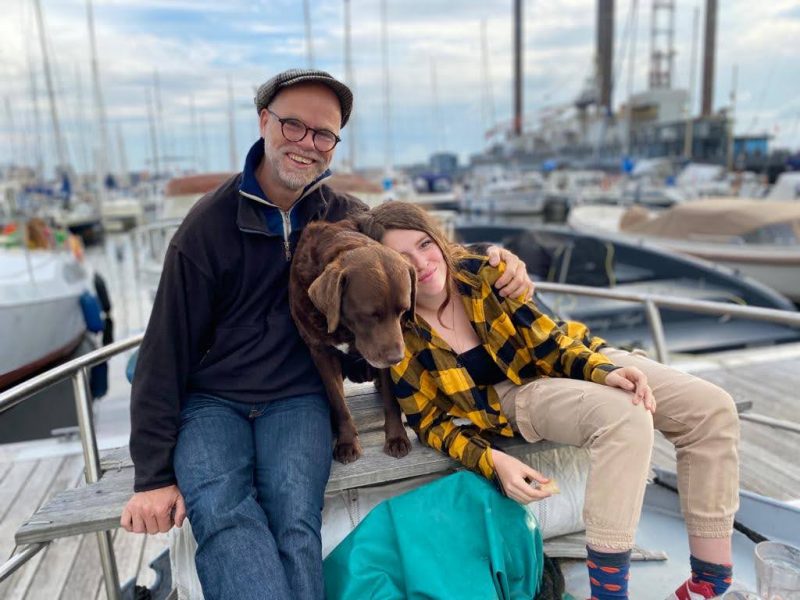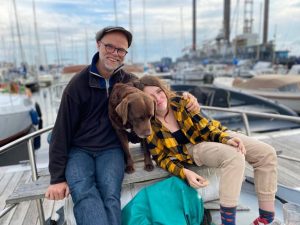 (Luc, his daughter, Sam Van Poelje and Pluto)
What's the first thing you do each day, and what do you eat and drink in the morning?
After my last Bufo Alvarius experience, I don't drink coffee in the morning anymore. Which I did, a lot. I eat only a little fruit or bread or nuts. I took Bufo Alvarius (5 meo-DMT) to feel better about investment decisions I had to make.
I'd been working long and hard and opening 2 centers with mostly my own funds was no issue for me. Taking a calculated risk of greater proportions with an investor's money needed to feel right. 
This extreme short acting psychedelic seemed more like a portal to the cosmic source. You smoke its crystallized gland "venom". On the exhale you are already no longer in your body. I was facing The Source. The Oneness. Give IT its name. It was immensely intense. On the exhale, reality was already disintegrating. A total religious experience, facing the intensity of The Light. It brought me back to what is important. That we all stand in our own way.
The universe is providing what we imagine if we stop trying to control it. It calmed me down after many months of hard work and stressful times. It opened a door to the otherside I can still visit. I see it as a portal, not a "drug".
What publications do you recommend to read in psychedelic medicine?
I tend to search for news about my industry, the psychedelic world, movers and shakers, research, and opinions.  I'm not so interested in recent market developments in my arena such as the scramble for psychedelic patents. Or even specifically the business of psychedelics, but I like to stay informed. 
I love LinkedIn and people's views. Also, Google News is a nice resource for me. Or social media. I follow my connections and like to start dialogues because academics, guides and healers, psychologists, psychiatrists and others, all live in their own perspective. 
They also use their own vocabulary and view this psychedelic renaissance from their own paradigm. I like to bridge these words and demystify them.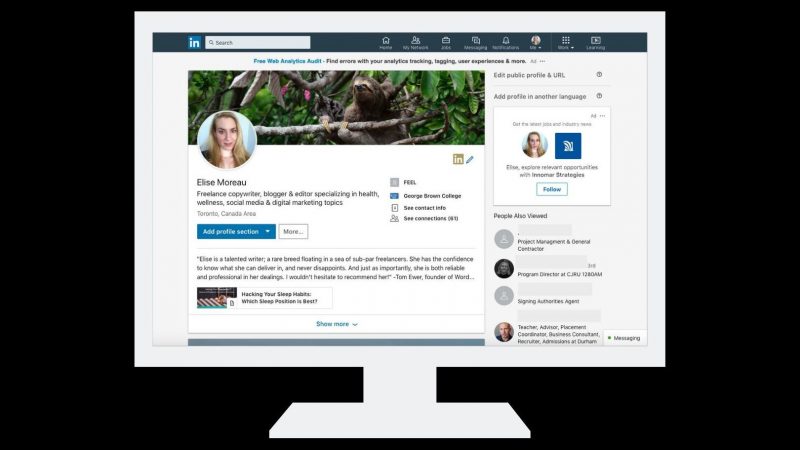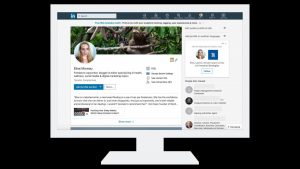 (Linkedin Screen)
How do you work and plan your day, what's your day-to-day job?
I run Psychedelic Insights as CEO so that means many meetings, scheduled calls, and bookings for psychedelic introductions or psychedelic truffle sessions pretty much determine my days. 
I operate with one main business partner (Hans Grootewal from Fresh Mushrooms) with whom I have a super positive collaboration and a great connection.  There is a lot of planning and explaining involved to prospective clients. Lots of psychedelic clients and as many B2B initiatives pass by on a daily basis. 
From promoting our chain of clinics in the US to new clients for psychedelic sessions to scientific research with natural truffles and much more.
Do you exercise or meditate, and what do you think about when exercising, meditating?
I walk my dog a lot. My dog Pluto is a cross breed but looks like a chocolate Labrador. I live in Amsterdam North in the NDSM area. Lots of space and air to breathe. 
This really is the most frequent outdoor contemplative exercise in my schedule. Things that are top of mind on the day, seem to pop up but also many others, more psychological, philosophical, or others. 
It is mostly when these walks don't bear fruit and questions remain, that I plan a high dose psychedelic for insights. Sometimes I meditate. I also longboard when the weather is good. That keeps me fit and young and alert. Love to go into town and board thorough traffic. In my head I still feel like a kid, thank God. 
I guess I am blessed feeling young, although I am not as physically fit as I would like to imagine (as I was in my younger years, climbing mountains or sailing oceans). Mentally, after my last 5meo-DMT experience in March 2021, I came to another place of light and utter bliss. These experiences were relatively new to me. It is part of my wonderful lives' journey. It is crazier than I could have imagined.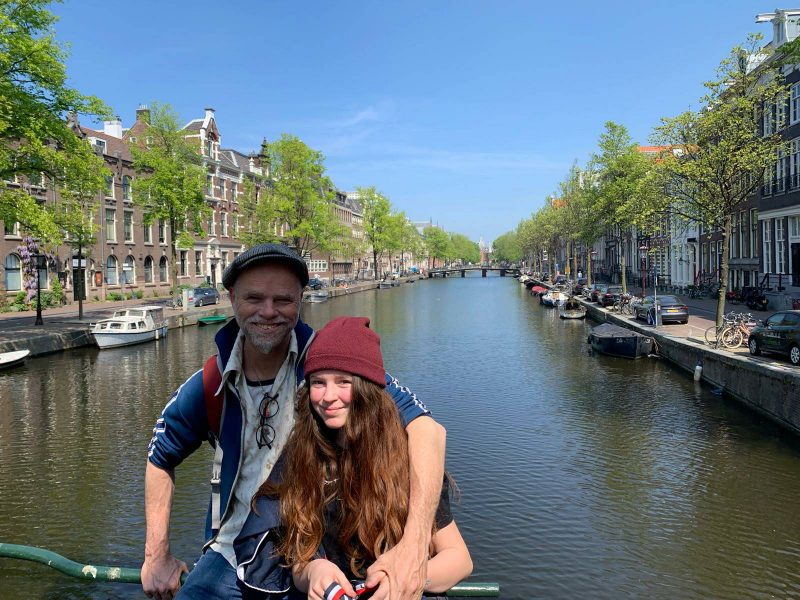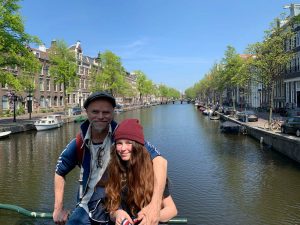 (Luc and Sam with Amsterdam canals in

background

)
What do you wear these days?
I wear jeans, sneakers and whatever is comfortable. Like many Amsterdammers, I live on a boat. An old 1960's Customs Border Patrol boat. 
The boat is more outdoors and in nature than most apartments and houses. It gets cold but tea or coffee is worth more there. Sunshine actually warms you in the morning. I enjoy the simplicity and don't mind a little hardship. 
So in the cold weather, I wear Icelandic sweaters and a solid down isolated winter coat. In the summer I wear shorts, t-shirts…it makes me feel like it's a holiday. All my friends enjoy visiting my daughter and me. We hang out on the deck in the sun. As a former military and corporate guy (I spent 4 years in the Royal Netherlands Marine Corps), I wore enough uniforms to blend in. Also gray suits in my corporate life were pretty boring.
In this part of my life, it is time to not think about what to wear and just be my natural self.
What's for lunch and describe the rest of your day like up to dinner time?
Scheduling my day from call to call. Kids coming home, walking my dog, planning and writing emails and plans pretty much outline my day. Often this goes on until late at night because of the time difference between the US and Canada.  
I have no real regular eating schedule. I try to eat nuts, fruit, veggies and minimise bread, eggs and dairy. I walk my dog a lot and that keeps me from just sitting and working round the clock. 
Getting those breaks really helps me mentally. But I must admit it doesn't feel like work. I really love what I do. I love to share my passion and work with likeminded people and organisations.
What are some thoughts you might have about your cannabis/psychedelic job–compared to previous jobs?
Everything I ever did is coming together in what I am doing now. It's not work, it doesn't feel like that. It is a mission and a passion all in one. A culmination of my military times, my corporate startup and marketing experience, my years giving lifestyle coaching and lecturing on mental health, and last but not least, my personal, utterly and totally life-changing psychedelic experiences. 
Running a psychedelic guiding business is a lot of work. The government has difficult laws (not just drug laws but also operating permits) and financial institutions make psychedelic business life hard. But the people, the interest, my work as a guide, our team, our clients.
Every aspect of it is an amazing journey that touches and changes many other lives.  In my view, psychedelics will change humanity, its morals and its conduct, and its relationship to others and the planet.  Like Terrence McKenna said, ''the only crisis there is, is a crisis of consciousness.'' 

(Terrance McKenna)
What's your evening routine like after work? What's your commute like?
I work from home. Either at my girlfriend's or my old patrol boat. Like a typical Dutch person, I take my bicycle, or on sunny days my longboard, to get around. My dog typically runs in front of me and pulls me through traffic. I enjoy that and I guess it keeps me alert, alive and young at heart. 
At 52, I still feel like a kid and enjoy pushing myself outside my comfort zone. My partner has a different lifestyle but is very open minded. We have shared beautiful psychedelic experiences together. 
She flies as a purser for a large airline and has seen much of the world. I thought I had seen a lot. But we really flow together and enjoy our evenings and time together with our mutual daughters of 11 & 15.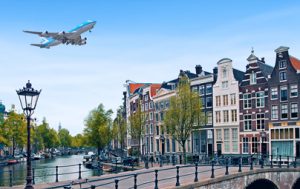 (KLM is the national flag carrier of Netherlands)
Do I consume weed or psychedelics?
A little microdosing with truffles or an occasional weed joint makes life and zooming out of the daily routine, a real treat. 
I used to smoke cannabis on a regular basis but have minimised this to one or twice a month. Microdosing truffles brings so much more clarity and flow to my daily routine, that I prefer that. The nicotine habit in tobacco is the worst drug ever. That deadly tobacco is legal, I think is absolutely insane. But I enjoy ''The Herb'' immensely. It brings me to a new experience of light and bliss in my meditation.
What's your bedtime routine, and what are your thoughts as you drift off to sleep?
Between 9 p.m. and 10 p.m. I put my daughter to bed. She's a genius in stretching this bed-time period and manipulating me to stay up late. But we enjoy our connection and laugh and play a lot.
Mostly around midnight or so I hit the sack. I like to listen to ancient wisdom texts, like the Vedas or I listen to Alan Watts, or (alternative) history about civilizations and their psychedelic traditions. 
From the Greek Eleusinian Mysteries to Reincarnation to the Yuga cycles, etc. I like to think about those things as I drift off to sleep.
Highly Capitalized and Rachelle Gordon, 2021 © Copyright. All Rights Reserved. Editor's note: Always consult your doctor before trying any new medicines. Highly Capitalized does not condone or advocate using any medications – psychedelic or otherwise.
Latest News