A LIFE IN A DAY: Jeffrey Welsh: Cannabis Industry Personalities
JEFFREY WELSH is a partner at Vicente Sederberg LLP, the main attorney group in cannabis. For over 10 years, Vicente Sederberg LLP have been at the cutting edge of cannabis laws. Vicente Sederberg are also famous legalization and social justice advocates in cannabis. 
Jeffrey focuses his practice on advising companies, brands, entertainment and media properties, other law firms, and investors on how to navigate the California cannabis marketplace.
Prior to joining VS, Jeffrey worked in Corporate Business Affairs at the largest talent agency in the world, William Morris Endeavor.  In 2015, Jeffrey co-founded Frontera Law Group with Luke Stanton. 
Through aggressive networking, and an unrelenting desire to be the first mover in the cannabis-to-entertainment/media space, Mr. Welsh fostered an extensive network with the current and future tastemakers of the entertainment industry to facilitate deal flow between these two industries. 
In April of 2017, Mr. Welsh co-founded a full-service creative agency, Composite. Composite helps guide and grow brands in the legal cannabis industry and specializes in creative & content production, marketing research & strategy, and product development.
Jeffrey holds a Bachelor of Music from the University of Hartford, a Master of Music from the University of Southern California, and a Juris Doctor from Pepperdine University School of Law. 
A LIFE IN A DAY: JEFFREY WELSH
What's your morning routine, and what do you think about in the mornings?
I have never been a morning person (I'm a night owl) but have been more conscious during quarantine about utilizing the morning hours in a more productive way.  I think about the arc of my day, figure out when I'm going to be able to squeeze in a workout and check my work schedule to see if there's anything that needs review.  Once I get or have my first call, I'm basically non-stop for 8 hours.
What part of the world do you wake up in the morning, and what is it like where you live?
I currently live in Northridge, California, known locally as "The Valley."   The Valley gets a bad rap amongst Angelinos because it's a little farther away from the action, but I love it here.  I live in a quiet residential neighborhood (long gone are the days where I crave being close to nightlife).  
I only need to wear a jacket a couple of months out of the year, and when things really heat up in the summer months, my pool is only a couple of feet away.  Nothing beats Southern California weather.
What's the first thing you do each day, and what do you eat and drink in the morning?
Upon waking up, I like to meditate for 10-15 minutes and set my intentions for the day.  Settling my mind ensures I can deal with whatever the day brings with grace.  I usually have something very light for breakfast (a smoothie usually requires the least amount of work), grab some tea, fill my water bottle up, and post up behind my office desk at home.  
What publications do you recommend to read in cannabis?
I am incredibly lucky to be part of a team that distributes very comprehensive newsworthy content internally on a daily basis.  I get nearly all of my industry updates from my colleagues. I've been a subscriber to Tom Angell's Marijuana Moment for as long as I can remember, and I'm a big fan of the Beard Bros Friday Sesh weekly newsletter. Last but not least, I have to give some love to Highly Capitalized where, from time-to-time, I interview some key movers and shakers in cannabis.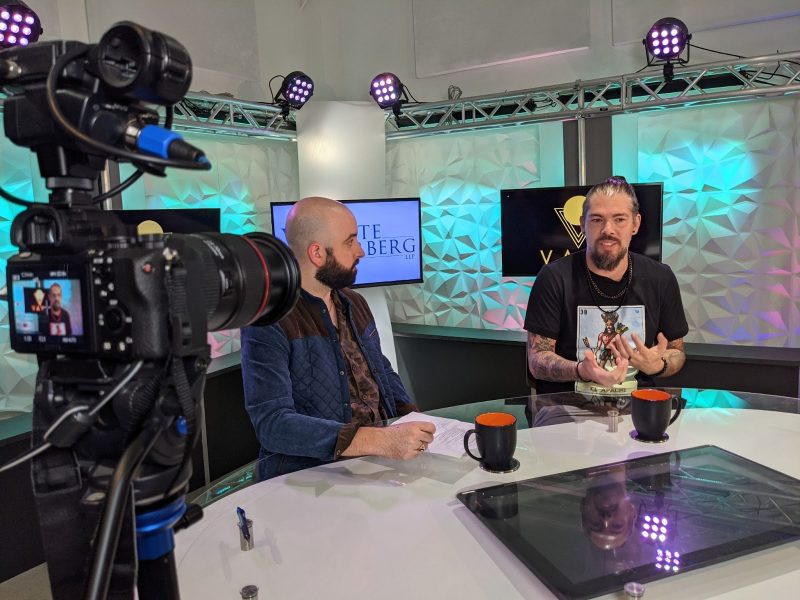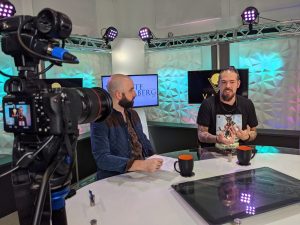 (Image: Jeffrey Welsh interviewing Salvatore Santana from VAYA on Highly Capitalized)
How do you work and plan your day, what's your job?
I'm a Partner at Vicente Sederberg, LLP, the nation's preeminent cannabis, hemp, and emerging therapies law firm.  Given the pace of our industry, my schedule is somewhat unpredictable.  I tend to prefer the morning for knocking out substantive work-product and like to reserve my afternoons for calls and meetings. 
I am responsible for managing client relationships, generating new business, reviewing work product,s and strategizing with my Partners to ensure we continue to evolve with our industry.  I also speak frequently at industry events (mostly virtual these days).
Do you exercise or meditate, and what do you think about when exercising, meditating?
I never meditated prior to the pandemic, but truly thankful that I've incorporated it into my daily routine.  With a job that consists of providing advice and constantly problem-solving, my mental clarity is vital. I exercise four to five days a week, alternating between cardio (I love my Peloton) and weight training. As I've advanced in age and my career, my mental and physical health has become a top priority for me.  
I usually focus on gratitude and the importance of self-love during exercise and meditation.  I believe many of us have a tendency to get lost in life's daily stressors, and my wellness practice ensures I maintain a healthy perspective on life.  I can't be the best advisor to my clients, colleagues, and friends if I am not taking care of myself properly.
What do you wear these days?
This is a fun one!  We have been working remotely for more than a year at this point, so I usually like to keep things casual and comfortable.  Shorts, t-shirts, and loungewear.  I usually have to hop on camera a couple of times a week, in which case I'll put on a pair of jeans and a polo.  
If I'm heading out for a meeting (which is suddenly very exciting these days), I take a lot more time to pick out my outfit than I used to.  I'm a bit of a sneakerhead (the Jordan 1 is my favorite shoe of all time) and also a watch collector. 
I have a couple of accessories that you will almost always see me wearing if I'm in public, notably my grandfather's rosary around my neck, along with his high school graduation ring. I only wear suits or a sport coat if I'm attending a formal event.  
What's for lunch and describe the rest of your day like up to dinner time?
I have been using the Trifecta meal service for several months now, and absolutely love it.  Trifecta offers fully cooked, organic, clean meals delivered to my door on a weekly basis. 
This ensures I'm not eating junk for lunch, which I usually inhale in about five minutes behind my computer.  Afternoons are typically the busiest part of my day – editing work product and deliverables, scheduling calls and meetings for the rest of the week, taking calls, and answering emails.  
I usually finish up work around 6:30 pm, at which point I usually try to take a 20 to 30-minute power nap before working out.  
What are some thoughts you might have about your cannabis job – compared to previous jobs?
I've been working in cannabis for over a decade at this point, but my job history includes the foodservice industry (starting in high school and continuing through law school – definitely bartended in my law school days ala Tom Cruise in Cocktail), the music industry (prior to law school I earned both undergraduate and graduate degrees in music, and performed, toured, and taught professionally).  
My professional legal experience includes significant criminal defense work, and two years at the world's largest talent agency, William Morris Endeavor.  
The cannabis industry has evolved dramatically since I initially got involved in 2010, but my previous work experience is all directly applicable to what I do today.  
The service industry taught me how to effectively navigate client relationships, the music industry taught me the art of the performance (being on stage is not so different from speaking to a large audience at a cannabis event), and my legal entertainment/ agency experience taught me how to harness, and embrace, the frenetic pace of a newly emerging industry.  
Most of my best friends also work in the cannabis industry, and I believe that's because we share a collective vision of what is possible for a future with cannabis legalization for all, which is uniquely inspirational compared to other jobs and industries I've worked in.  
A lot of my motivation and satisfaction in the work I do comes from assisting and watching our clients solve problems with no road map or precedent.  At its best, the cannabis industry is an alliance of forward-thinking people working to make our world a better place through plant medicine.   
What's your evening routine like after work?  What's your commute like?
Once we normalize and return to the office, I'll likely have a 30-40 minute commute back home. That said, we as a team have proven that we can be very effective working remotely (while saving a ton of money on office overhead).  I'm a firm believer in the power of fostering culture through in-person interaction, and I miss seeing my colleagues and clients on a daily basis.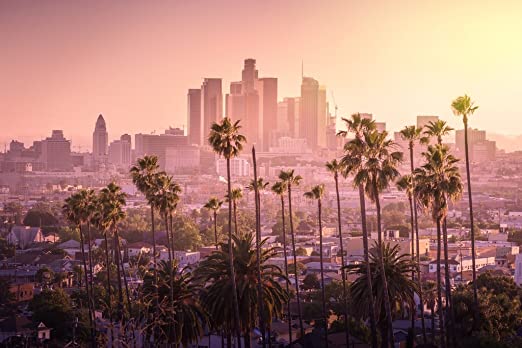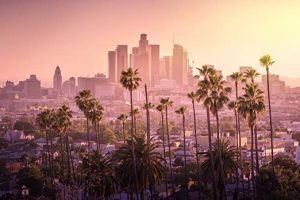 (Image: Los Angeles skyline)
During work-from-home, I work out immediately after I wrap up work, make dinner, and depending on my energy level I'll either head into my music studio for a couple of hours (I'm a saxophonist, DJ, and producer) or watch a movie before winding down.
When do you consume – during the day or night?
I only consume at night during the workweek, but I might consume during the afternoon on a weekend if I'm really looking to relax.  I usually prefer rolling a joint at night, but lately have been really enjoying micro-dosed beverages.  
I'll only consume when I know I can be completely checked out from work for the day.  It's important to me that when I consume, I take a moment to thank the plant for where it's gotten me personally and professionally. Consuming cannabis is usually part of my evening meditation practice.
What's your bedtime routine, and what are your thoughts as you drift off to sleep?
I've always had trouble going to bed at a reasonable time, particularly if I head to my music studio after dinner.  Music expression and creativity activate my brain, so once it's bedtime I try to put on a show that I've seen before (The Office is usually my go-to, I think I've seen the entire series four or five times), and quiet my mind and thoughts, and focus on deep breaths; until eventually, I drift off to sleep. 
Latest News