A LIFE IN A DAY: Emily Hackman: Cannabis Business Licensing Specialist
EMILY HACKMAN joined Vicente Sederberg in 2017 and is a Licensing Specialist on Vicente Sederberg's California licensing team, managing licensing and land-use projects for operators obtaining both local and state licenses. 
Emily also assists with regulatory and licensing considerations on merger and acquisition deals. In her licensing and regulatory work, she has worked with over fifty localities and jurisdictions in California. In addition to assisting with regulatory and compliance inquiries for clients, Emily also tracks developments in California's local cannabis policy at the city and county levels.
Before joining Vicente Sederberg, Emily served as a field organizer in the 2016 election cycle for a Democratic congressional candidate in Iowa's Third Congressional District. Her interest in cannabis law and policy was originally first sparked during an internship with a Seattle-based cannabis-law firm.
A LIFE IN A DAY: Emily Hackman, Vicente Sederberg, LLP edited by Rachelle Gordon
———————————————————————————————————————————————————–
What's your morning routine, and what do you think about in the mornings?
My current morning routine in the work-from-home environment includes waking up between 7 am and 8 am, checking the morning headlines and reading a few news articles, making coffee, and spending a few minutes tidying up the kitchen and my dining table turned desk (since I work from home). It's easier to focus my day if my physical space is also in order.
I have several indoor house plants so, depending on the day, I will also check if any of them need watering or other special attention. This summer, I expanded my plant domain to include outside plants. My neighbor and I in my apartment complex have together built up a wonderful container garden full of flowers, succulents, and edible plants. Depending on the day, I usually am outside checking on the tomatoes, chard, arugula, carrots, beets, peppers, herbs, and flowers, looking to fight the latest pest or discover the latest monarch caterpillar.
Once I am ready to begin work, I review my calendar for upcoming meetings and identify my work priorities for the day.
What part of the world do you wake up in the morning, and what is it like where you live?
I live in Los Angeles, specifically the Silver Lake neighborhood, known for its hipster and indie culture. It is an incredibly walkable community with great restaurants, coffee shops, storefronts, and frequent farmer's markets.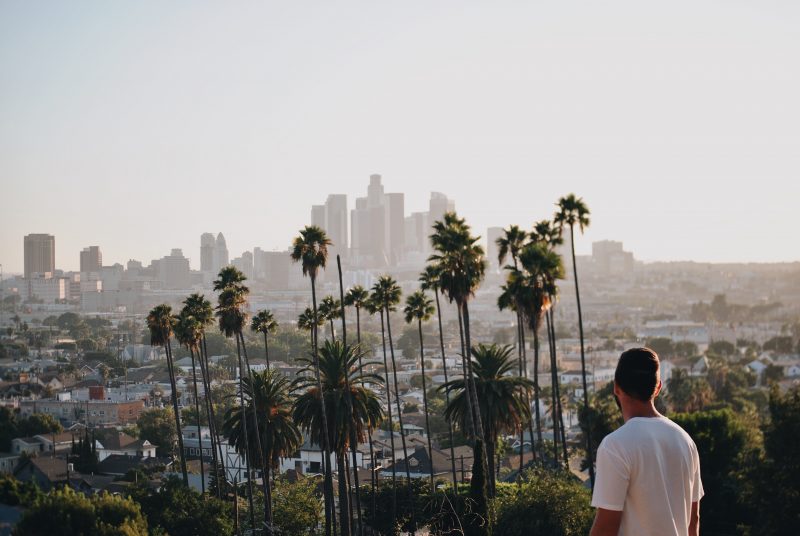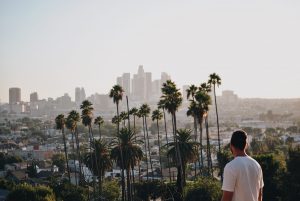 (Image: Los Angeles skyline/Unsplash Joel Mott)
I live a block from Sunset Boulevard, providing me easy access to the neighborhood's offerings. Silver Lake is also known for its signature hills, which make for good exercise walking and beautiful views of Downtown, the Griffith Observatory, the San Fernando Valley, and even the ocean (on a clear day).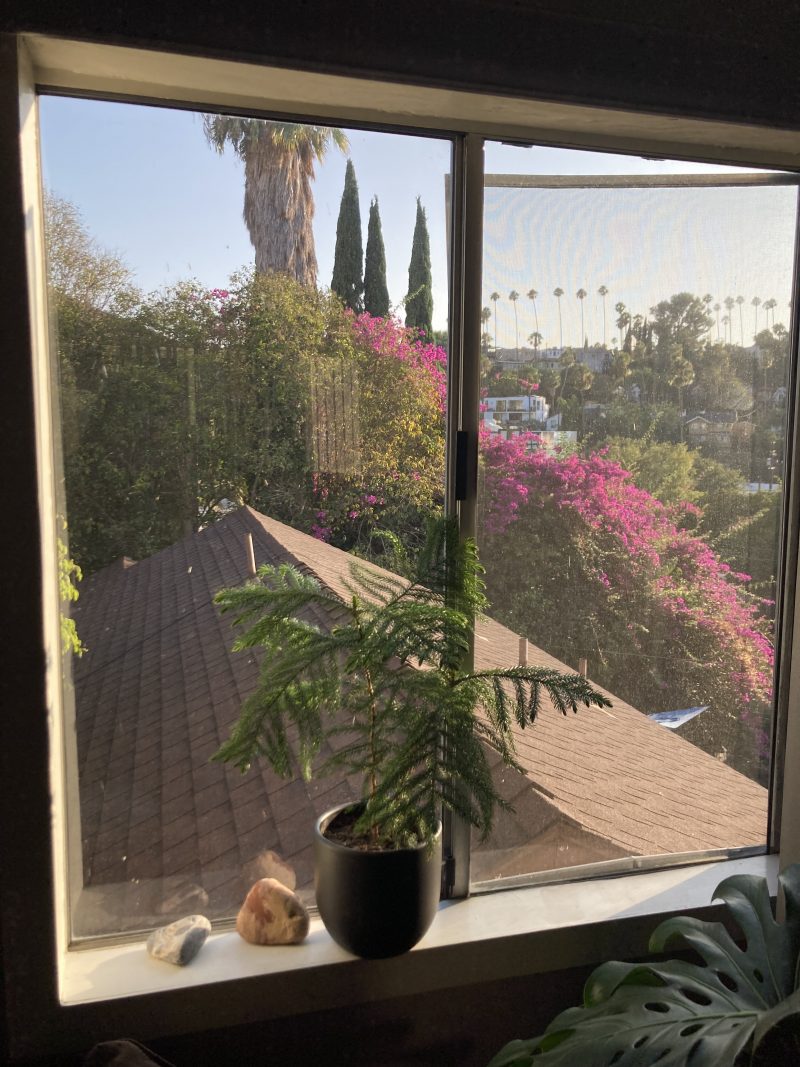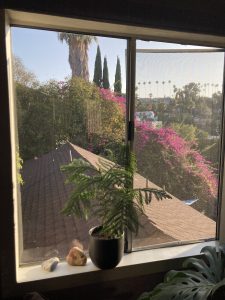 (A view from the author's home)
This summer has been warm with the temperatures consistently in the 80s and 90s but the last few days of August have been a nice reprieve with low humidity and sunny days in the 70s. Perfect weather.
What publications do you recommend to read in cannabis?
Tom Angell's Marijuana Moment is my usual go-to. I also enjoy reading articles in MJ Biz Daily. Given the nature of my licensing work and close interaction with local governments, I have endless Google news alerts set up which help me keep track of pertinent articles about cannabis in California when covered by local newspapers and non-cannabis-centric publications. 
I also sign up for cannabis-related email blasts from local jurisdictions where we are assisting clients or plan to assist clients. It is always best to review the primary source materials from which news articles are written.
How do you work and plan your day, what's your job?
I am a Licensing Specialist at Vicente Sederberg, the leading law firm in cannabis law and policy. I work primarily with clients on their licensing endeavors in California though I have been involved in licensing projects in other states as well. Cannabis operators in California require a local license and a state license. Local jurisdictions utilize a variety of means to issue licenses, some of which including retail storefronts, are often merit-based processes that can be extremely competitive. 
I assist clients in obtaining and maintaining local and state licenses. I also assist clients with compliance and regulatory issues that arise once they are operational, and I work closely with our Corporate team by providing licensing and regulatory support on merger and acquisition deals.
Through flagged emails in my inbox and a series of post-it notes (both physical and virtual), I keep track of my running list of action items and to-dos. I generally do the most pressing action items first though sometimes my meeting schedule requires me to strategize which tasks can reasonably be completed in my available blocks during the day. Some of my tasks can take only a few minutes while others take hours.
Do you exercise or meditate, and what do you think about when exercising, meditating?
I have been trying to bring more regular exercise into my routine. On my walks through the Silver Lake hills, I am generally listening to a podcast, either the New York Times' The Daily or one of many true crime podcasts, and admiring fancy homes and landscaping. When I'm doing an at-home workout, I focus on my breathing and I often count 1, 2, 3, 4, 1, 2, 3, 4, like a metronome or the beat in a song just to help keep me going.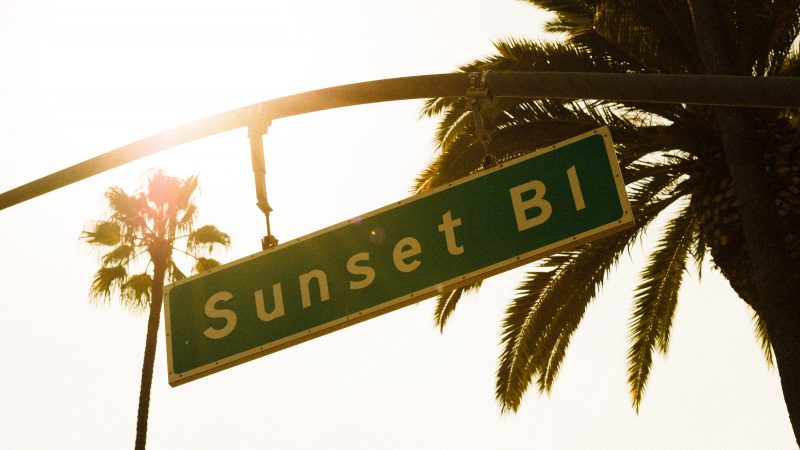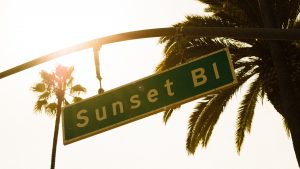 (L.A.'s Sunset Boulevard, near the author's home)
What do you wear these days?
In the work from home environment, I dress comfortably. Usually a long sleeve t-shirt or sweatshirt and leggings. For conference calls, I will throw on a sweater.
What's for lunch and describe the rest of your day like up to dinner time?
I've been getting weekly orders from HelloFresh to switch up recipes in my home cooking. Last week I had sweet chili turkey lettuce wraps, roasted red pepper and pork sausage penne, and Tunisian Spiced Carrots Bulgur Wheat bowl. 
While working from home, I've largely been able to take a break and cook my meal at lunchtime. Usually, I have the leftovers of my lunch for dinner. Cooking gives me a healthy break in my day.
After lunch, I reassess my to-do list. Some days the items I intended to complete in the morning are still on the list in the afternoon. So, I grab my necessary Coke Zero, reset, and refocus. 
Usually at the end of the day, I star those items on my to-do list that should be my focus for the next day or number them indicating the priority order in which I should complete the tasks.
What are some thoughts you might have about your cannabis job–compared to previous jobs?
In a highly regulated industry like cannabis and a lack of access to financial institutions, and specifically in California, where the legal market is still young and the regulatory framework is still shifting, there are a lot more hoops for cannabis businesses to jump through to be successful.
Navigating these roadblocks and becoming operational is a feat in and of itself. As new procedures are enacted or rules adopted, I am constantly considering how such impacts our clients directly and what the best next steps are for them to reach their goals. It is an exciting industry to be a part of as there is always new information to absorb and apply to our clients' unique situations.
What's your evening routine like after work? What's your commute like?
After work, I decompress for a bit usually by sitting in my favorite chair and enjoying the view from my living room of swaying palm trees and my neighbor's fuchsia bougainvillea. Depending on the night, I will go for a walk in my neighborhood or complete an at-home workout. 
When we start going back to the office, I will have a 30-40 minute commute after work. Though I may opt for a podcast, I generally like to listen to music on my way home enjoying the California sunset with my windows down.  
When I cook and eat dinner, I'm usually watching a TV show on my phone. I am someone who likes to rewatch favorites. And, I don't usually watch more than one show at a time. I typically start the series and watch through to the end before I watch another show. After dinner, I may finish up any remaining work, tend to my garden, catch up with my roommate, or fulfill my role as aunt to my neighbor's dog.
When do you consume cannabis–during the day or at night?
I consume in the evenings during the week. Though I enjoy smoking flower, I often use a vape because it's convenient and I seem to have better control of my experience that way. I appreciate a steady yet light ethereal experience. On the weekends, day or night, it doesn't matter.
What's your bedtime routine, and what are your thoughts as you drift off to sleep?
When I get into bed, I wind down by reading, doing a crossword, or watching a happy TV show (probably the Great British Bake-Off).  As I drift off to sleep, I am usually thinking about my day, and what tomorrow will bring.
Highly Capitalized Copyright © 2021. All Rights Reserved. 
Latest News