A LIFE IN A DAY: Dustin Hoxworth: Co-Founder: Cecily Skincare
DUSTIN HOXWORTH is Co-Founder Cecily Skincare, and Business Development & Creative Marketing Consultant at Element Apothec.
With the ultimate goal of full Cannabis integration into every aspect of society, Dustin's enthusiasm and passion are an infectious part of who he is. As a creative entrepreneur, activist, musician, light sculptor, content creator, and 26-year Legacy Cannabis Professional, Dustin has built a reputation as being a hands-on, forward-thinking leader who builds relationships and breaks down communication barriers.
He also brings over 18 years of professional experience from some of the largest and most successful companies in the world, focused on CX, NPS, DIEB (diversity, inclusion, equity, belonging), creative marketing and sales, and operational process improvement. 
Dustin is the Co-Founder of Cecily Skincare https://www.cecilyskincare.com and the Business Development and Creative Marketing Advisor for Element Apothec https://elementapothec.com.
He has a track record of managing large contracts and projects, while also being an active supporter of civil rights and environmental protections, inspiring others to help protect Indigenous/Native lands in the United States.
Dustin has contributed to the creation of the Legacy Cannabis Professional Series with Beard Bros Pharms and was one of the first Legacy Cannabis Professionals featured. He's also contributed articles to The Bluntness and is an outspoken advocate for everything Cannabis Culture.
====
Here, in A LIFE IN A DAY, Dustin Hoxworth shares with Veronica Castillo, exclusively for Highly Capitalized, what life's like for him outside his busy working week.
What's your morning routine, and what do you think about in the mornings?
My mornings are something I really look forward to. Nearly every day I start the same exact way – usually wake up around 7AM with no alarms, when the sunlight hits the bedroom I'm up. I grab a banana, Honeycrisp apple, raw mixed nuts, coffee, and a fat joint or bowl. I sit on the couch and enjoy breakfast while reading or catching some SportsCenter. 
I'm not someone who rushes around or starts the grind right away. I need peace when I wake up. I need calm surroundings and a way to sort of ease into the day. The less hectic of a start, the better. I pet my cat, catch up on notifications, and usually create some sort of post on one of the many social sites we all use.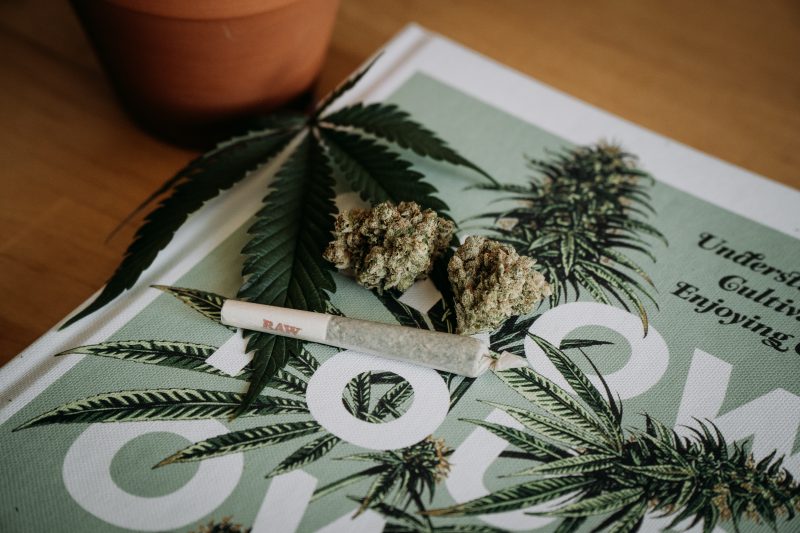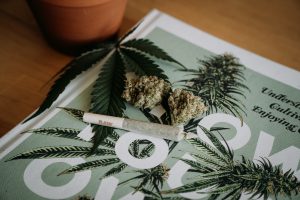 What part of the world do you wake up in the morning, and what is it like where you live?
You can usually find me somewhere in the Southeast. Although I'm originally from St Louis, MO, I've lived in Atlanta, GA for about 30 years now. Atlanta is a huge metropolitan city, so it has all the trappings that come along with that. It's a mecca of culture, food, music, art, and home to one of the world's biggest and busiest film industries. It's a fantastic city to live in if you want to have that huge city experience without necessarily feeling as though you're in one. I also spend a ton of time on Pawley's Island, SC. It's quiet and calm there, businesses are not allowed on the island, and it makes it such a nice place to be. A true getaway.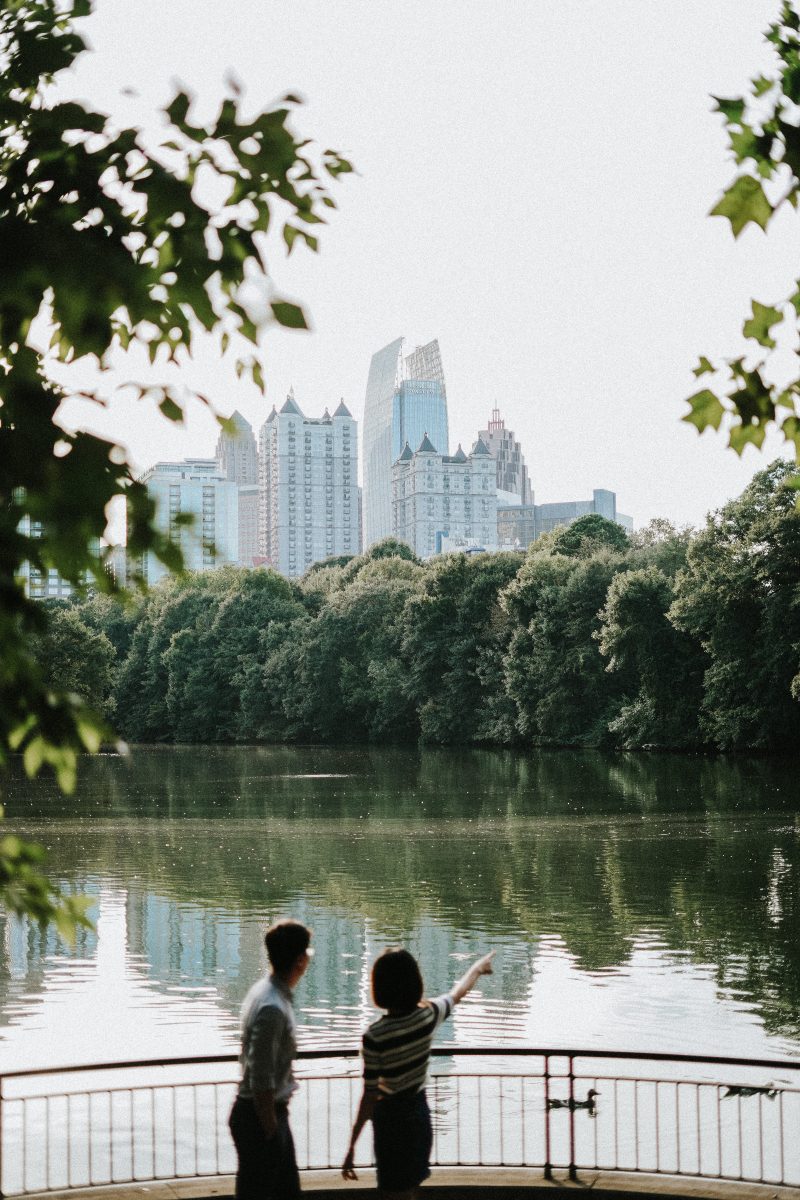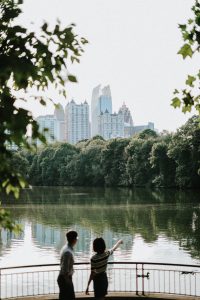 (Atlanta Skyline)
What's the first thing you do each day, and what do you eat and drink in the morning?
As the sun comes up, I dive right into the breakfast of champions, also known as fruit, nuts and a hippie speedball. I added a Rest Relax Recover tincture from Element Apothec and functional mushrooms from Host Defense about 6 months ago. Those have helped bring another level of mood stabilization to my life. I then try to get in a workout or meditation session, but that's not always the case and sometimes I have to push those off until the afternoon.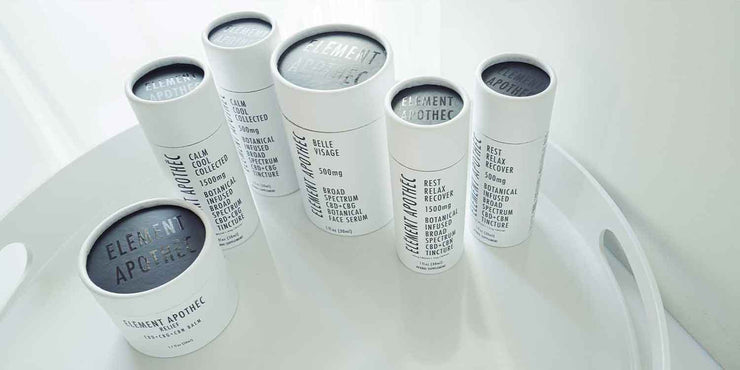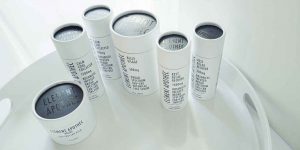 (Element Apothec products)
What publications do you recommend reading in Cannabis?
I'd recommend a lot of the ones most of us in the industry are already familiar with like The Bluntness, The Cannigma, Highly Capitalized, and Beard Bros Pharms. Grab Branding Bud by David Paleschuch and connect with people like Matthew Herrold, Brett Puffenbager, Davina Kaonohi, Elliot Lewis, Matthew O'Brian, Jocelyn Sheltraw, Brendon Robinson, Codi Peterson, Marc Eden, Veronica Castillo, Mitch Pfeifer, Jon Schwartz, Jordan Wagman, and a slew of other Cannabis professionals on LinkedIn and you're good to go.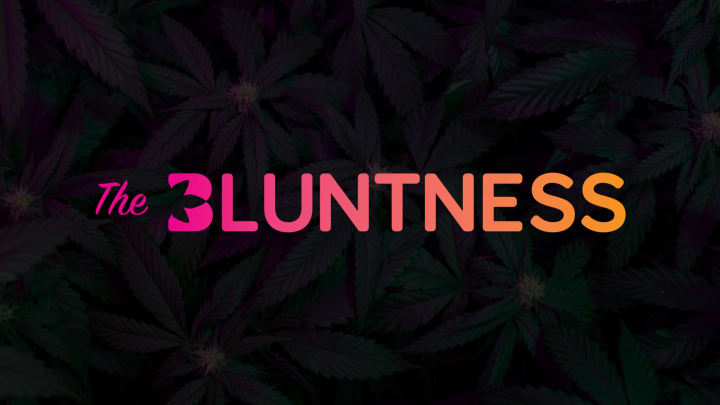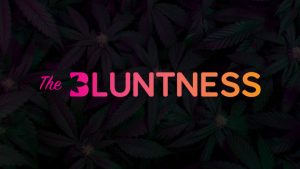 How do you work and plan your day, what's your job?
I work from wherever I find myself that day, usually from home, but sometimes I'm at the Cecily Skincare spa in Buckhead, or even at the beach sitting on the screened-in porch. If I have my phone and laptop, I'm good to go. Planning my days usually consists of looking at my calendar and simply going from there, nothing special. The majority of my job is to build relationships and business, reaching out to perspective partners via email, LinkedIn, phone, or Zoom calls, and the rest of the time I'm learning, creating content for media, and building brand awareness.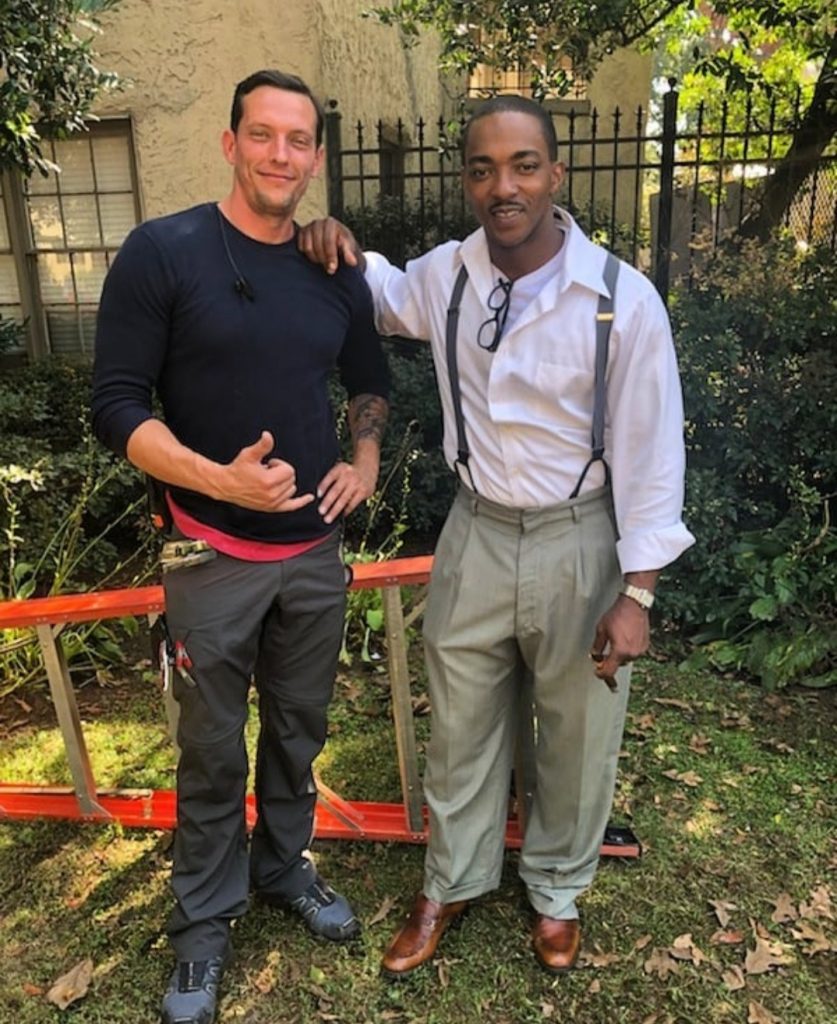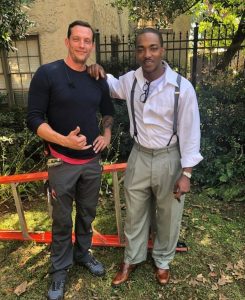 (The author, left, with friend, Anthony Mackie, right).
Do you exercise or meditate, and what do you think about when exercising, meditating?
I do both. I've always been extremely active and played sports my entire life, including college volleyball. I hit the gym 4-5 days a week and get a 15-minute intentional meditation in at least once a week, but I've found this varies based on the seasons and weather. I need activity to feel right. Hiking, climbing, riding a bike, getting in a good workout, etc. is so important for my mental health, while also keeping me in decent shape. My thoughts are usually all over the place, but mainly focused on travel, weed, food, and business in some capacity.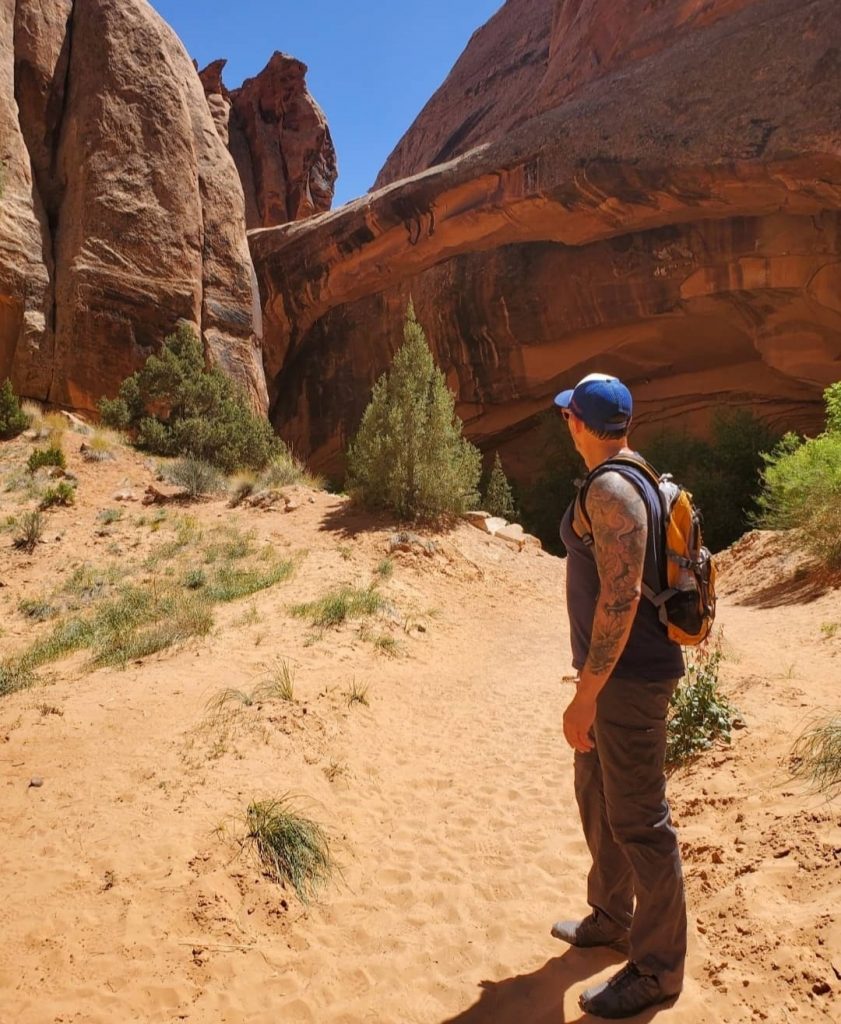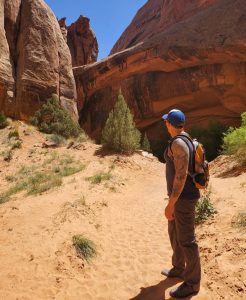 (The author, taking exercise)
What do you wear these days?
I'm pretty boring when it comes to fashion and the things I wear. I probably still pull much of what I wear from the "grunge" error of things, but maybe with a little more adult twist, as in I tend to have clothes that fit now. Although I do enjoy sporting anything Cannabis related like my Cynical Stoner t-shirt from Kristen Yoder, I sort of dress for the occasion, even if that occasion is me sitting on the couch ripping the bong. In other words, you might find me wearing jeans or sweatpants a lot.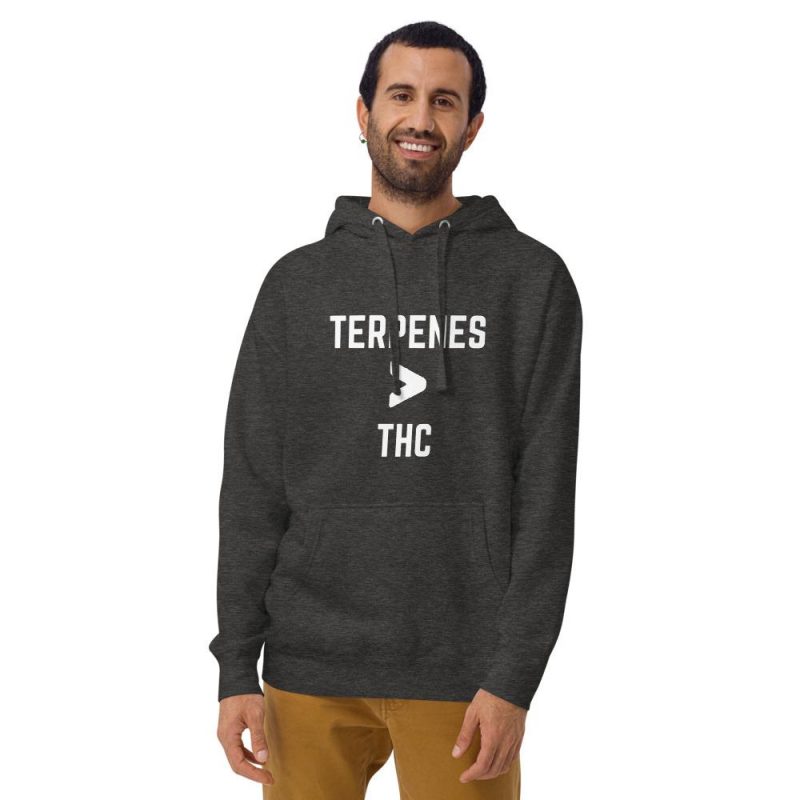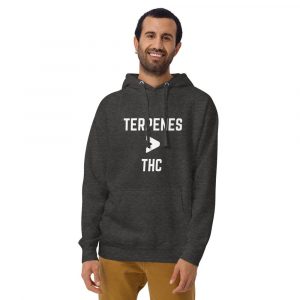 (Model wearing Cynical Stoner Merchandise)
What's for lunch and describe what the rest of your day is like up to dinner time?
I eat all day every day. Small meals every few hours gives me the energy I need, a break from whatever I'm working on, and keeps me healthy. Leftovers are always nice, especially since I cook every meal we eat at home. I'm a self-taught cook, with chef friends and I watch cooking shows and dive into Pinterest for ideas a lot. I love the creative nature of cooking and perfected a homemade marinara sauce and pizza dough during this pandemic. The rest of my day after lunch is usually more work and prepping for whatever I have coming up the rest of the week. 
What are some thoughts you might have about your Cannabis job-compared to previous jobs?
My thoughts are that I finally have a "job" that isn't a job. I get to talk about, work with, consume, educate, and spread my knowledge and love of Cannabis, passionately, daily. I can't think of a better job. To finally, legally be able to be a part of helping this subculture slide into mainstream and be accepted into every aspect of our society, is a dream come true. That's what I'm here to do. I didn't know how important of a role my childhood and the plant would play as I got into my 40s, but here I am spreading our Cannabis Culture all over the place, and I've never been happier.
What's your evening routine like after work? What's your commute like?
It depends on whether I'm traveling and the time of year, but usually I walk out of my home office, turn up the music a little louder (it's on most of the day in the background), rip the bong, pack a bowl, or roll something, talk to my cat, possibly pour a bourbon, head to the kitchen, throw on my apron, and start cooking. Afterwards Cecily and I enjoy playing some Yahtzee, watching a movie or series, going for a walk in our little neighborhood, or laying around relaxing until we're exhausted enough to pull ourselves off the couch and hit the bed. I also tend to text and connect with friends and colleagues throughout the night and go through my social media.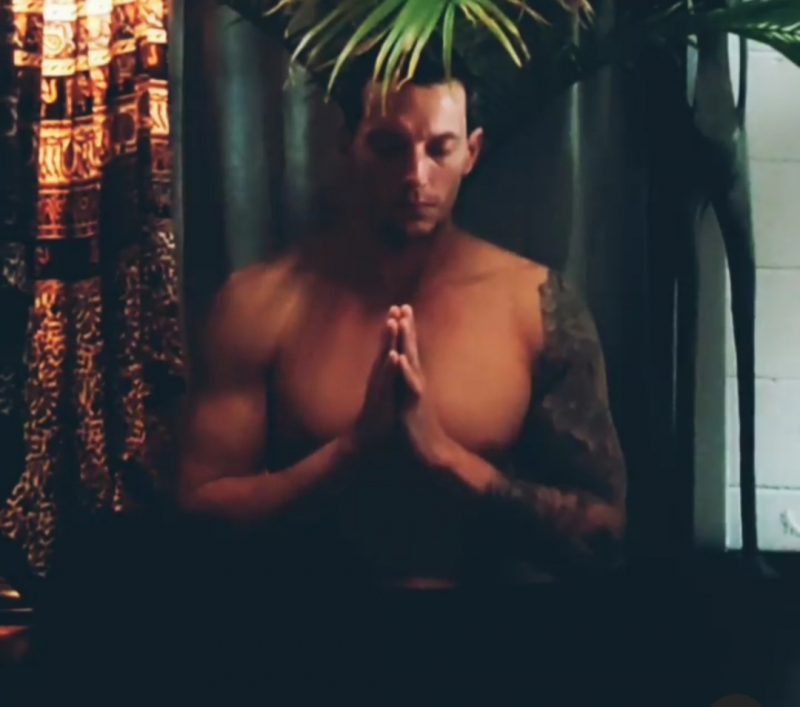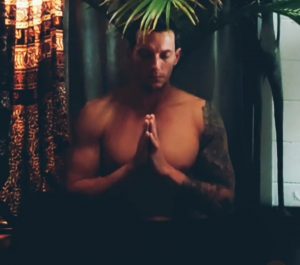 (The author, Dustin Hoxworth, meditating).
When do you consume-during the day or at night?
From the moment I wake up, consuming Cannabis is a part of my entire day. I consume whatever I happen to have on hand from the legacy market. Since it's very limited medically for the state of Georgia and only decriminalized here in Atlanta, all my flower comes from my connections on the legacy side. I consume several ways throughout a normal day. 
Bong rips, bowls, blunts, joints, cartridge, edibles, whatever I feel like. I tend to have several varieties/strains at any given time and enjoy mixing them. Cannabis is life for me; I've been consuming it for mood stabilization, generalized pain from playing sports, combat anxiety and depression, sleep, laughs, and to make the world a better, more tolerable place in general for a very long time. 
It's medicine at it's finest and I keep a healthy level of cannabinoids and terpenes flowing through my system at all times. Work, creative activities, hiking, exploring, traveling, hanging with friends, watching sporting events, going to shows and concerts…everything I do has a Cannabis angle to it. 
What's your bedtime routine, and what are your thoughts as drift off to sleep?
I'm usually hitting the bed around 11PM, but right before that, I straighten up the place, so I wake up in a calm, clean spot. I generally like it cold, so I turn the air down or the heat off, do my bathroom stuff, crawl into bed with Cecily and Ash (my cat), turn on the fans for noise, and drift off quickly. I try not to think, as I drift off to sleep.
Highly Capitalized. Copyright © 2022. All Rights Reserved. Many thanks to our series editor, Veronica Castillo, who edited this article. You can find Veronica's Linkedin profile by clicking this link here.
Latest News