A LIFE IN A DAY: Charlie Weiss: Cannabis Industry Personalities
CHARLIE WEISS is a Sales and Marketing Director in the successful California cannabis industry. He came to cannabis in 2018  from a successful, twenty-year career in the alcoholic-beverages category. After doing it all, supplier, distributor, sales, marketing, corporate training, and covering much of Southern California, he made a life change for his health and a career change that supports it. No longer an alcohol drinker, Charlie pours out his passion for cannabis into his profession and his wholesome lifestyle.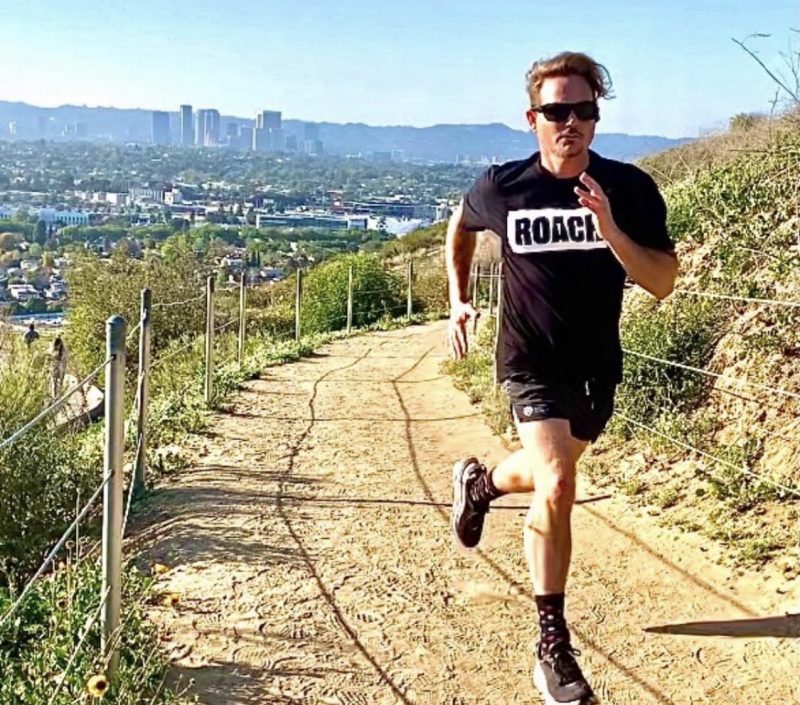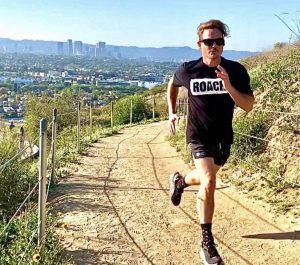 Charlie Weiss "Sativa Runner" running with downtown Los Angeles in the background.
What's your morning routine, and what do you think about in the mornings? 
Coffee. I absolutely love coffee. First things first, I make a big, fresh pot of perfect coffee. With the first sip, my mind comes back online, and blink, the smile appears on my face. Another beautiful, hang-over-free morning, with a great cup of coffee. Let's go, baby! 
What part of the world do you wake up in the morning, and what is it like where you live? 
I've never been close to what you might describe as a "morning person." But, since I gave up drinking, and started smoking cannabis, and enjoying all things cannabis, I'm getting closer.  And waking up in Southern California, where I was born and raised, the largest U.S. cannabis market, is exhilarating, invigorating, and never boring. I live in Long Beach, which has the highest amount of new dispensaries of any Southern California city. It's a great town, I've lived here 25 years, own a home, and raised two kids. I love being close to the ocean, the ocean is a spiritual touchstone for me. 
What's the first thing you do each day, and what do you eat and drink in the morning? 
I don't eat breakfast, just coffee. I say to myself, I've been told… "It's the most important meal of the day, you have to eat for energy, blah blah blah." But I've never been hungry when I get up. In fact, I don't even get hungry until late in the day. I decided to try Intermittent Fasting and realized I was doing intermittent fasting already, anyway. But I sure do get the munchies– big time– before bed.
What publications do you recommend to read in cannabis? 
I'm a little obsessed with cannabis knowledge, and the science behind the plant. I really enjoy reading about it on social media, like Linkedin, which has rich and robust cannabis content and an engaged, hugely positive, cannabis community. There is a rich discourse on everything cannabis: regs, sales trends, new brands, new technology, education, politics, money…there's so much on Linkedin. I'm on Linkedin off-and-on all day, reading news posts, networking, and direct messaging. All credit to Linkedin for creating such an awesome space for cannabis. I've developed a terrific network there. 
I LOVE Instagram for cannabis too. I follow all the trending CPG cannabis and dispensary brands there. On Instagram, I have a blast with my cannabis-infused triathlon sports activities @sativarunner . It's like my cannabis alter-ego and superhero. I wanted to show people how fun, and effective, it is to actually work out high. Sativarunner shines a light on the positivity of cannabis for an active, healthy lifestyle. 
How do you work and plan your day, what's your job? 
For work, I do cannabis sales, marketing, and distribution in California. I love California, it's the undisputed, "Weed Mecca of the World." Weed and California will go together forever, I often think. I can thank a lot of folks way before me, who paved the way and paid the price to make my dream of working in legal cannabis, a reality. I'm humbled and so thankful to be a part of this amazing industry.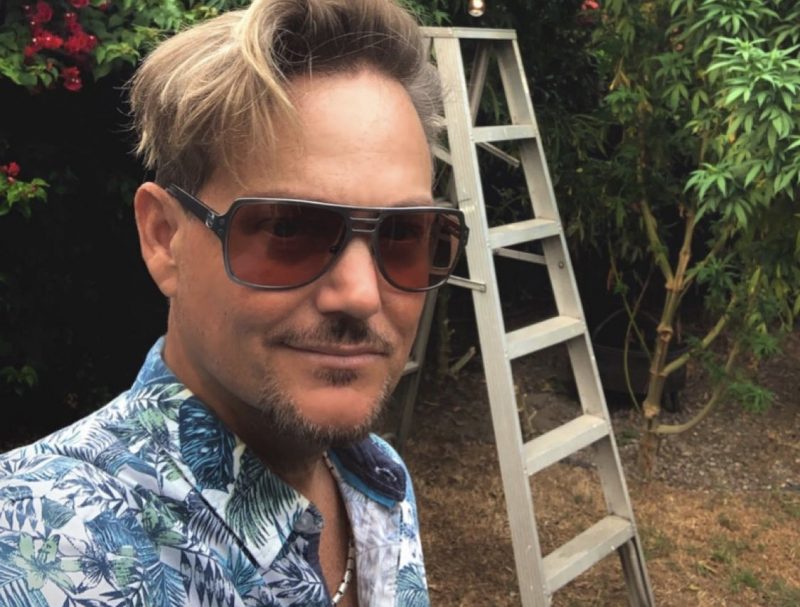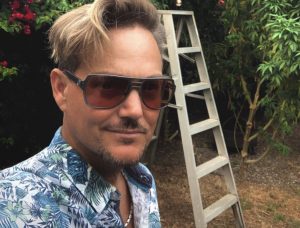 Charlie Weiss Cannabis Marketing & Sales Director, Los Angeles.
Do you exercise or meditate, and what do you think about when exercising, meditating? 
Like a lot of people, I had hit a wall with exercise and did not enjoy doing it as I got older. It was a "punishment" I had to endure for the sake of my health. Then, I discovered a secret, later in my life that changed me for the better. I honestly believe it could change all of us. 
Sativa = Motivation. I tapped into that motivation, and I used it as fuel to run. But the key was running while being high on cannabis Sativa or a sativa-dominant hybrid. That's when you get a lot more than motivation alone. 
It's these cannabis strains that provide the most powerful, most effective, non-sedative, pain, and inflammation relief I've ever used. Far more effective than anything like Aleve, Advil, or Tylenol. But that's not it. I experienced significant boosts to endurance, strength, focus, cardio and aerobic. Combine that with a great playlist and I'm looking at the most enjoyable 18-mile run–ever.
I checked my stats on Map My Run the other day, and I had to smile. I ran, biked, and swam, all high, 1339 miles in 2020! That's more than the last five years combined. I knew I was enjoying and excelling at these activities, but the stats backed it up.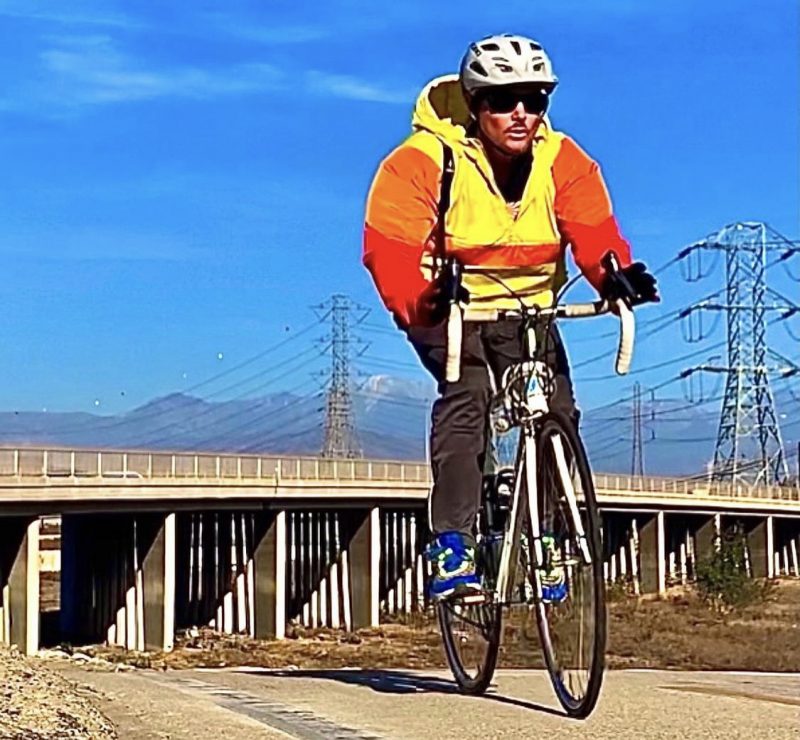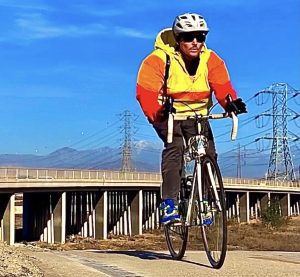 Image: Instagram @SativaRunner
I believe that my profound, personal experience using cannabis for sports performance enhancement, to be more than just anecdotal. This whole last year, two hundred or so work-outs later, I'm thinking to myself … "The reason this stuff works is all about the science of the endocannabinoid system. I have one and so does everyone else. If it affects me this way, maybe it would affect others similarly?" So, I'm going to micro-dose, track my specific sport activity and compare my "performance boost-metrics" against the cannabinoid and terpene data of the strain of CPG product. I'm going to document it as a testimonial and put it all on Instagram to show the world it really works. 
I believe I have finally, through hundreds of personal trials, perfected a cannabinoid/terpene formulation that ensures optimal physical results for me. It's my dream to share that formulation with the world in the form of Sativarunner, the Brand.
What do you wear these days? 
First and foremost, I got to ditch that tie from the old career in the alcohol industry.  Beyond that, I dress pretty normally. Often what I wear depends on what I'm smoking, haha.  I like clothes and shoes and have fun with my personal style. High visibility is a must for The Sativarunner. The fact I even care? Must be cannabis. 
What are some thoughts you might have about your cannabis job–compared to previous jobs? 
I joined the cannabis industry from ''Big Alcohol'' in 2018 when the first adult-use dispensaries opened in California. My long-time passion and career in alcohol had left me literally sick, depleted, and emotionally spent. Cannabis renewed me, revived me, and lifted me up with much more positivity than I could have possibly imagined. I'm so invigorated by cannabis that it's completely changed my life by 360 degrees.
What's your evening routine like after work? What's your commute like? 
Evenings could break out into spontaneous hikes or runs if I get stuck in traffic, which is always in LA. I pull off the freeway and find a park, a beach, or a trail, vape some live resin, or smoke a pre-roll and change in the back seat. A couple of weeks ago, I found myself on the Culver Stairs, after vaping the new Roach Blueberry Muffin live resin disposable. I ended up running it four times. Look at that: cannabis solves the endless irritation of L.A. traffic. 
When do you consume–during the day or at night? 
I usually wait until later in the day. Can't make stoner mistakes in my gig, too many moving parts. But a micro-dose and some CBD-rich strains can really help with stress and anxiety, and they do really boost great creativity and dope-ass ideas.
What's your bedtime routine, and what are your thoughts as you drift off to sleep?
I like bedtime now, thanks to indica-leaning cultivars. I've been in high-pressure sales most of my life, and it's impossible to turn off my brain sometimes. It's always racing, like my legs. But here again, cannabis comes to my rescue. I take indica half an hour before I sleep. As I drift off to sleep, I often dream of running. I think of how lucky I am to have more Sativarunner adventures to come.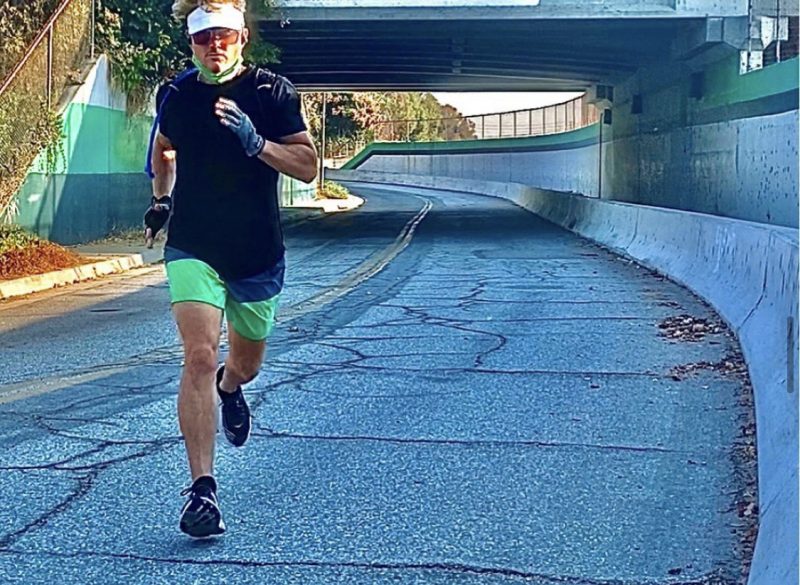 Image: Instagram @SativaRunner
Highly Capitalized Copyright @ 2021. All Rights Reserved. All images courtesy of Charlie Weiss.
Latest News