Ketamine and 2 Pounds of Psilocybin Seized by Police in Fortuna; One Arrested
LOS ANGELES- (Editor) This is a press release from the Fortuna Police Department. 
On Wednesday, December 8th 2021, at about 3 PM, a narcotic search warrant was served in the 2600 block of Kenmar Road, in Fortuna California.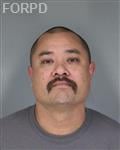 (Alleged suspect, Mr. Komishe Anderson Kan)
Detectives from the Fortuna Police Department were assisted by members from the Patrol Division and seized the following items of contraband: 17.2 grams of Ketamine and 2 pounds of Psilocybin mushrooms. Ketamine is a schedule three controlled substance and is primarily used for sedation and anesthesia. Psilocybin is a schedule one controlled substance and is a psychedelic.
A Smith and Wesson 357 revolver was also located on a kitchen table among unpackaged quantities of Ketamine.
43 year old, Komishe Anderson Kan of Fortuna was taken into custody and booked at the Humboldt County Correctional Facility.
Kan was booked for violating the following California Health and Safety Code sections: 11377 – Possession of a Controlled Substance, 11366 – Maintaining a Place Where Drugs are Used or Sold, and 11370.1 – Possession of a Controlled Substance and a Firearm.
Additional charges will be filed with the Humboldt County District Attorney.
It should be noted, Kan was also booked into jail earlier in the day, around 10 AM for being under the influence of an intoxicating substance and unlawful possession of a controlled substance.
Latest News