Bill to End Federal Cannabis Prohibition Reintroduced in U.S. House of Representatives
Washington, D.C. — On Friday, Rep. Jerrold Nadler (D-NY) reintroduced the Marijuana Opportunity, Reinvestment and Expungement (MORE) Act. If enacted, the MORE Act would end the federal prohibition of cannabis by removing it from the Controlled Substances Act and ending criminal penalties under federal law.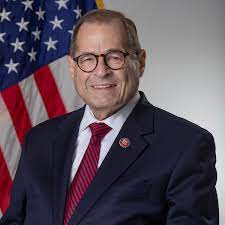 Representative Jerrold Nadler (D-NY): US 116th Congress
The Marijuana Policy Project (MPP), a leading US anti-cannabis prohibition group said, in a press release, that in addition to federally decriminalizing and descheduling cannabis, the MORE Act would require federal courts to expunge prior cannabis-related convictions and provide for resentencing; provide grants and funding to communities most harmed by the war on cannabis; lift barriers to licensing and employment in the cannabis industry; block federal agencies from denying public benefits or security clearances due to cannabis use; protect immigrants from being denied citizenship over cannabis; and allow VA physicians to recommend medical cannabis to veterans.
The bill passed the House of Representatives last year, but it did not advance in the Senate due to opposition from staunch anti-cannabis Republicans led by Mitch McConnell.
According to a 2020 Gallup poll, 68% of Americans support cannabis legalization. To date, 18 states have legalized cannabis for adults 21 and over. Notably, more than 43% of Americans now live in a jurisdiction with legal cannabis.
Statement from Steve Hawkins, executive director at the Marijuana Policy Project:
"It's clear that Americans overwhelmingly support ending cannabis prohibition. Reintroducing the MORE Act is a powerful way to reorient negotiations around legalization that gives our entire nation the power to choose cannabis for medical and adult use, strengthens a blossoming industry that is creating jobs and fueling economic growth, and begins to rectify the harms of the racially motivated war on cannabis and its disproportionate impact on vulnerable communities through criminal justice reform and social equity initiatives. We endorse this bill and urge Congress to pass it."
Statement from Tahir Johnson, director of social equity and inclusion at the Marijuana Policy Project:
"Cannabis prohibition and its ensuing over-policing, unequal enforcement, and criminalization stripped millions of Black and Latinx people of their vote, access to education, employment, and housing, creating cycles of poverty and marginalization in their communities. The MORE Act promises to address many of the harms caused by prohibition using an equity and justice-centered framework that allows the communities most harmed to access the health and economic benefits of the cannabis industry. This is the approach to legalization that our country needs."
Latest News