REPORT: Media Insider Shares Cannabis Industry Trends and Maps out Ecosystem
LOS ANGELES– Cannabis has been around and enjoyed by people since the earliest days of civilization, yet it's been the last few years where we've seen and participated in what feels like the greatest leaps in cannabis evolution, research, acceptance, and marketability. 
That's a bold statement but the national acceptance of states legalizing consumption, the mass appeal and movement for decriminalization, the influx of private and institutional capital entering the market, rapid maturation across the supply-chain, the disruptive power of digital and data players gathering intel for extrapolation, and the introduction of new products and brands to serve countless new markets of consumers, has created such a tidal-swing that it truly feels like we've entered a new renaissance and appreciation for the plant and all her benefits. 
Which leads us to the CannaScape (below and main image), a yearly round up of the cannabis industry's most notable and influential brands in North America. The CannaVu CannaScape was first created in 2019 initially, as an internal tool to track high-performing and upcoming brands across the ecosystem, the high-flying MSO's, supply chain growers, processors and distributors, retail operators and brands making their way across the country, over time they've included this accompanying insights and trends write-up, which we happily share with you here, for free.
Enter the 2021 CannaScape (download the wordmark-free CannaVu cannabis ecosystem here).
While crafting this year's 2021 CannaScape, Michael Rosenfeld and the team at CannaVu, share 5 important trends and insights that they see moving the industry forward to the fields of mainstream and national acceptance. We hope you enjoy the insights here as we look into the CannaScape.
5 trends that have shaped the industry and the CannaScape in the last 2 years. 
In this edition, 'Multi-State Operators' (MSOs) are taking a broader definition. as we see companies with unique value propositions, across states, enter the fray. Cultivars and leading genetics companies have been added to the 'growers' channel. There is a new edibles category, reflecting the importance of the product category for capturing new buyers and market share. The number of notable dispensaries and delivery companies has increased significantly as more states are added and local players increase their presence. Most importantly, you'll see a lot more new brands. From California and the West to those expanding multi-state, many of which either didn't exist in 2019 or were regional.
This 2021 CannaScape should make you more than excited to see how far we've come, and how far we can grow!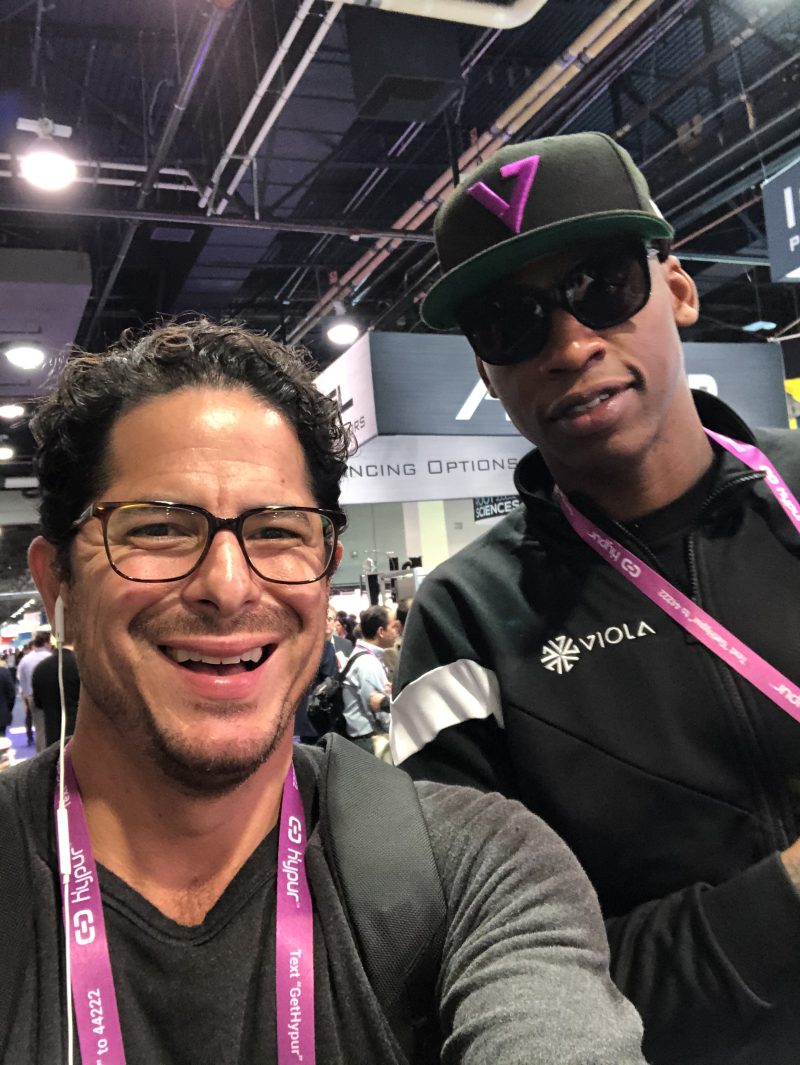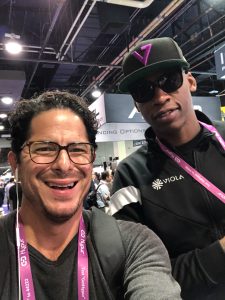 (The Author, Michael Rosenfeld, with Al Harrington, CEO of Viola, 2019)
MSOs: Corporate cannabis matures 
Because the Federal position on cannabis in America prohibits interstate commerce, we originally began tracking the MSOs, the Multi-State-Operator class of corporate cannabis, thinking this was the category to keep our eyes on. But the last two years has been an amazing ride in watching these and specialized inner-state business operators grow and develop strategic partnerships and licensing deals to increase their reach across state-lines and enter the ranks of this "Big League." 
We're watching solid business growth among many top MSOs of the 2019 CannaScape that found their footing in producing great products and developing memorable brands, while others focusing on retail expansion and the customer purchase gateway. These rising stars are breaking thru while some have fallen from good grace expanding too quickly or over-leveraging themselves and not seeing a path to exit outside of potential liquidations. 
Of course, California has been the state to win, and we love watching a new wave of single-state operators grow beautiful vertically integrated operations to support the biggest market in the country, and then develop licensing deals to take their brands East. Keeping our eyes wide open, some companies we've never heard of from states that were recently 'legalized' have already made their presence felt and have entered the rarified air of the MSO. Can you pick them out? 
CannaTech – Technology is the new frontier for this flower-based business
10 years ago there were no SAAS platforms for tracking seed to sale performance of your business. Now every stage from seed to shelf and beyond has a technology play making it one of the hottest categories in the industry. From planting, harvesting, shipping, retail, e-commerce and analytics, players in canna-tech are driving innovation from cultivation optimization to e-commerce and purchasing insights, inspiring new product introductions like edibles and beverages, to streamlining inventory and fueling the delivery game. 
As quickly as the seed grows so has consumer data and insights, and this category is the catalyst that is needed for the mainstream business world to truly see market performance. As the data grows so does the behavior of the market, new products, new form factors, new messaging, all being tracked at the register, will have the analysts frothing as they look for that first major cannabis purchase from a CPG. We've already seen massive investors from the alcohol sector and beyond, so who's going to be the big CPG that comes in and buys up the first major break-out cannabis company? 
Edibles and Beverages – Going mainstream with gummies 
For many, cannabis cannot be enjoyed through traditional 'combustible' methods, and as the mainstreaming of cannabis evolves, some amazing new brands are focused exclusively on ways to serve cannabis in what is quickly becoming a massive growth sector. From boutique brands dedicated to confections to big beer brands opening the skunk-works, this category is already seeing serious momentum. The growth of the edibles market is truly a wonderful sight, now we can enjoy the benefits of cannabis in a discreet way without a plume of smoke or smell on your clothes, that have turned off so many for years. Talking about CPG, this might be the real category to watch as edibles and beverages take on a very approachable consumer consumption path. A mid-dose 30-pack of fruit-puree gummies targeting the chardonnay mom. A 5mg long-shelf-life effervescent pre-game beverage anyone? 
Genetics – It all starts at the seed
Cultivation and Processing are humongous undertakings, requiring massive real-estate deals, expensive licenses, manpower and resources. And the most important part of it all, the seeds. As brands grow, one thing is certain, your product better be amazing and consistent. This can only be done w meticulous attention to genetics and farming. This year's CannaScape gives a tip of the hat to some noticeable geneticists and seed banks moving the industry w premium drops. These Pros are the unsung heroes that have been the heart of all your favorite strains. Through pheno-hunting and cross-breeding we've got some of the most delicious product we've ever had the pleasure to experience, and this renaissance all germinates from the seed. 
We're blessed to see this plant be given so much love and attention by experts developing strains for desired feelings and out-put, it's really the heart and soul behind the industry. With their attention to detail and expertise, it's their dedication to the craft that we are so lucky to have strains that give us the focus we want, the creativity we desire, the stress relief we need, and countless other benefits we find in the flower. 
Retail to D2C: From hideout to high street
As quickly as states legalized medicinal and recreational consumption, two major channels overhauled, the dark and dank dispensary is now blossoming into a beautiful and inviting retail experience. Out from the shadows we are watching a beautiful renaissance of the dispensary and cannabis purchasing experience, which is a personal crowd favorite to watch, as this cleaning-up of the retail experience invites new customers and has the capabilities to elevate the neighborhood high-street. 
Add the introduction of consumption lounges around marque locations, where you can bring in product, or purchase on site, and feel safe to abide and enjoy with friends, and we will continue to see a very interesting expansion and mainstreaming of cannabis culture.
And if you're lucky to be in a state that offers delivery then you might not have to wait more than an hour to have the goods delivered right to your door. The delivery business and the online experience are new frontiers for brands working their way into brand growth and resonance. We're watching brands flourish over night as they broker delivery distro deals and bypass the dispensary bottleneck that has been a stonewall for many a young brand. This path to the customer has become an essential part of the supply chain that will inevitably aid in the normalizing of cannabis. Now customers can discreetly order anything they want, have it delivered, and enjoy it, bypassing a major hurdle for some; going into a dispensary and not feeling uncomfortable. This is a very big deal and a big part of the machine towards mainstreaming. 
All these changes along w positive consumer sentiment, more states adding to the list of legal (medicinal or adult use recreational) states, smart money moving in supporting brands, industry professionals from different categories entering and adding their expertise, and the de-stigmatization of cannabis consumption as a whole, its hard to deny, that whether you felt it aids you medicinally, recreationally, or professionally, the cannabis plant has really just begun to have her day in the sun.
And 1 Prediction that will be realized within the next 18 months
As the hype machine tracks the performance, acquisitions, deal-making and trailblazing of the MSO's across the country, I believe the biggest, most news worthy, acquisition/partnership is going to happen between a household CPG or F&B brand and a small single-state artisanal, boutique brand with massive curb appeal that's been navigating and negotiating best-in-class partnerships and licensing deals for strategic growth across the nation. This grassroots brand with its core team of legacy players and their dialed network are going to win the hearts of customers across the nation and will broker the sweetheart deal; legitimizing the need to build that brand love, while breaking through the clutter w strong business sense and a dedicated team, a team looking at the long game with a desire to provide that consistent look and feel we all want to expect from that first taste to the last.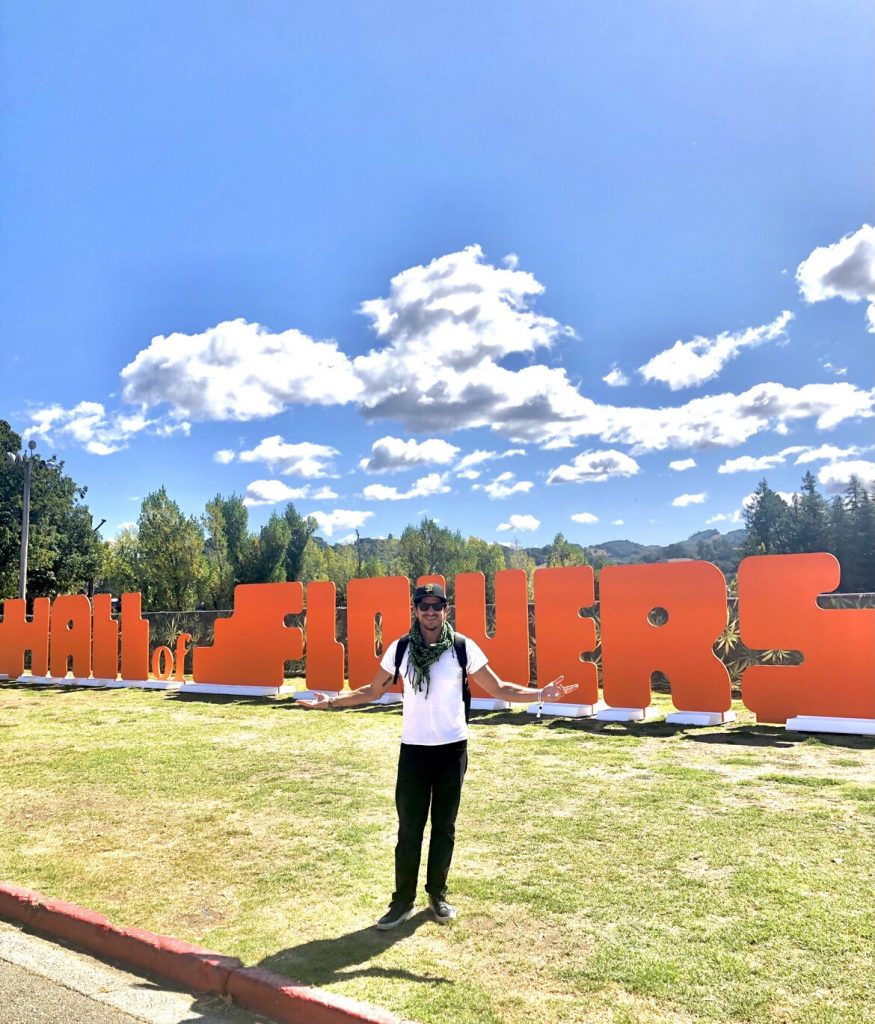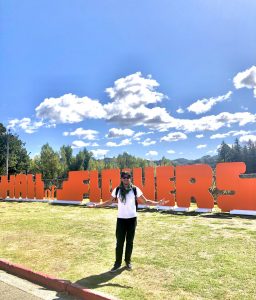 (Michael Rosenfeld at the Hall Of Flowers Expo)
Copyright Highly Capitalized and Michael Rosenfeld © 2021. This article is written by our friend Michael Rosenfeld, VP Business Development and Strategic Partnerships at CannaVu, a leading digital ad platform serving cannabis and CBD marketers with the largest network of mainstream publishers and sites to help drive brand growth and sales across the country.  Since his earliest days, Michael has loved branding and marketing, and has been pro-cannabis, watching the market evolve before his eyes has been like a Blue Dream.
Latest News