New York Cracks Down on Unlicensed Cannabis Operators
NEW YORK–On Tuesday, just two months after NYC's Mayor Adams proclaimed that "He Won't Crack Down On Illicit Weed Sales, Tells Big Apple To Light Up & Enjoy," (https://www.benzinga.com/amp/content/27570305) Police in New York City seized 20 weed trucks belonging to the now infamous "Weed World" brand, which were selling unlicensed cannabis all across New York City.
"If you are looking to buy illegal Cannabis from the Weed World Bus located on 5th Avenue & 40th street it is no longer open for business," Maddrey tweeted. "We do not anticipate it opening for business anytime soon!"

(Weedworld Candies Store RV in Manhattan, 2022)
Notably, the seizure is publicly framed as being due to the unlicensed sale of cannabis.
This sudden crackdown on unlicensed sales is important to for people to take note of, especially for  investors who have expressed concern regarding the unregulated markets impact on licensed sales. (https://www.bloomberg.com/news/newsletters/2022-07-18/new- york-s-2-billion-of-illegal-pot-sales-threatens-the-legal-market ).

(This article's author, David B. Feder, Esq.)
Many clients express the same concerns to me regarding the viability of New York's soon to be "legal" industry considering just how many businesses and individuals are openly selling unregulated cannabis throughout the State.
After New York legalized adult use consumption, possession and gifting of up to 3 ounces of cannabis, New York saw an explosion of illegal dispensaries and other unlicensed cannabis sellers throughout the State.
This phenomenon resulted in extensive news coverage identifying the dispensaries by name and describing their respective "gifting" and/or "membership"  business models. (https://gothamist.com/news/unlicensed-marijuana-dispensaries-multiply-in-new-york-city-despite- warnings-from-state-regulators).
This publicity brought to light questioning how they were continuing to exist without legal actions.
As a response, NY's Office of Cannabis Management ("OCM") initially released public statements clarifying that the gifting model was absolutely illegal. When that failed to work,  the OCM sent out cease and desists letters to many (but not all) of the unlicensed dispensaries/clubs warning them to stop their illegal sales, or suffer the consequences. (https://www.cannabisbusinesstimes.com/article/new-york-cease-and-desist-letters- unlicensed-cannabis-retailers/)
However, besides for some strongly worded letters, no other enforcement of the law took place.
Then, in June, in what appeared to be a real crackdown on the illegal sales, police seized 12 Weed World vehicles. (https://nypost.com/2022/06/15/12-nyc-weed- world-trucks-towed-over-500k-in-parking-tickets/) However, the seizure was played down and was publicized as being due to "parking debt."
Fast forward to today.
While there are now roughly 250 licensed growers and 15 licensed processors so far, New York has not yet issued any licenses for retail cannabis dispensaries. (https://mjbizdaily.com/ny-approves-1st- recreational-cannabis-processor-licenses-adds-grow-permits/)
That's why the timing and framing of today's seizure makes sense.
New York is about to open the window for applicants to seek the first legal and taxed retail dispensary permits in two weeks (August 25), which is the final hurdle to kicking off New York's adult-use cannabis market. (https://www.amny.com/news/applications-for-states-first-weed-licenses- open-aug-25/)
The state's legal marijuana industry is likely to be worth around $1.3 billion a year once legal sales begin, according to analysts and increasing beyond that as the industry matures. (https://www.nytimes.com/2022/06/01/magazine/new-york-cannabis-business.html)
There are potentially billions of tax dollars on the line, and you can bet your bottom dollar that the State is no longer messing around when it comes to cannabis. This is a serious industry and the State is going to start making that loud and clear for all to hear.
Perhaps they allowed these unlicensed dispensaries to open and operate without any enforcement so as to have examples to make right before licenses start becoming available, to scare everyone else straight and into the regulated market?
Whether or not that's the case, one thing is for sure; yesterday's unregulated cannabis market is not today's cannabis market.
That's important to keep in mind when evaluating investments and opportunities in New York's rapidly emerging adult-use cannabis industry.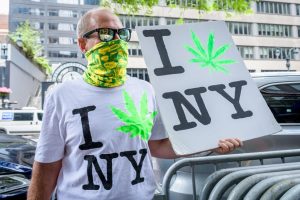 (Image: A New York Cannabis Advocate) 
Highly Capitalized thanks David B. Feder, Esq. for his opinions in this article. David B. Feder, Esq is a business deal and litigation attorney, real estate broker and business advisor in New York, and has served as attorney, executive, director, officer and co-founder of numerous cannabis businesses throughout the cannabis industry since 2013. David provides full-service advisory, strategy and project management services in the regulated cannabis, cannabinoid and psychedelic business industries guiding clients from initial concepts through completion.
As the founding Member of Weed Law, LLC, a full-service cannabis advisory, David assists clients with evaluating and preparing competitive cannabis license applications, transactions, deal structuring, contracts, real estate, compliance, due diligence and dispute resolution. David is also a licensed real estate broker, assisting clients with the sale, lease, acquisition of cannabis compliant New York real estate.
Latest News