New Study: Psilocybin Shows Promise Treating Alcoholism
LOS ANGELES- A recent study has been released that further adds to the growing body of research that shows psilocybin, the hallucinogenic component found in magic mushrooms, may be an effective treatment for alcohol addiction.
Studies like this could have the potential to revolutionize addiction treatment in the coming decades. Especially important, as the United States Centers for Disease Control (CDC), has data showing alcohol abuse claims the lives of 95,000 Americans annually, reducing lifespans by an average of 26 years.
The most recent study, by researchers from New York University's graduate school of medicine, discovered that psilocybin-assisted therapy significantly reduced heavy drinking by 83%, compared to a 51% reduction in those who got an antihistamine placebo. 
Nearly half (48%) of those who had taken psilocybin stopped drinking entirely eight months following the initial dose, which is twice as many as the 24% in the placebo group. 
With 93 participants, the experiment was double-blinded and sizable for a psychedelic investigation.
According to Dr. Charles Marmar, chair of psychiatry at NYU Langone Health, "today's study is a tremendous breakthrough."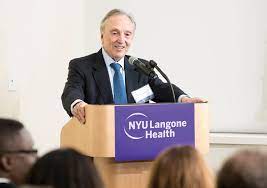 (Dr. Charles Marmar)
He continued, "Treating alcohol abuse is extremely challenging, and the few drugs that are now available have little long-term efficacy."
Dr. Marmar's previous research has led to breakthroughs in our understanding of post-traumatic stress disorder (PTSD) through studies of police officers, soldiers in combat, veterans, and civilians who have been exposed to sudden, usually life-threatening events. 
By mapping out circuits of the brain, his researchers are also making advances in how we diagnose, treat, and prevent conditions like schizophrenia, addiction, depression, dementia, and traumatic brain injury.
The trial involved 12 psychotherapy sessions spread over 12 weeks, as well as two medication-only sessions that lasted all day. 
The impactful interventions came from a powerful combination of medicine combined with talk therapy. 
The trial participants also started off drinking less heavily than in most studies of alcohol use disorders, according to the paper's authors, but the study didn't collect data after the initial 32-week observation period, so the study did not address the issue of patients potentially relapsing back into addiction.
Since the 1950's, psychedelics have long been investigated as potential treatments for addiction.  Though the trials didn't match modern research standards, they did show promise when LSD was investigated as an alcohol addiction treatment in the 1950s and 1960s. 
These more than 50 year old experiments provided the foundation upon which NYU could build their program, after decades of psychedelic research prohibition.  
It's very likely that in the next 50 years, we will see more and more use of psychedelic medicine in conjunction with traditional talk therapy and have give millions the chance to escape from addiction. 
Latest News