Local Heroes: The Rise of Grupo Flor in Cannabis Retail
SALINAS – Deep in the heart of California, about an hour and a half drive south of San
Francisco, is the gorgeous Salinas Valley of Monterey County.
Salinas is known as the "Salad Bowl of the World" for its large and vibrant agriculture
industry. The City's marine climate is ideal for the floral industry, grape vineyards, and of
course, cannabis cultivation.
That perfect climate, and soil, combined with decades of cannabis cultivation knowledge, has
meant the quality cannabis produced here is amongst the most sought-after in the world.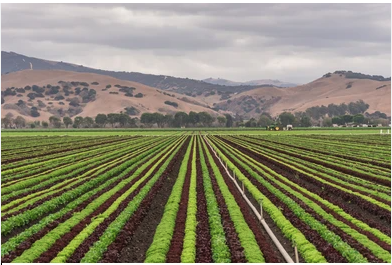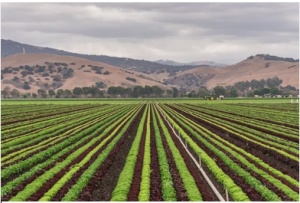 Salinas, California
With the explosive growth of quality cannabis in the region, it may soon be known as the ''Devil's Lettuce Bowl of the World.'' 
In the heart of Salinas is the headquarters of one of the larger regional cannabis operators called Grupo Flor. 
The origins of Grupo Flor
Grupo Flor was founded in 2017 by Mike and Omar Bitar, two local businessmen and commercial real estate operators. Mike and Omar are first generation Arab-Americans. Their family settled in the Central Valley from Jordan many years ago. 
Like most immigrant families, they enjoyed the entrepreneurial freedom that America had to offer by establishing small businesses in their community. From restaurants to commercial real estate companies, they were and continue to be active members in their local community.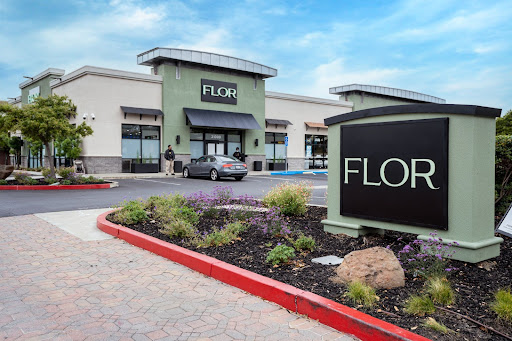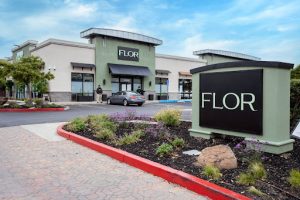 A Grupo Flor Retail Dispensary
Mike and Omar were subsequently joined by Kaz Ajir and Gavin Kogan as founders, making up the four founders; all who remain with the company to this day.
Kaz is an Iranian-born American citizen whose family emigrated to the USA when he was two years old. Kaz, like his partners Omar and Mike, shares an entrepreneurial spirit and also comes from a real estate background.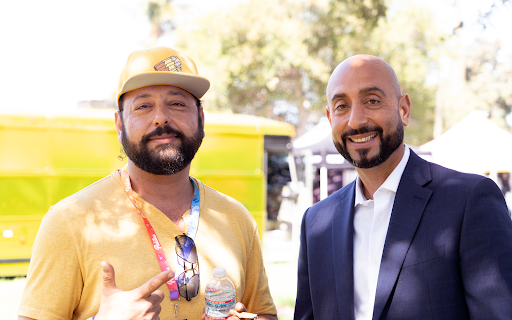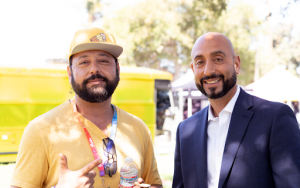 Founders: Omar and Mike Bitar (right)
The fourth founder is Gavin Kogan. Gavin is one of the first cannabis attorneys in California to specialize in cannabis business law, instead of cannabis criminal law.  Gavin also shares a passion for cannabis brands and brand development.
All the founders live locally and have a long-standing reputation for supporting the needs and causes of their local community.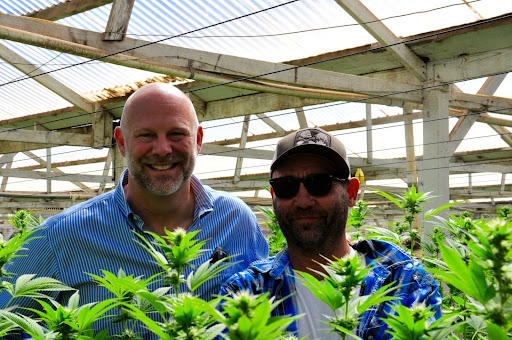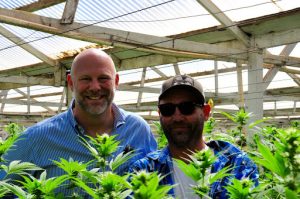 Grupo Flor: Founders: Gavin Kogan (left)
Profitability Through Organic Growth
Grupo Flor operates five dispensaries in the Monterey and East Bay area. All of these stores are well situated in relatively high-traffic locations. This is in contrast to cannabis retail locations, which are normally situated in out-of-the-way parts of town, like industrial zones.
Their dispensary names also show their pride toward the communities in which they operate.  One of their retail brands is named East of Eden, in tribute to another local hero – the legendary writer and author John Steinbeck. Steinbeck wrote many great American classic novels and lived on the Monterey peninsula.  
The fact that Grupo Flor's flagship retail location called Flor is located in a more ''traditional'' retail center, in the heart of Union City, was made possible by the team's long standing and positive relationships with local government officials, as well as their interconnection with major real estate groups operating in the area.
Diversity in the DNA
Because of the founder's diverse backgrounds, Grupo Flor dedicated itself to creating one of the most racially and gender diverse work environments in the cannabis industry. Grupo Flor's diversity enables the company to continue to have a seat at the table in the very progressive Northern California area where they're headquartered.

Grupo Flor have one of the most diverse teams in California cannabis
I caught up with Mike and asked him why diversity is so important at Grupo Flor.  Mike explained to me all the founders put the local community first as an example of California as a melting pot culture. Grupo Flor was named ''Grupo Flor'' (Flower Group in English) in homage to the Latino-American community in the region.  
The diversity of their 180 employees is to some extent a reflection of the diverse community surrounding Grupo Flor.  But more importantly, their diverse team means they can truly understand and meet the needs of the diverse consumers in cannabis.
Grupo Flor Operations
Grupo Flor's Salinas headquarters is fascinating too. Unlike most cannabis enterprises that are stand-alone licensed operations, Grupo Flor established an operation with three separate licenses all operating at a single location, allowing a unique view on a cannabis supply chain collectively operating under one roof.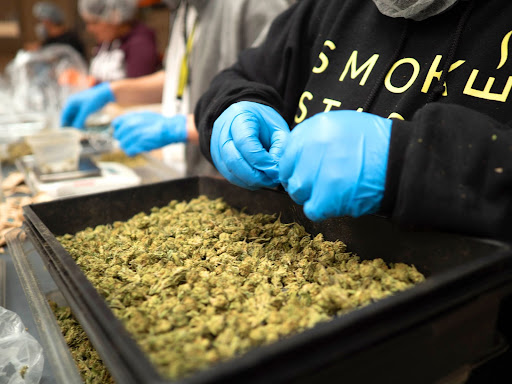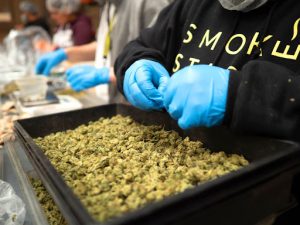 Grupo Flor Manufacturing
The facility has a large dispensary on the ground floor open to the public. There is also a highly efficient pick-and-pack warehouse supplying all five of Grupo Flor dispensaries as well as a manufacturing team creating desirable cannabis products like pre-rolls (for the several successful brands that they have incubated over the past five years).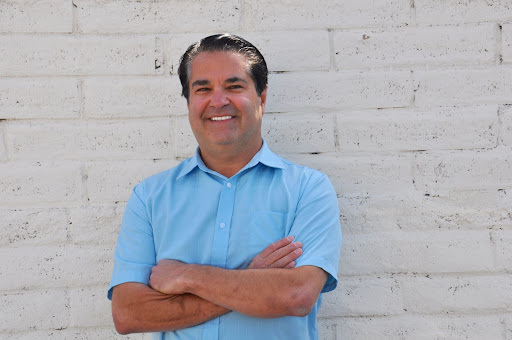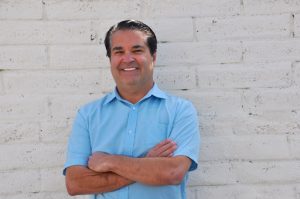 Grupo Flor: Founders: Kaz Ajir 
The second floor of the facility comprises Grupo Flor's corporate shared-services offices, including departments such as legal, HR and accounting. 
Teamwork Makes the Dreamwork
One of the key determining factors of Grupo Flor's success is their fostering of a strong team environment in all functions of the business. 
Mike says teamwork is visible all around the company. Their successful brand Paletas, had input in its development from all levels of the organization several years ago. Fast forward to now and Paletas is so popular, consumers have tattooed the logo on their wrists.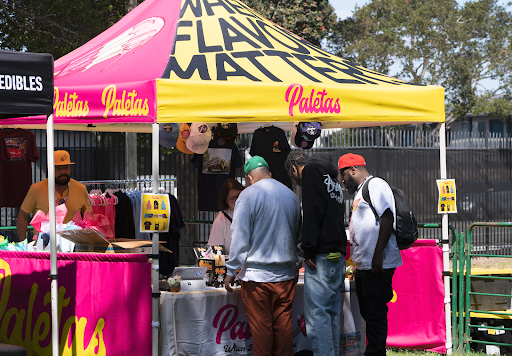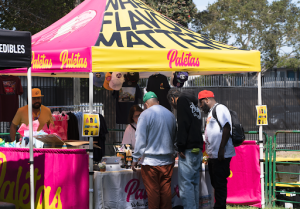 Paletas Brand Activation California
Particularly on the retail level, the team takes pride in offering and providing outstanding customer service. 
This is evident in the larger than normal product offering in all Grupo Flor's retail locations. The product offering caters to all segments of cannabis consumers, at price points that meet each segment's needs. This, combined with reduced wait times, all contributes to delivering an exceptional cannabis shopping experience.
Indeed, their recently opened store in Union City has just achieved a 25% EBITDA, and is on track to deliver $18MM in top line revenue. 
25% EBITDA and a $18MM run rate is an anomaly for most California cannabis retailers. Dispensaries in California average about $3MM per year per dispensary with about half of that EBITDA (according to the California Office of Cannabis Management).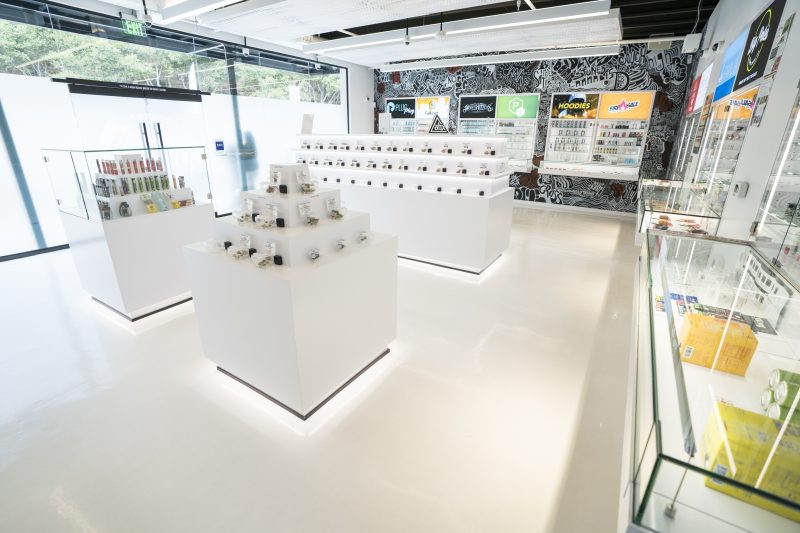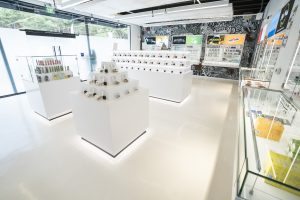 Interior of a typical Grupo Flor dispensary 
What's the future hold for Grupo Flor? 
Highly Capitalized asked Mike Bitar what's next?  He told me, "we want to continue to focus on locating our dispensaries in areas in which consumers are already shopping and eating: shopping centers. It's crazy people have to go to the industrial areas of cities to shop for their cannabis.''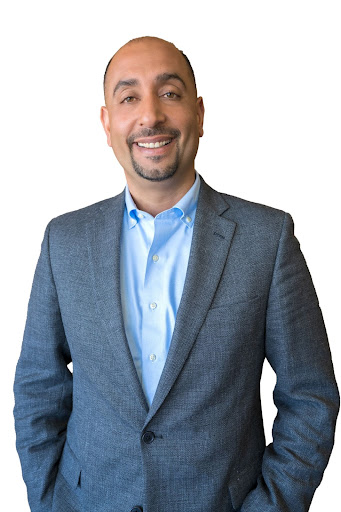 Mike Bitar, CEO, Grupo Flor
Mike told Highly Capitalized that his team plan to continue to expand the company's retail footprint in California, primarily focusing on high-traffic locations in large shopping centers, or regional super centers.
To underline this, the next two stores they plan to open: one in Redwood City and a second one in San Jose, are located in catchment areas comparable to the successful Union City store. In order to appeal to investors, Mike say's his strategy is to use debt funding on the asset or store level to facilitate the opening of both stores in 2023. 
Mike and his team plan to continue to expand the company's retail footprint in California, primarily focusing on high-traffic locations in large shopping centers, or regional super centers.
To underline this, the next two stores they plan to open are in Redwood City and a second location in San Jose. These sites are located in catchment areas comparable to the successful Union City store. 
In order to appeal to investors, Mike's strategy is to use debt funding on the asset or store level to facilitate the opening of both stores in 2023.
What's next for cannabis retail in California?
California is being counted out by the naysayers in cannabis due to the onerous tax and regulatory quagmire in which California cannabis finds itself. 
But California is still the biggest market in the world for cannabis. California brands will no doubt play a vital role in the future of the cannabis industry. 
Despite the current headwinds in the cannabis industry, there are viable pockets of opportunity for investors in California cannabis retail in the Bay area; and especially in high-volume high-traffic shopping centers. 
With their Union City dispensary, Grupo Flor has proven that cannabis retailers thrive when placed beside other non-cannabis stores. Cannabis stores co-located with other retailers in high-traffic locations have and will do well.
Grupo Flor's new retail strategy may prove to be the future of all cannabis retail in California, and maybe even beyond in other new markets around the world. Certainly as Grupo Flor's store openings in high-traffic locations continue, and they continue to hit 25% EBITDA, we'll start to see a shift to this high traffic store location model. 
Cannabis is a consumer product, and just like any other consumer product the sooner the day comes we can buy cannabis in our local shopping mall; and the better for everyone – both consumers and retailers in cannabis.
Highly Capitalized 2022 © All Rights Reserved. Not to be reprinted or reused in any way without the prior approval of Highly Capitalized.
Latest News