HCN Investigates: Cannabis Funding in New York State Part 2 — The Key Players
NEW YORK–The New York cannabis industry may seem in its infancy, but medical cannabis has been legal in the Empire State since 2016. That's plenty of time for the old money engines in New York to spin up and start strategizing the steady conquest of a market that didn't yet exist.
With the signing of the MRTA act into law, recreational cannabis is now a reality in New York State — on paper, at least. The majority of New Yorkers will continue getting their weed illegally for the time being, but five Big Apple cannabis operators are already dominating an industry that encapsulates the nation's biggest metropolis.
New York State cannabis industry recap
In part one of our dive into the emerging New York cannabis market, we touched on the existing state of cannabis law in New York, which will likely deliver the first legal weed onto dispensary shelves in 2022 or 2023. We covered potential conflicts with local and scholastic regulations, and we lauded the relatively high possession limits of New York's new MRTA legislation, which allows New Yorkers 3oz of flower and 24g of concentrate — once the NY recreational market is up and running, of course.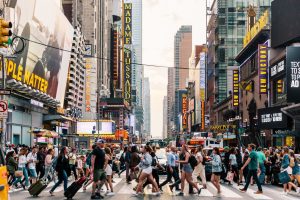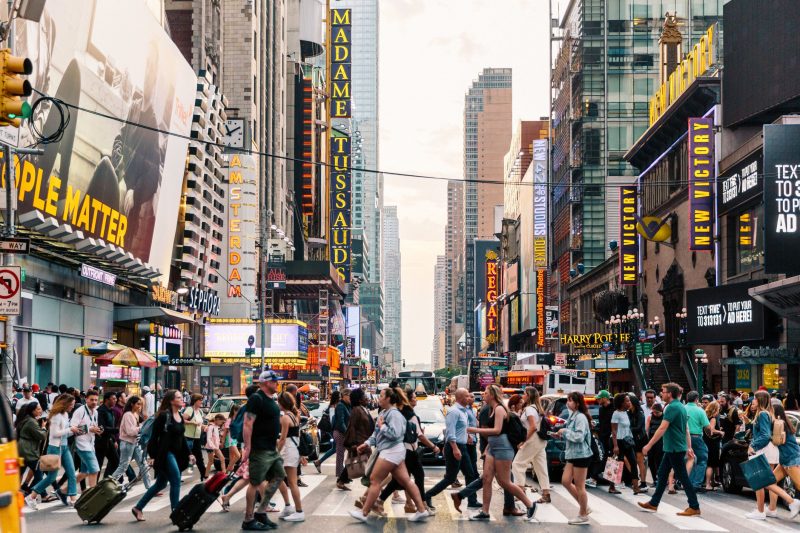 (Over 200 million visitor to New York City each year)
New York is particularly noteworthy among American legalizers of recreational cannabis for its special focus on social equity. Historically, black, latino, and other underprivileged communities have been unjustly targeted by the War on Drugs — in New York City perhaps more than anywhere else in America.
Joined by DC in this new "woke" cannabis legislative climate, New York is set to hatch a highly successful cannabis market — assuming greed and infighting don't stifle the immense potential now unfolding.
Top players in the New York State cannabis industry
We briefly touched on who we believe to be the top players in New York cannabis at present in part one of our dossier. Now, let's explore each operator in further detail:
Acreage Holdings quick facts
Major management shake-ups throughout 2020 and 2021
History of Acreage Holdings
Formed as the result of a reverse takeover by Applied Inventions Management Corp. in 2018, Acreage Holdings quickly became one of the best-funded cannabis stocks in the United States. It was sold, of course, on foreign exchanges, but Acreage has utilized this funding to solidify a foothold in production and retail operations throughout the East Coast.
How is Acreage Holdings funded?
Acreage has mainly gained funding via IPOs on various foreign exchanges. As one of the world's best-known cannabis stocks, other forms of investment have been minimal, and Acreage has operated at considerable loss since its inception.
Columbia Care quick facts
Quickly spread throughout New England area

Became New York's biggest pot producer from the bottom up
History of Columbia Care
Columbia Care was in the New York cannabis game before competitors even knew the rules. Founded way back in 2015, Columbia Care started as a small-time medical provider that spread throughout New York's brand new market and into neighboring Pennsylvania, Massachusetts, and other New England states. These days, Columbia is starting to look like a looming emerald tower in the Empire State.
How is Columbia Care funded?
As a major operator of production facilities and dispensaries, Columbia Care derives significant capital from operating revenue. With Q1 2021 earnings reports boasting a $92 million revenue record and 41% gross margin, Columbia is one of the best-performing public cannabis operators. It has enough liquid capital to snap up seemingly large companies like Medicine Man without even breaking a sweat.
Cresco quick facts
Founded in 2013 by former Chicago mortgage agents

Raised $100 million in private investments by 2018, then went public on CSE

Instantly dominated Illinois rec market, expanded into other promising states
History of Cresco
Cresco has evolved into such an industry leader that its lofty "commendations" of lawmakers are actually taken seriously. Slinging capital, educational materials, and ever-evolving operations around the globe like they're no big deal, Cresco has taken over both the economic and thought spheres of the evolving worldwide cannabis culture. In New York, Cresco acted early and secured a lasting spot at the table.
How is Cresco funded?
Cresco is a massively traded cannabis stock, and it has enough funding vehicles to merit bonafide investor conferences. Occupying the apex of the cannabis economy, if there's a method by which Cresco can be funded, that method has been explored and thoroughly conquered.
Etain Health quick facts
Family-owned, operated by 3 women

Refreshing in a male-dominated industry

Privately funded
History of Etain Health
Operated and owned by Amy Peckham and her two daughters, Etain Health has managed to become one of New York state's most prominent cannabis operators despite foregoing listing on Canadian exchanges. Not much is known about how Etain attains its funding, but there's enough of it to go toe-to-toe with rivals leveraging national reach.
How is Etain Health funded?
Take a quick click to Etain's homepage. What do you find glaringly missing? A headline with the word "Investors" writ large somewhere on the page — Etain isn't courting investment, and it isn't publishing information on where it gets its money either.
Ayr Wellness quick facts
Various mergers and strategic agreements
History of Ayr Wellness
As one of the most corporate of the cannabis giants, the East Coast's Ayr Wellness is relatively stingy with any information not related to money. Managing cash seems to be something Ayr is relatively good at — you just wonder if it's going to a good cause.
How is Ayr Wellness funded?
Ayr is listed on the OTC exchange, and it has performed a variety of acquisitions and mergers since 2019. Just so far in 2021, Ayr has merged with Blue Camo and acquired Liberty Health Sciences.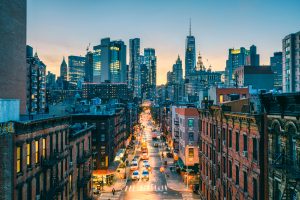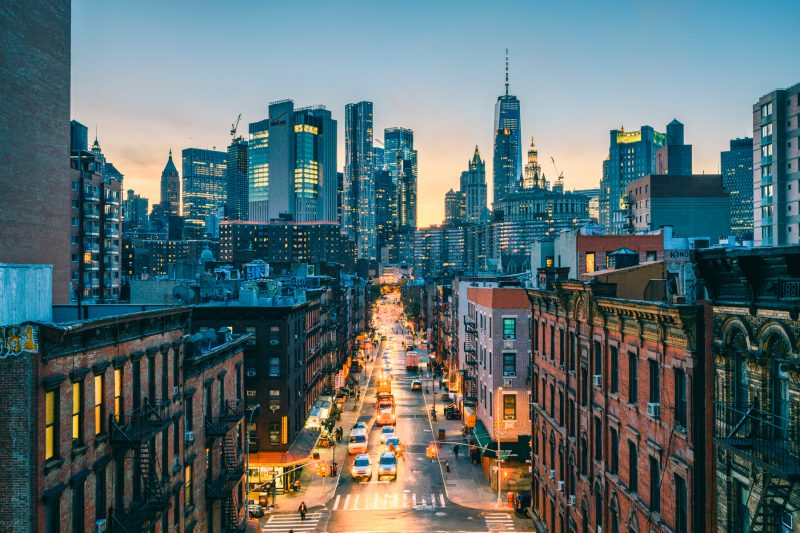 (Manhattan Street Scene)
How will the New York cannabis industry consolidate?
New York is historically America's greatest port, its flagship city, and also its closest metropolis to the Canadian capital epicenters of Toronto, Montreal, and Ottawa. As overtures from Cresco, Ayr, and others make clear, New York state is intended to be one of the most consolidated recreational cannabis markets in the country.
With a combination of immense population density and the interconnected web of Empire State old money, the New York cannabis industry could be taken over by megalithic corporate interests almost overnight. Even social equity provisions built into the state's new cannabis law might be exploited as tools of profit or tribalistic chaos, not justice.
This isn't likely to be a heartwarming underdog story. New York's steady ascent into one of America's many cannabis capitals will, however, serve as an excellent foundation for the overall mainstreaming of cannabis into American culture. A trend that starts in California might spread across the whole country, but it won't be truly American until it worms its way into the heart of the Big Apple.
Highly Capitalized and Samuel Popejoy 2o21 © Copyright. All Rights Reserved. Part 1 of Samuel's series on Funding in New York for cannabis is in the Spotlight Section of HighlyCapitalized.com.
Latest News