Tilray to Acquire Hexo Corp. for $56 Million
TORONTO- On April 10, 2023, Tilray Brands announced its merger with Hexo Corp, in a deal that would create one of the largest cannabis companies in the world. While the deal may seem like a win for both companies, it is important to take a closer look at the financials to understand why this merger may not be a good idea.
First here's what they said in their press release:
Under the terms of the deal, every Hexo shareholder will receive 0.4352 shares of Tilray common stock in exchange for every share of Hexo, with an implied price of $1.25 per Hexo share, based on Nasdaq trading on April 5.
Tilray's CEO, Irwin Simon, claimed they were still on track to become the "most diversified cannabis lifestyle" brand on the planet and that the Hexo acquisition fits perfectly with that agenda.
"We are incredibly excited about our combined prospects moving forward with HEXO and expect a seamless integration of HEXO's business into our efficient, built-to-last platform," Simon said. "At the same time, we will continue our relentless focus on cost and operational efficiencies and strengthening our industry-leading balance sheet to deliver sustained, profitable growth."
The company further asserted that adding Hexo to its arsenal will add roughly $215 million to its pro-forma net sales, thanks to "low-cost operations and complementary distribution" that Hexo brings to Tilray.
First, let's look at Tilray's recent history. Tilray was once a high-flying cannabis company, with a market cap of over $20 billion in 2018. However, in recent years, the company has struggled to maintain its position as a leader in the industry. In 2021, the company reported a net loss of $336 million, and its market cap has plummeted to just over $2 billion.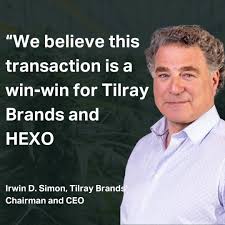 Social Media message from Tilray support the merger.
The company has tried to turn things around by shifting its strategy. In 2022, Tilray announced that it would be focusing on the medical cannabis market, rather than the recreational market. While this may seem like a smart move, it is important to note that the medical cannabis market is much smaller than the recreational market, and there is already a lot of competition in this space.
Now, let's take a closer look at Hexo. Hexo has also struggled in recent years, with a market cap that has dropped from over $7 billion in 2019 to just over $1 billion today. In 2021, the company reported a net loss of $546 million, which was more than its revenue for the year.
Given the financial struggles of both companies, it is difficult to see how this merger will be beneficial for either of them. While the combined company may have a larger market share, it is unclear how this will translate into profits. In fact, the market seems to be skeptical of the deal, with Hexo's stock price dropping by over 10% after the announcement.
There's a number of risks associated with this merger too. For example, there may be significant integration costs, and it is unclear whether the two companies will be able to effectively combine their operations. Additionally, there may be regulatory risks, as cannabis is still illegal in many parts of the world.
While the Tilray-Hexo merger may seem like a good idea on the surface, a closer look at the financials suggests that this may not be the case. Both companies have struggled in recent years, and it is unclear how this merger will help them turn things around.
Additionally, there are a number of risks associated with the deal, which may outweigh any potential benefits. As such, investors should be cautious when considering whether to invest in this newly combined entity.
Latest News