Canadian Cannabis Firm Tilray Acquires Majority of MedMen Debt
NEW YORK & LOS ANGELES–Tilray, Inc. (Nasdaq l TSX: TLRY), Tilray and MedMen Enterprises Inc. (CSE: MMEN) (OTCQX: MMNFF), today announced that Tilray has acquired the majority of the outstanding senior secured convertible notes of MedMen that were originally held with Gotham Green Partners, LLC and other funds.
Highlights:
Deal gives Tilray an established brand to expand their market share in the USA when federal legalization finally happens.
Tilray stock rose nearly 5% in extended trading on Tuesday after their announcement.
The $165.8 million deal would give Tilray a footprint throughout the U.S.
In the deal, Tilray acquired 75% of Medmen's outstanding convertible notes and 65% of its outstanding warrants.
MedMen is a cannabis retail brand in the U.S., holding 21 licenses and 25 retail locations across key urban centers, including the Bay Area, Los Angeles, Boston, Chicago, and Las Vegas, and a significant position in California, the world's largest market.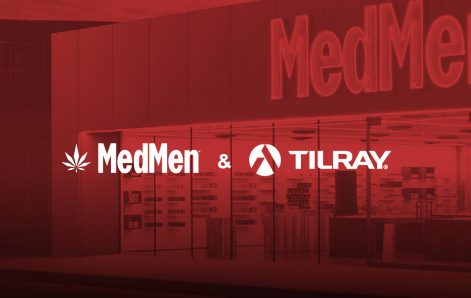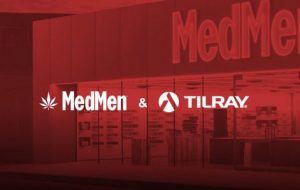 Irwin D. Simon, Tilray's Chairman and CEO, (main picture) said, "Backed by accelerating trends towards legalization globally, we are focused on building the world's leading cannabis-focused consumer branded company with a goal of $4 billion of revenue by the end of our fiscal 2024. The investment we are announcing in MedMen securities today, one of the most recognized brands in the $80 billion U.S. cannabis market, is a critical step towards delivering on our objective as we work to enable Tilray to lead the U.S. market when legalization allows."

(Mr. Simon CEO of Tilray: being interviewed)
Mr. Simon continued, "Our ability to maximize value from this game-changing transaction rests on the support of our shareholders at the upcoming Special Meeting to vote on our Authorized Shares Proposal, which will increase the number of authorized shares Tilray has available to not only complete this transaction, but also to execute on other strategic acquisitions. I cannot stress enough the importance of making our shareholders' voices count to enable us to maximize our potential to create substantial value for our shareholders in the near-term and in the future."
Tom Lynch, MedMen's Chairman and CEO, added, "Our management team has spent the past 18 months executing a disciplined turnaround plan. We are grateful to our stakeholders for their patience and support as we worked to fix the business and rebuild trust and credibility. We believe that patience has paid off, as these efforts have succeeded in attracting partners who share our vision for building the world's most powerful cannabis retail brand. In addition, the proceeds from the private placement and amendments to the Notes, gives MedMen the cash and flexibility to match our revenue trajectory to our operational expertise and internationally renowned brand. MedMen 2.0 is here, and we are thrilled to embark on the next stage of our journey.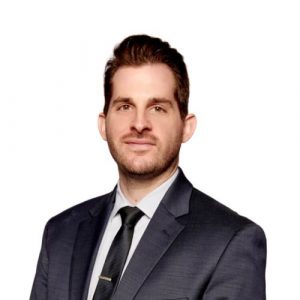 (Tom Lynch CEO Of Medmen)
Transaction Overview
Under the terms of the transaction, a newly formed limited partnership established by Tilray and other strategic investors acquired an aggregate principal amount of approximately U.S. $165.8 million of the Notes and the Warrants, all of which were originally issued by MedMen and held by GGP, representing 75% of the outstanding Notes and 65% of the outstanding Warrants. Tilray's interest in the SPV represents rights to 68% of the Notes and related Warrants held by the SPV, which are convertible into, and exercisable for, approximately 21% of the outstanding Class B subordinate voting shares of MedMen upon closing of the transaction.
Tilray's ability to convert the Notes and exercise the Warrants is dependent upon U.S. federal legalization of cannabis or Tilray's waiver of such requirement as well as any additional regulatory approvals. As consideration for Tilray's interest in the Notes and Warrants, and subject to Tilray receiving the stockholder approval necessary to increase the number of shares of its authorized capital stock, Tilray will issue approximately 9.0 million shares of its common stock to GGP; provided, however, that if Tilray has not received the stockholder approval by December 1, 2021, GGP may elect to receive cash rather than Tilray shares. Tilray's previously scheduled Special Meeting of Stockholders will be held this Thursday, August 19, 2021. MedMen did not receive any proceeds from the transfer of the Notes.
Cautionary Statement Concerning Forward-Looking Statements
Certain statements contained in this press release constitute "forward-looking statements" within the meaning of federal securities laws, including the Private Securities Litigation Reform Act of 1995. Forward-looking statements are predictions based on expectations and projections about future events and are not statements of historical fact. You can identify forward-looking statements by the use of forward-looking terminology such as "plan," "continue," "expect," "anticipate," "intend," "predict," "believe," "project," "estimate," "likely," "believe," "might," "seek," "may," "will," "remain," "potential," "can," "should," "could," "future", "is positioned" and similar expressions, or the negative of those expressions, or similar words or phrases that are predictions of or indicate future events or trends and that do not relate solely to historical matters. You can also identify forward-looking statements by discussions of the Tilray's or MedMen's strategic initiatives, including productivity and synergies initiatives, our future performance and results of operations.
Forward-looking statements involve known and unknown risks, uncertainties and other factors which may cause the actual results, levels of activity, performance or achievements of Tilray or MedMen, or industry results, to be materially different from any future results, levels of activity, performance or achievements expressed or implied by such forward-looking statements, and you should not rely on them as predictions of future events. Forward-looking statements depend on assumptions, data or methods that may be incorrect or imprecise and may not be able to be realized. We do not guarantee that the transactions and events described will happen as described (or that they will happen at all). Forward-looking statements include statements regarding intentions, beliefs, projections, outlook, analyses, or current expectations for the Tilray or MedMen business; the legalization of cannabis under U.S. federal laws and Tilray's ability to become the world's leading cannabis-focused consumer branded company with $4 billion of revenue by 2024; and Tilray's receipt of stockholder approval to increase its authorized capital stock. Certain material factors, estimates, goals, projections, or assumptions were used in drawing the conclusions contained in the forward-looking statements throughout this communication. Many factors could cause actual results, performance or achievement to be materially different from any forward-looking statements, and other risks and uncertainties not presently known to Tilray or MedMen, as applicable, or that Tilray or MedMen, as applicable, deems immaterial could also cause actual results or events to differ materially from those expressed in the forward-looking statements contained herein. For a more detailed discussion of these risks and other factors, see the Annual Report on Form 10-K of Tilray for the fiscal year ended May 31, 2021. The forward-looking statements included in this communication are made as of the date of this communication and MedMen does not undertake any obligation to publicly update such forward-looking statements to reflect new information, subsequent events or otherwise unless required by applicable securities laws.
A variety of factors, including known and unknown risks, many of which are beyond the control of Tilray or MedMen, could cause actual results to differ materially from the forward-looking statements in this press release and other reports filed with, or furnished to, the SEC and other regulatory agencies by Tilray or MedMen and made by the directors, officers, other employees, and other persons authorized to speak on behalf of Tilray or MedMen. Such factors include, without limitation: (i) if, when and to the extent cannabis is legalized at the federal level in the United States; (ii) the ability of either company to effectively grow and expand retail operations in the United States; (iii) ability to effectively deal with the restrictions, limitations and health issues presented by the COVID-19 pandemic; (iv) the respective management teams' perceptions of historical trends, current conditions and expected future developments; (v) the ability to effectively manage growth, including anticipated and unanticipated costs; (vi) achieving the anticipated results of the Tilray or MedMen's strategic plans, including growing market share; (vii) the adequacy of each company's capital resources and liquidity, including but not limited to, availability of sufficient cash flow to successfully execute their respective growth strategies (either within the expected timeframe or at all); (viii) the ability to raise necessary or desired funds to achieve their respective strategic business plans; (ix) obtaining and maintaining all required licenses, approvals and permits; (x) favorable production levels and sustainable costs; (xi) inputs, suppliers and skilled labor being unavailable or available only at uneconomic costs; (xii); (xiii) adverse future legislative and regulatory developments involving medical and recreational marijuana; (xiv) consumer interest in the companies' respective products and products of other brands that MedMen may offer in its stores; (xv) competition; (xvi) government regulation of either company's activities and products including, but not limited, to the areas of taxation and environmental protection; (xviii) the risks of operating or investing in the marijuana industry in the United States; (xviii) the outcome of any claims, litigation and proceedings of which either company is a party, including any settlements of litigation or pending regulatory or government investigations or actions or other legal contingencies; (xix) either company's ability to conduct operations in a safe, efficient and effective manner; (xx) changes in general economic, business and political conditions in which the companies operate, including changes in the financial markets; changes in applicable laws generally and (xxi) and those other risk factors discussed in MedMen's Form 10 (as amended) or in the risk factors discussed in Tilray's Annual Report on Form 10-K, and other continuous disclosure filings, all available under either at www.sec.gov (with respect to both MedMen and Tilray) or www.sedar.com (solely with respect to MedMen).
(This information is primarily sourced from Tilray.  Highly Capitalized has neither approved nor disapproved the contents of this news release. Read our Disclaimer here).
Latest News