REPORT: US Cannabis Industry Skyrockets to $100 BN in 2023
LOS ANGELES- In a significant milestone for the growing cannabis industry, analysts predict that it will add a whopping $100 billion to the US economy by 2023. This projection, which comes from the newly published MJBiz Factbook, highlights the remarkable growth trajectory of the industry despite its relatively recent legalization.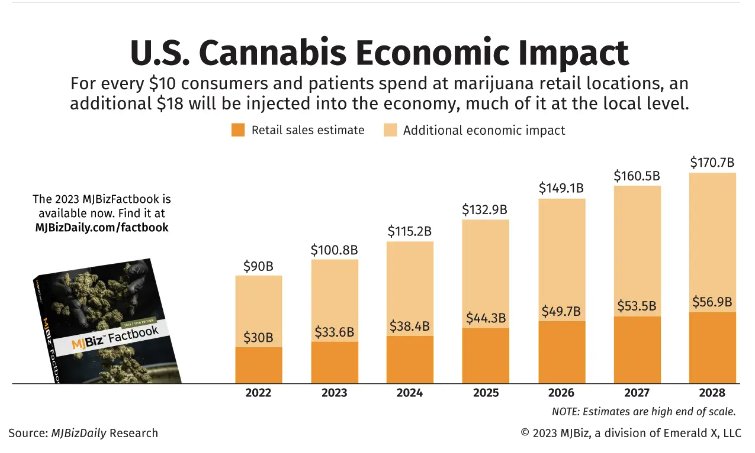 The cannabis industry's economic impact is expected to surpass that of some established industries like cigarettes, soda pop, alcohol, and breakfast cereals. To put things into perspective, the tobacco industry in the US generates an estimated $80 billion annually, which is lower than the projected economic impact of cannabis by 2023.
Similarly, the soft drink industry, which is valued at around $253 billion, pales in comparison to the $100 billion projected impact of cannabis. The alcohol industry, which has long been a staple in the US economy, is currently valued at around $252 billion. However, it is expected to be outpaced by the cannabis industry in terms of economic impact by 2023.
Even the breakfast cereal industry, which is estimated to be worth around $9 billion, is significantly smaller than the anticipated impact of cannabis on the US economy.
These figures highlight the potential of the cannabis industry as a major economic driver in the years to come. While the industry is still in its infancy, it is rapidly growing and is poised to become a significant contributor to the US economy.
However, it's important to note that the cannabis industry faces several challenges that other industries do not. For one, cannabis remains illegal under federal law, making it difficult for companies to access traditional banking services and other financial resources. Additionally, the lack of federal regulation means that the industry is subject to a patchwork of state laws that can vary widely.
Despite these challenges, the cannabis industry continues to grow and evolve, with many experts predicting that it will continue to be a major economic force in the years to come. As more states legalize cannabis and the industry becomes more mainstream, the potential economic impact of cannabis is only set to grow.
Latest News