Review: MJ Unpacked Returns To Light Up New York
3 Big Hits From MJ Unpacked in New York By Gregory Frye
If you didn't make it to MJ Unpacked in New York City late last month, you missed out on a fantastic cannabis conference. Industry veterans and novices from all backgrounds convened at the Hilton in Midtown Manhattan from April 26-28th to network, exchange ideas, learn from each other, and to make deals.
MJ Unpacked is the brainchild of Kim and George Jage, seasoned entrepreneurs and industry veterans who have spent years working to advance the cannabis industry with events. That experience obviously plays a huge role in setting up a successful event. Some of the key focuses throughout the event included social equity, sustainability, the latest tech innovations, and even a well-attended Venture Summit where investors had a chance to meet new and rising cannabis companies. 
Here are 3 big takeaways from MJ Unpacked in New York.
#1) Optimism Across The Spectrum
A lot of people are down on the cannabis industry right now. Businesses are struggling, investors are pulling back, and the uncertainty is palpable in some circles.

MJ Unpacked's brand towers: less expensive way for brands to present.
I didn't sense any of this doom and gloom throughout my interactions at MJ Unpacked. Quite the opposite.
I asked Rachel Wright, CPA and founder of CPA firm 420CPA, what she thought of the investment landscape in cannabis.
Rachel's CPA firm, 420CPA, works hard to support cannabis companies to manage their accounts. But her team also helps clients navigate the many financial pitfalls and challenges in cannabis like tax repayments, 280e, and other limiting issues.
Rachel feels investors are indeed still interested in cannabis investments, but these days investors are far more discerning than in the past. Investors expect a cannabis business to be run as efficiently as any other business.  She believes with the right strategy, the right people and the right CPA support, cannabis companies can not only survive, but can thrive, even in tough times.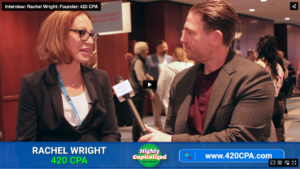 Rachel Wright of 420 CPAs, interviewed by Bryan Passman.
#2) New York Is A Great Place For Cannabis Conferences
New York allows cannabis consumption anywhere that cigarette smoking is allowed. True, other conferences have their smoke spots, but you can't beat sharing a puff with new friends on 54th street in NYC. It's kind of surreal, actually.
New York's Office of Cannabis Management (OCM) may have botched their cannabis industry rollout, but they got this right, and I hope more states embrace similar public consumption laws – especially important for cannabis tourism.
And even though cannabis in New York is in a bit of a tangle right now, you have to hand it to the OCM for trying an alternative approach that was supposed to favor victims of the so-called War on Drugs.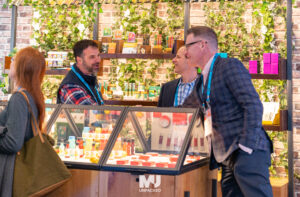 Some of the larger booths at MJ Unpacked were very colorful.
#3) Enthusiasm Among CAURD Licensees
One of my personal highlights at MJ Unpacked was the opportunity to engage with New York's CAURD licensees, who turned out in numbers. Many of them are still quite early in their post-licensing process, their eyes glistening with excitement and hope.  In a wonky industry filled with so much disappointment and heartbreak, one can't help but cheer for these newcomers and pray they're able to avoid the snakes slithering around in this space.
When I warned the CAURD licensees about this, their reactions were typically the same – a sudden hardening of the countenance, eyes turning cold. Whatever their business acumen, I like to think their street smarts are sharp enough to sniff out and cut down any industry predators they may encounter.
The cannabis industry has tremendous challenges and immense opportunities – but lasting success here requires collaboration and a value-driven approach.  If your only thought is on the "green rush," you're doing it wrong.
Next Stop: Detroit, Michigan
The next MJ Unpacked is scheduled to take place this October in Detroit, Michigan. If you like dynamic networking opportunities, perhaps we'll see you there?
Highly Capitalized and Gregory Frye Copyright © 2023. All Rights Reserved. We thank Gregory Frye for his insightful article about the recent MJ Unpacked event in New York. Gregory is a strategic brand building & marketing consultant — with two decades of experience as an international storyteller, an award-winning journalist, writer, editor, marketer, consultant, and advisor. You can reach Gregory by DM through clicking on this link.
Latest News