Managing The Cyclical Nature of The Cannabis Industry for Investors
NEW YORK–Despite the current downturn in cannabis in 2022, the cannabis industry has been flourishing over the last few years. A measure of this is the number of cannabis businesses starting-up has been growing 30% annually from 2016 through to 2021. Wages, employment and many company revenues have been growing exponentially.
But it hasn't been plain sailing for investors in the cannabis market. The very nature of the cannabis market is cyclical in nature. This is especially true of any emerging market over the last 50 years. For investors, there are plenty of highs, but plenty of lows too over the years. 
The industry was propelled by watershed legalization victories in recent years. Most notably during the 2016 and 2020 election cycles. This helped make the cannabis industry one of the fastest growing industries in the U.S.A.
But what do we mean by cannabis being a cyclical market?
Simply cyclical means, when the business cycle is good in cannabis it's very good, like it was when California legalized recreational use of cannabis. 
But when the cycle turns down, it tends to ruthlessly eliminate those cannabis companies that didn't manage that cycle well. 
Whether they like it or not, all cannabis companies have ridden the waves of the industry: from legalization, to expansion, to downturn, and all the way back to recovery.
The ones that survive know there is a cycle and can manage it, those who suffer in any soft cycles are probably not managing the cannabis business cycles very well.
And despite the lack of interstate commerce for cannabis, with 19 states and D.C. on board, cannabis can finally be considered a nationwide industry. 
Here are a few of the cycles which have recently humbled some of the bigger US multi-state operators (MSOs) and Canadian licenced producers.  
One early cycle after California legalized recreational cannabis was a veritable stampede to be listed on a Canadian stock exchange, like the CSE or TSX. 
Another cycle was prompted by a wholesale change of labeling and testing requirements for cannabis products in California. That cycle threw the whole industry into chaos back in 2018. Many cannabis brands disappeared from dispensary shelves overnight as brands struggled to be compliant. 
During the COVID-19 pandemic, sales of cannabis reached record levels as people followed the stay-at-home orders and it seemed money was falling from the sky on to cannabis companies. 
That cycle gave way to a time of consolidation in the industry. SPACs and other novel M&A vehicles bought up many of the popular brands and distressed assets in the market. 
As the pandemic gave way to normality, another example of the cyclical nature of the market was the fact many cannabis companies took on too much debt. Companies began using debt as a means of managing their working capital. Many are now struggling to pay those debts back at very high interest rates. 
Many smaller companies too were affected. The common theme is that those who didn't anticipate these kinds of market changes, or market cycles, soon hit the wall leaving many investors holding the can – with worthless equity.
But despite the cyclical nature of the industry, and all these ups and downs, research shows consumer demand for cannabis and changing attitudes towards the plant, are accelerating legalization efforts at the state level. 
In 2021, Gallup reported that an estimated 80% of U.S. citizens approve of legal access to medical cannabis, while 60% approve of full adult-use legalization. 
The growing acceptance of medical and recreational cannabis is providing growers and investors with unprecedented opportunities. The U.S. cannabis industry hit a record of $24 billion in sales in 2021, with expected annual sales of $70 billion by 2026. 
As chronic illnesses and cancer become more prevalent as individuals age, these ailments drive demand for medical cannabis products. As recreational cannabis continues to become legalized and accepted by different states, profit for industry operators is anticipated to increase. 
What does this all mean? Despite the ups and downs, the industry outlook remains positive, and there are several ways for investors to look at the market now.
So what kinds of companies are best managing the volatility? And more importantly which ones are innovating in the cyclical cannabis industry? 
These could be cannabis technology companies? But not all cannabis technology companies are not truly innovating; some are simply offering existing mainstream services such as POS and CRM to the industry because the bigger players are turned off by federal prohibition.
One area we found in our research which was an interesting example was cannabis trimming companies.  Trimming is necessary for all cannabis cultivators. Trimming is what creates the finished product.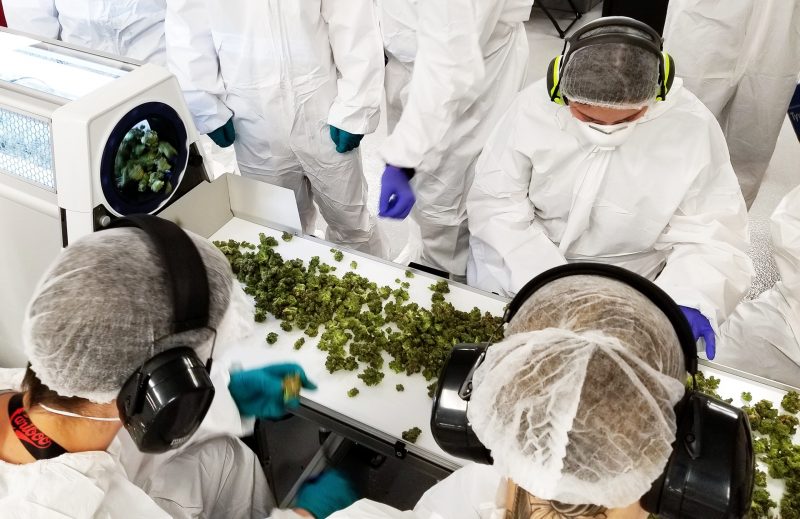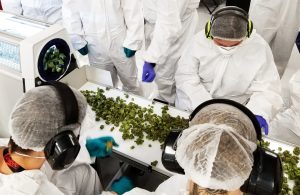 (The beginning of the trimming process)
So we reached out to Jon Farris of trimming market leader, Trimco. Trimco has weathered many business cycles, originally starting out as a cultivation company, Jon quickly realized that trimming was a great hedge against the cyclical nature of the cannabis industry. 
Checkout our video interview for this article with Jon Farris
We asked Jon what he thought of the business cycles. About the business cycles Jon says: ''If you don't like what's happening in cannabis now, just wait awhile and everything will change again!'' 
As CEO of Trimco, Jon has been able to scale up his teams, and scale down his teams over the cycles. This ability to scale up and scale down his company means Trimco has not only survived, but has thrived in cannabis. 
Find out more about Trimming and Trimco by clicking this link
Trimming consists of detaching the undesirable parts of the plant by trimming each bud. It is a very simple yet time-taking process.
A good example of business cycles in cannabis are the many first-mover companies that are now struggling. Usually the pioneers are the first to fail in an emerging market (which shows the whole idea of first-mover advantage has not been much of an advantage).
First mover companies like Canopy Growth Corporation (Ticker: CGC), Tilray (TLRY). Hexo (HEXO) and Aurora (AUR)  have been all battered by the various business cycles in the industry. 
In fact, nearly all the bigger cannabis companies were blown around over the last few years as they struggled through the many business cycles in the cannabis industry. 
We asked Highly Capitalized's Deborah Johnson what suggestions would she give to investors keen to hedge against the volatility of these business cycles?
Deborah has been working with cannabis investors for many years, first with Arcview Group and most recently advising MJUnpacked as well as her operational role at Highly Capitalized. Meeting so many investors gives her some insights into the cyclical nature of cannabis.
She mentioned three things to which investors should be aware: 
Investors first should realize there actually is a cyclical nature to the cannabis industry. Investors should try to anticipate the cannabis business cycles as much as possible through analyzing historic trends, as well as trying to understand both the causes and effects of the cannabis business cycle.

We're currently heading into an upward cycle. While many cannabis companies have over-extended themselves, consumer demand is still increasing exponentially for cannabis. So it's probably fair to say we've ''hit the bottom'' of the market and many cannabis companies are ''on sale.''

Most importantly, investors should invest in those companies who are immune (as much as possible) to volatility and truly innovating and rolling with the business cycles.  
Whatever your appetite for investment, always be careful to not only look at the company, but look at its market niche's performance over time. Only then will you be truly doing your due diligence in cannabis. Highly Capitalized © 2022 All Rights Reserved. See our disclaimer here.
Latest News