Cannabis Conference Success Can Be Waiting In The Fringe
NEW YORK– Years sans-conference and you miss the energy to reconnect, session, and hang with peers, so it's time to jump back in!  The revery and positive vibes, seeing old friends, industry peers, the experience of meeting new like-minded people, it's a feeling for sure.  
Personally, my favorite part is knowing I might meet someone I know I don't know, and that person could change the course of everything. And to be honest, it happens all the time. And this article is about that, increasing your chances of having the same awesome experience meeting someone new.
This article is for you if you're not a 'people person,' not a 'networking type,' but love to learn, so you like to go, but don't get the most out of them; it's for people that don't feel strongly about their approach at these events and could use a couple hacks to improve their time and vibe.
Lets me back-up and quickly share, I've been going to conferences for over 20 years, yet there was a time when "I was not the conference type."
Today, when I go, its 90% work related. I'm there to meet people I've pre-scheduled, and I'm there to find new business. I've 'worked the room' my whole career. From CES, to AdWeek, SXSW, now MJ Unpacked, MJBiz con, Hall of Flowers, and countless conferences and expos across the country, yet there was a time I was nervous as heck going myself. It took me years, and my own personal breakthru to figure it out. And once I did, it's been a whole new amazing experience. 
I'll begin w the Must-Dos which is the prep before the show, and lead into the more important mental and physical hacks at the show to improve your chances for that 'life changing' encounter.
The Must-do's: 
First off, prepping for a conference is a must, sending out emails to people you'd like to meet or inform that you're attending, is a really good habit. Establish momentum before attending by seeing who else is there and what they're scheduled for. I want you to maximize your business opportunities and get that done.
For a conference or Big Event like MJ Biz, MJ unpacked, Hall of Flowers, SXSW make sure your registered properly. Get that lanyard ahead of time. For you, time and mojo's wasted in that queue.
Click Here to find out about MJUnpacked – a cannabis conference, business expo and venture capital summit.
Research companies, execs, people you want to see and hear and follow the path on the websites to other registered participants, companies, speakers, etc.. Dial into who you want to meet and acquaint yourself with the type of people in attendance. This will help you read the room and know what your getting into.
Standard. So do that for sure if you want to get the most from it.
Now the fun stuff, if you get the jitters or butterflies, and nerves, you feel tongue tied, or not worthy (whatever that means) and in all, the experience is intimidating, let me chop it up for you so you can overcome each piece in parts, like playing Chess, because there is a flow to the chaos.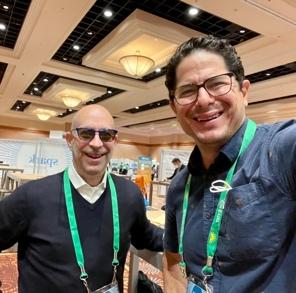 (Michael with David Paleschuck, Author of "Branding Bud", at MJ Unpacked)
Part One 
Set your mind at ease. 
Your there to have fun. If you're there to pick up business, you first have to have your game face on, and that doesn't mean, have your pitch dialed, it means, being in the right head space to break ice, have good conversations, and be mentally available to shake-hands at the right time. 
DEALs don't happen readily at the show, don't set that expectation, again, this is for the people in the back, that are trying to grasp the art of the conference. Know that your personality and approachability will determine if someone wants to do business with you, by first getting to know you. 
Remind yourself that no one wants you to fail or be embarrassed, everyone is there to experience the conference and event. People have their own agendas, but the majority are there just like you, to make new connections and friends. 
You are just like everyone else, you're allowed to be here, have fun! 
Tell yourself, "No one knows me. What would happen if I acted like I enjoyed these things? If I was the best version of myself at this event, what would I do?" If the truth scares you, but excites you, good. 
It starts with establishing this mindset and perspective. 
"Im here to have fun, learn, be a part of an experience, add some value through my positive demeanor. I don't need to win people over; I'll meet people as its appropriate."  This wasn't supposed to be motivational, as much as a change in mindset that we're going to carry into the show. 
Speaking of which…
It's conference day, you're prepped, feeling good, ready to learn some stuff, have fun, and be a part of it all. Let's go! 
Mentally Prep to Get Past the Front Door and Enter the Venue 
The entrance to the venue used to throw me off. It would feel like the walk of shame, people are connecting, I'm alone, people are waiting for their friends, and Im sweating, thinking, 'Are they looking at me?' Passing judgement. 'Is my shirt untucked.' All the feels. These thoughts can be loud and can sometime break a person's spirit, there's a lot going on. 
Let go of the fact that it's a circus and BEHAVE as though the chaos does not affect you.
The front is where people are meeting up, assessing themselves, maybe looking for a friend, if you're alone, you're not on anyone's radar, so stroll right through, you are a part of the surroundings. 
Don't worry about your grand entrance, focus on getting your badge, head and chin up, and focus on registering and heading in.
See, people do look at you but they're checking to see if they know you, so keep the good eye contact and the smiles to a smirk, and carry on.
This is important because I used to feel like driftwood in the ocean heading into a venue, meaning, my emotions would get the best of me, and Id be thinking too much about what I looked like or what people would be thinking/saying about me, and the fact was, no one was saying anything, ever. Like never. Everyone's got their own reason for being here, and possibly meeting YOU is one of them.
Knowing this you should feel more at ease. A little less anxious, a little more confident. 
Start with a Hot Lap and Shake It Off 
Once inside chin up w a smile and take it all in. This is the show. You're in now, past the chaos of the front, and you've entered a new world. Go walk around. This is a moment for your breather. You're anonymous here.
Anyone that's looking at you, again, is checking to see if they know you. If you cruise in w a smile and interest in your surroundings, take note of anyone's that's checking you out and remember them later. 
Take the positive energy right now and cruise around and take in the exhibits. Find your flow w this air behind you. Anonymity is good. Do that lap. 
The Rodeo has its Stars and its Spectators
At this point you haven't networked, and that's ok. You just got here. This is your time to walk the floor, see the brands and companies you've been researching.  And also notice the fringes and see if anyone else is alone or 'feeling out of place themselves.' If you haven't gotten comfortable yet cruising around and already chatting with folks, keep the energy of the fringes in mind. 
Now with this note, find booths you've liked? Find brands that interest you? See things that inspire you?  Talk to the reps. Begin to dig in. Find your voice. Get to that place where you're feeling a little more relaxed and you're beginning to have conversations. What's hot, what's new?  A metric of conference success is learning something new.   
The Fun is in the Fringes
If the conference is still too much at this point, and you're not shaking hands yet, DO NOT FRET. The hack is you just keep moving. If you're walking around, you're a part of the crowd.  
You're setting your own pace, and tone, and not lost, as a matter of fact, you look like you know what you're doing. You're cruising around an event. See, again, because you're not chatting w anyone, a voice might be asking you "Why am I here?" But its just your head. Stay with me. 
Let's go make some new acquaintances, shall we?
Remember earlier, when you were in the middle of it and I asked you to keep the fringe in mind? Head to that area where people were hanging out, the perimeter of the show, where people are reconnecting w themselves, and go do the same, but this time, walk up to someone and say hello as you're regrouping with your things. Make sure you time it right so you're not interrupting someone, but I trust you got that. 
Because you're coming up to them, you're in control, so say hi and break the ice. 
Come off approachable and sincere, you're not earning points here, you're just extending a hello and "How are you liking the show?"  Acting friendly and knowledgeable, and as though you're just taking a breather, and being friendly to the person you just said 'hi' to is key.  If they're stuck too, THEY WILL BE THANKFUL you did. This is a new friend. 
This is where so much of my magic happens. 
Its quieter over here, everyone's a bit more disarmed, and they are thinking the same thing you are, "Is this chance meeting going to lead to something good?" OR better yet, "This person is now not making me feel alone." 
See, everyone has the same feelings at conferences, its intimidating, things are happening, we all get caught in moments where we are alone. And that's hard to deal with (some might say embarrassing), so when you walk up to people, you're taking the 'alone' out of the equation. 
You can now chat with someone new, look around, and know, anyone that sees you, sees you talking, sees you networking, and they are thinking to themselves, "Who is that person?"   
You're now working the room. 
Your air of confidence and strolling thru the halls looks like you're taking a break, and because you've done a lap you'll have things to talk about. You're now PART of the conference. Your presence now is a part of the show. 
Mission accomplished. 
Do this a few times at different fringes. 
Your nerves of feeling out of place get shelved once you find your voice and do this a couple of times. This to me is the fun part. Being a part of something bigger, making new acquaintances, and personally 'growing' as I find my own voice. Overcoming my own fears. 
And this my friends, is where the Magic Happens. 
When I said I've met some amazing people on the fringes, its true. Imagine that, catching someone important off to the side when all you're doing is grabbing some water and they were catching a breath.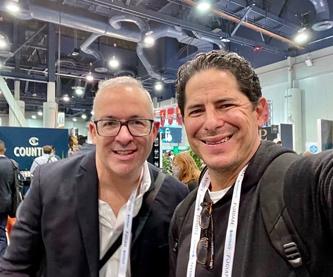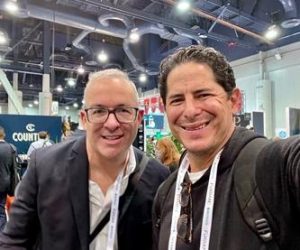 (Michael with Mark Collins, President of Highly Capitalized at MJBizCon)
A couple hard truths: 
Not everyone wants to be approached
Not everyone is ready for your eager handshake, sometimes your timing is off, and it's just going to be a little awkward. It's just part of it. Over time your capabilities to read a person get fine-tuned. Don't let one weird experience throw you. Everyone's cool, and no one was watching, regroup, take a walk. Reset and find someone to have a laugh w elsewhere. Laugh to yourself. I do when it happens to me. No one minds.
Read the Room 
Some conferences and events are not perfectly suited for networking as much as the events for education, play the fringes again, and know where the energy is applied, take advantages of the breaks but also know, you just might meet fewer new people. It's OK. 
A little personal recap: 
It's not easy breaking the ice all the time, it does require a bit of removing the inner voice, removing the ego, but know, it gets easier when you don't take yourself too seriously, especially if an encounter falls a little flat.   
I do like to warm up w nice conversations w people on the fringes, I'm not keeping score, I'm just making friends with people just like me, looking for someone to talk with. The 'networking' the 'leads' the 'what am I going to get out of this person,' is not my goal. 
People do business with people they like.  
Do I make it look easy? Its only because I follow this routine every time. And you'd be surprised who you meet just refilling your water bottle or adjusting your coat by the window, away for the center of it all. 
Trust me, this all works when you break it down in little pieces. Laps here and there. You begin to accumulate acquintances and new friends to wave to and roll up to to say hi. It's all part of the show.
I hope this article has given you some nice tips for taking on conference season, and taking the edge off, and if by chance you see me on the fringe please say hi. Let's make some magic together. It'll be my pleasure to meet up.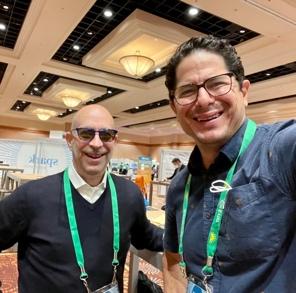 (Michael with James Choe, CSO of Flora Growth, and Founder of Vessel)
Editor: Highly Capitalized thanks Michael Rosenfeld for his perspectives in this article. Michael Rosenfeld is VP of Business Development and Lead Strategist at CannaVu, a digital ad platform serving the cannabis industry w CPG quality integrated media solutions. With over 20 years of conferences under his belt, he knows the subtle art of networking and making it fun so definitely say hi to Michael if you see him at events. You can contact Michael through direct messages on LinkedIn. Main image: the audience of a Lift & Co event in Toronto, Canada. Copyright Michael Rosenfeld and Highly Capitalized © 2022. All Rights Reserved.
Latest News